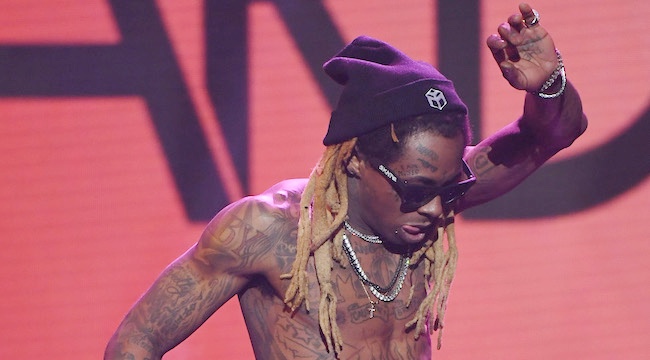 Saying Lil Wayne's long-awaited Tha Carter V was delayed may be a bit of an overstatement. After all, aside from the cover tease on Young Money's Twitter account, there wasn't much to go on to peg today (September 21) as the official release date. Wayne himself has been surprisingly mum on the subject of his forever-delayed album, which didn't receive so much as a pre-order link on iTunes.
That didn't stop fan anticipation from reaching a near fever pitch on Thursday evening as the rap world held its collective breath and watched the clock for that midnight release. When it didn't come, those who waited were understandably distraught; it's one thing for Kanye West and Nicki Minaj to overshoot the stroke of midnight by a few hours, but hip-hop as a whole has been chanting "Free Weezy" almost since 2011, when Tha Carter IV dropped.
It doesn't help that CV would be Wayne's first official retail collection of songs since then due to label disputes between him and Cash Money Records founder Brian "Birdman" Williams. At various times, the two have been at odds and buddy-buddy over the last seven years, all the while promising that the album was on its way. Even Martin Shkreli got in on the action, claiming to have a copy of the album after Wayne left a copy in a car Shkreli later purchased. Shkreli lost control of the album, as well as much of his other property, when the Justice Department filed to have it auctioned off to pay the fraudster's debts.
Of course, most fans don't have that sort of cash lying around, so when it was announced that Wayne had recovered complete control of Young Money Records and tweeted the cover, many were excited to finally have a chance to see what he'd been working on since then. Unfortunately for them it looks like they'll have to wait a bit longer.