Everybody knows Schoolboy Q is one of the best rappers alive. His last album, Blank Face LP was a riveting masterpiece, and he has a few classics under his belt as well. But he's also killing it in another part of his life that he would definitely say is infinitely more important than his rap career: His life as a father.
Q's daughter Joy has long been a huge piece of his output, as he raps about her and his responsibilities with her often, so it's no shocker to see him as a committed and involved father whenever he hops on social media. Still, it's an amazing relationship to see, and deserves just as much celebration as his music receives. So, while we wait for his next album, lets check out a few of the times Schoolboy has been the greatest Rap Dad ever.
When He Bought Her A Phone For Winning Student Of The Month
When his baby girl won Student of the Month at school, Q decided she deserved a present of her choosing. Of course, she immediately chose a cell phone, and much to her delight Poppa Q obliged and shared the moment with Snapchat for the world to see.
When He Let Her Be The Star Of His "Break The Bank" Music Video
Q has often mentioned Joy in his music, but for the "Break The Bank" video he put her front and center, and let her be the star of the show with a gold "Q" balloon for aesthetics.
When He Had A Rap Battle Against Her In The Car
Time will tell if Joy wants to get into the family business, but on a random afternoon, Q decided to test her skills and see what his baby could do. What ensued was a hilarious rap battle between father and daughter, and the little lady just might have nabbed the W over her pops.
When He Took Her To Kendrick Lamar's Damn Tour
Much like Beyonce did with her daughter Blue, Q took his pride and joy to his buddy Kendrick Lamar's Damn tour, and judging by the video she had a ball.
When He Helped Her Practice Soccer With By Enlisting His Dogs
Q was apparently quite the athlete back in his day, playing football, basketball, baseball and even the swim team back in high school. He was so good he garnered some interest from colleges for his exploits on the baseball diamond, but alas, his destiny was rapping and he's quite good at that as well. Still, with that athletic background, he is more than qualified to give Joy a few pointers when it comes to her sport of choice: Soccer. On this afternoon, he even got some extra help from his dog Figaro as he helped Joy with her own, personal soccer lesson in theirbackyardd.
When He Let Her Take Over His Snapchat After A Tough Loss In Soccer
Speaking of soccer, even after Q and Figaro's special lessons, Joy took a tough loss on the field with her traveling team so he did what any good father would do: He helped her lick her wounds. On the ride home from the game he tossed Joy his phone and let her do her worst on his Snapchat, to hilarious results.
When He Let Her Be On The Cover Of His Album Oxymoron
As if making Joy the star of his video wasn't enough, Schoolboy also immortalized his daughter by making her the cover for the standard version of his third studio album, Oxymoron.
When He Took Her To The 2017 Grammys In Matching Pink Outfits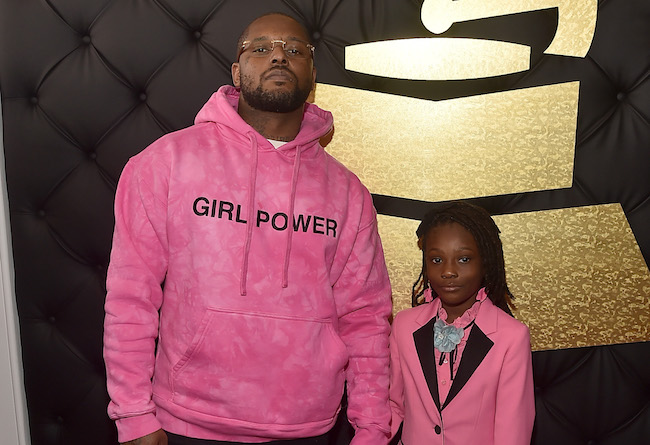 In his most publicized instance of proud dad mode, Q took Joy to the Grammys this year and even hit the red carpet with her in their matching pink outfits. Joy was decked out in a Gucci tux, and Q rocked a pink "Girl Power" hoodie that typically can be purchased at his tour dates. Now, Q is also selling Girl Power towels on his website, with a portion of the proceeds going to the Girls For A Change foundation, which supports "black girls and other girls of color and inspires them to visualize their bright futures and potential through discovery, development and social change innovation in their communities."
Hats off to Q — he has his priorites in order.