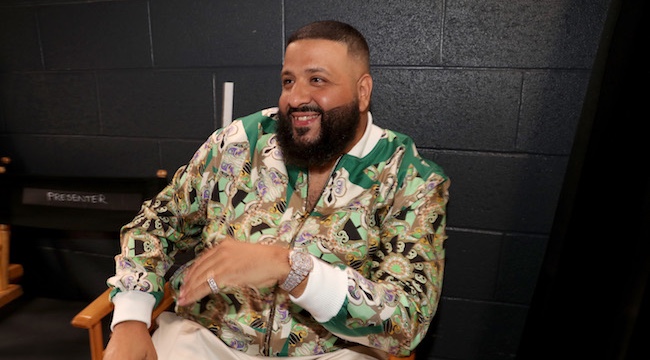 Twitter is one of the most interesting, frustrating, confusing, and hilarious tools of the digital age. There are times it makes you want to throw your phone in a garbage disposal — basically, anytime Kanye West has tweeted in the last week — and times it saves a particularly bad day with a hilarious and timely hashtag. Then there are times you just don't know how to react, like the time — actually, this afternoon — '90s pop-punk band Smash Mouth used the platform to admonish rap super-producer DJ Khaled for saying he refuses to give his wife oral sex.
https://mobile.twitter.com/smashmouth/status/992478669435060224
So how did Twitter deliver one of the most bizarre collection of names and motivations in its sordid, ten-year history? It all started with a recirculated clip from DJ Khaled's 2015 interview with New York's The Breakfast Club radio show. The hosts asked their outspoken guest about his marriage and received a long-winded explanation about why Khaled doesn't (or didn't, there's no update on whether he's since changed his views) like to go down on his wife.
"A woman should praise the man — the king" he said. "If you holding it down for your woman I feel like the woman should praise. And a man should praise the queen. But you know, my way of praising is called, ha-ha, 'How was dinner?', 'You like the house you living in? You like all them clothes you getting? I'm taking care of your family, I'm taking care of my family…' You know, I'm putting in the work." He says this excuses him from one particular marital duty, because, "It's different rules for men. You gotta understand, we the king. There's some things that y'all might not wanna do, but it got to get done. I just can't do what you want me to do. I just can't."
As the old clip made its rounds of the usual Twitter sharing circuit, The Root's Grapevine vertical picked up the humorous story of its resurrection and tweeted out the link to their post — a link Smash Mouth's Twitter account manager couldn't resist commenting on. "A King who doesn't is no King at all," they tweeted, along with the quoted retweet of the original link. Of course, their response went super viral, garnering 15,000 retweets and over 52,000 likes as Twitter users weighed in on the debate. If there's anything Twitter users love, it's '90s nostalgia, raunchy talk on a slow Friday, and a good, old-fashioned celebrity roast, so the perfect storm of all three was almost guaranteed to take off like a rocket. It's one of the many reasons that, no matter how bad it gets, we will never, ever delete this app. Happy Friday!