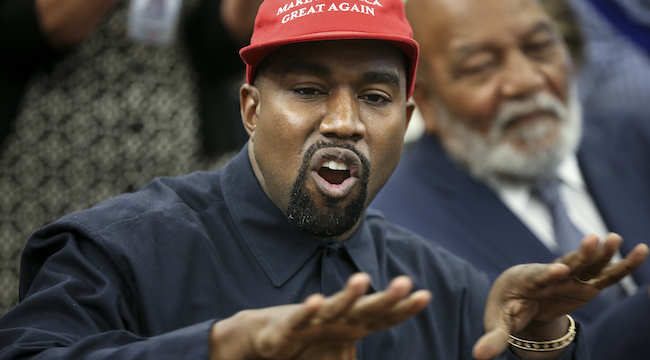 In a recent episode of the popular hip-hop podcast Drink Champs, rapper Talib Kweli revealed further details of the friction between Kanye West, his onetime friend and collaborator, and burgeoning rival Drake. Drake and Kanye have been embroiled in a simmering subtle feud after Drake says Kanye offered him production assistance on his album, only to hijack his release date with the sudden announcement of five GOOD Music projects this summer — one of which contained the Pusha T diss that sparked the latest round of their high-profile beef ahead of Drake's album release.
In the interview Kweli provides more insight into the roots of Kanye's sudden explosion of productivity after over a year away from the spotlight. "He says to me… in the studio how living in Calabasas while Drake was there was hard on him because he felt the competitive energy," Kweli said. "And how, when [Drake] moved away [Kanye] felt this 'creative rush.'" Kweli expresses a small amount of disapproval at this sentiment, but also says that it gave him some insight into the "beef," as well as Kanye's unsettling social media behavior of late: "Now I see how the years played out, and I feel like a lot of what he's doing– Kanye wants to be number one. He wants to be talked about all the time and he spent all of last year talking about how dope Drake was in every interview. I think he's triggered by Drake. I think he's triggered by Obama calling him a 'jackass.' He just wants to be liked and he's misinformed."
It's true that Kanye has always regarded himself highly while also admitting to a certain level in insecurity through his music and his rambling interviews, so what Kweli reveals here certainly makes sense. Drake insists that Pusha T's "The Story Of Adidon" reveal about his secret son was prompted by an early listen he gave Kanye of "March 14," the song Drake wrote addressing his newborn son Adonis. There's no telling if Kanye was truly petty enough to provide Push with ammunition against his lyrical enemy, but Kanye did apologize for at least some of what Drake accused him of months later. Whether that will be enough to mend fences between the two former friends and collaborators remains to be seen.