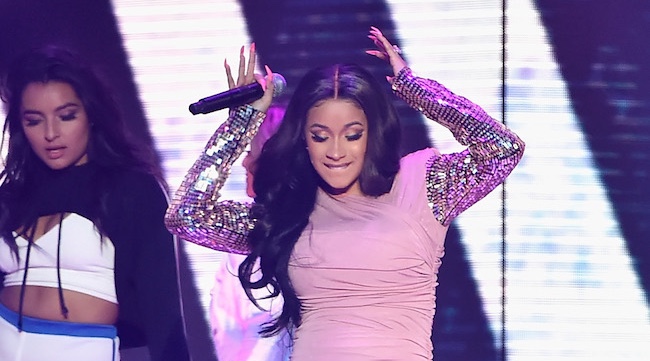 If there's anything the internet loves more — or at least as much — as hunting down the subjects of Drake's nostalgic songs, it's turning awkward photos of our favorite rappers into memes. Apparently, it's even better if the photo of the rapper in question comes from that most awkward stage of all our lives — childhood. A recently-surfaced childhood photo of Belcalis Almanzar, better known as rapper Cardi B, has become the latest fodder for the internet meme machine, but for once, she seems to be having as much fun with it as anyone.
The photo, featuring 5-year-old Belcalis with her hand on her hip looking like she's about to tell somebody off, has inspired childhood memories of that one kid who used to run their mouth a little too much. Cardi copped to being a bit of a smart-aleck as a kid as well, posting a few of her favorite captions, which range from sassy comebacks to the ever-popular "my momma said…" which is usually followed by a hot piece of gossip that Lil Cardi probably shouldn't be sharing. One of the best posts imagines the snappy comeback from Cardi's recently-arrived baby daughter, Kulture, whose name was the subject of a separate internet meme poking fun at celebrity children's "unusual" names.
Checkout some of Cardi's favorite entries to the meme canon below, along with some of the best from Twitter and elsewhere.