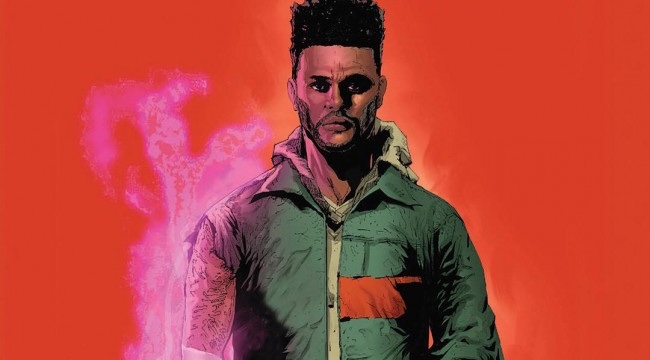 Marvel Comics' newest superhero has a familiar face and a Grammy Award-winning singing voice. The Weeknd, already the superstar alter ego of Toronto singer Abel Tesfaye, gets a new secret identity in a new comic book from the legendary publisher of iconic characters like Spider-Man, Captain America, and Black Panther.
Starboy will feature The Weeknd as a full-on superhero this June, fighting against an evil villain (naturally) in the fictional city of Alphatron. The Weeknd will take on Jack "The Chef" Smiley, a "ruthless" "strategic genius" who has "unified all criminal organizations" in the city to solidify his reign of terror.
https://instagram.com/p/BZ9F2M7gDjG/?utm_source=ig_embed&utm_campaign=embed_profile_upsell_logged_in_test
The Weeknd serves as writer of the new series alongside La Mar Taylor and Christos Gage, with art provided by Eric Nguyen and Guru-eFX. He posted about the comic some time ago on his Instagram, which means that while he's been hard at work on his new album, he's also been scripting pages with his Marvel Comics creative team. He joins an extensive list of artists to have his likeness adapted to a Marvel Comic, as Marvel's writers love to give rappers cameos and did a really nifty run of rap album-inspired variant covers a couple years back. He's also become one of a handful of musicians to become a superhero in graphic novel format, including Rae Sremmurd, who are currently starring in Valiant Comics' Shadowman series.
The fact that both would appear to be ready to drop right around the same time is just icing on the cake for the singer, who revealed via Instagram that his album is currently in the "mastering" stage, according to the caption on the video he posted to Instagram just a few hours ago.
https://instagram.com/p/BgpvJbZghCV/?utm_source=ig_embed&utm_campaign=embed_profile_upsell_logged_in_test
Starboy #1 is due June 13, 2018.