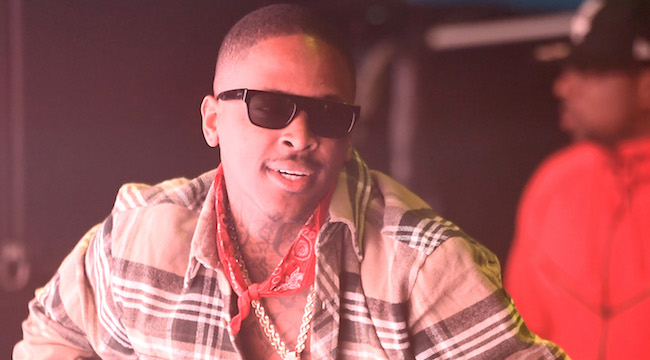 Rap would not be rap without a few lawsuits and the latest MC to be dragged to court over the classic "unpaid royalties" is none other than YG. Henry Richard Russell, the poet known as Grimmis, seen in the videos for "Who Do You Love" and "Bicken Back Being Bool" is suing YG for his contributions to those songs and others.
Russell says he was never paid one dime for his efforts, and YG would never even discuss any form of compensation. Both songs are from YG's debut album My Krazy Life and "Who Do You Love?" featuring Russell's poem "Bitch, Who Do You Love?" was released as a single and eventually went platinum. Though he is not on the radio edit, Russell appears on the album version and in the song's video alongside Drake and YG. Russell's poem "Gladiator" is featured prominently in the"Bicken Back Being Bool" as well. He is not listed as a featured artist or a writer in the album credits for either song.
For his troubles Russell is suing YG, DJ Mustard — the lone producer of each track — Def Jam and YG's publishing company 400 Wayz for copyright infringement and fraud and is seeking an undetermined amount of damages. Check out a portion of the lawsuit below via The Dirty.