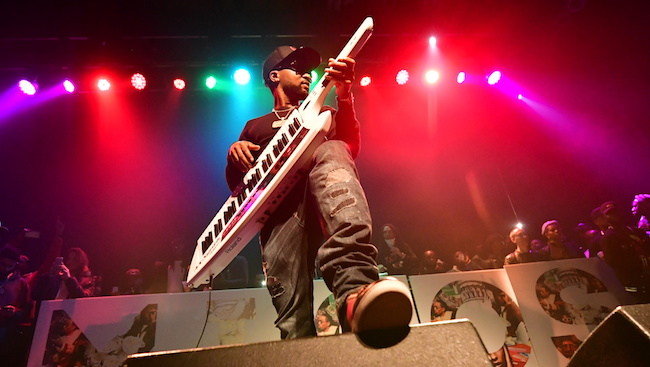 The mission was simple: Find Future's bus. The madness of Coachella meant that cell phones often weren't capable of fulfilling even their simplest functions, so Zaytoven as left to rely on the expertise of a crew of workers tasked with navigating performers and celebrity guests along the secret passageway of golf cart roads between stages. Zay's right-hand man is doing the talking while trying to get enough signal to call Future's team and figure out where they're at. Zaytoven needs to be at the main stage soon, he's set to play piano during Future's evening performance, and doesn't want the weeks of rehearsals and 12-hour days to go to waste. There's one problem, the man who is supposed to be navigating the traffic doesn't "even know what a Future is," in his own words. Coachella remains, well, Coachella.
Finally some sort of order is restored, Zay's team is pointed in the right direction, and the driver of the golf cart whizzes around the festival to the next destination. The instructions are clear: Zay needs to get to the stage to change into his outfit so he can play the piano during Future's performance and he's not to bring "hella people." The last detail is imperative as word has begun to trickle down that Drake has arrived and will make a guest appearance, as well as Ty Dolla $ign and Migos, so off Zay and his right hand man go, sans a lowly reporter whose wristband is the wrong color to get to the next destination and the rest is history.
"The Coachella performances went real good," Zaytoven says a week later when we finally get to have an extended conversation outside of the frenzy that is Coachella. "I had a ball. I couldn't believe it. I walked onto the stage before Future got up there just to make sure the keyboard was on and I just heard the crowd saying "Zaytoven!" so it juiced me up. Juiced me all the way up."
The Atlanta native is back in the real world, and has begun the first steps towards releasing his forthcoming debut album, which he revealed will be titled Trap Holizay. The rollout began with the new single Gucci Mane and 21 Savage-featured "East Atlanta Day."
"It got a real good response so I'm thinking of dropping the album later this year," Zay says over the phone. "I'm going to let the singles do what they do. I'm currently taking meetings with labels that want to do a deal (for the album)." While he's begun working on the album he says it's still an ongoing process, but even in it's current, unfinished state Trap Holizay is already a star studded affair. "So far I got Migos, Lil Yachty, of course Gucci and 21, Future, Lil Uzi Vert and I've got a lot more work to do."
https://www.instagram.com/p/BPyg_9yl4NZ/
Zay cut his teeth in a crowded field of trap rap producers by differentiating himself from the pack. His sound is laced with the digital synths and skull-rattling bass that are commonplace within the sub-genre, but he also tosses in quirks of live instrumentation to make his sound distinctive within the overflowing and talented field. "Using live instrumentation is just my style of producing, I think that's what helps set me apart," he said. "I have to use all my advantages to make me stand out."
But standing out often leads to the crowd coming to you, and then becoming a part of the crowd even if begrudgingly so. Much of the credit for the flute craze that has taken over trap rap and trap production has been given to Zay, and he's embracing it. "I'm used to seeing other people start gravitating towards something I do it and start using it," he said of the trend's new prominence. "It's good to see that, good to see that I have that kind of influence. I'm still riding with the new flute wave but I'm definitely going to find something new too."
But as Zay sets his sights towards his new album and new movie Birds Of A Feather 2, many fans are salivating at the thought of a sequel of one of his old projects, Beastmode with Future. "He just put out two No. 1 albums so it's not a rush for Beastmode 2 right now," he said, probably crushing a few souls in the process. But fret not Future and Zaytoven fans, as he promises "the music is definitely done."
For now, the focus remains on Trap Holizay, and Birds Of A Feather 2 which should release this summer and a special piano night concert with Gucci Mane this month. "We're doing that with Redbull," he revealed. "I think they seen the NPR Tiny Desk Concert and said 'we want to do that show.' Me and Gucci just do a few rehearsals, it's nothing really hard because we know the music and know how each other get down. So just a few rehearsals was all we needed to get it together."
Soon, he'll be back with the man he called a "a full blown, complete rockstar," getting down like they always have. And after rocking the gigantic Coachella main stage in front of 100,000 fans, an intimate performance with another one of rap's biggest stars in front of more adoring fans should be a cakewalk.