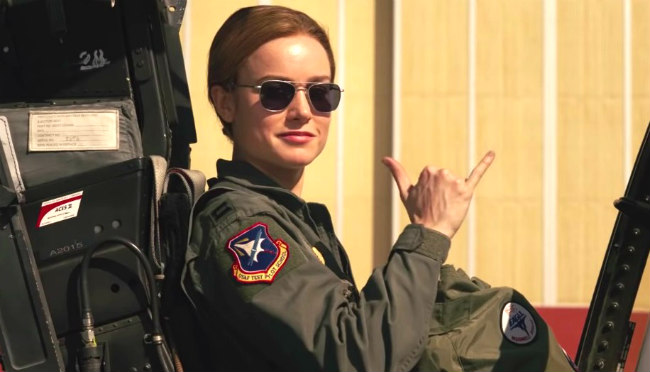 In just over a decade, Brie Larson has gone from an Avril Lavigne knock-off to indie darling to an Oscar winner to playing "as powerful a character" as the Marvel Cinematic Universe has ever seen. Larson will make her MCU debut with Captain Marvel in March 2019 (watch the trailer and read the hyped reactions and fan theories), followed by Avengers 4 two months later. It's likely that Carol Danvers will have a huge role in the Infinity War sequel, with director Kevin Smith going so far as to predict that she'll be the one to defeat Thanos.
"You're f*cked, Thanos! I just saw @captainmarvel soaring through space and blasting starships like she's on a 70's album cover," Smith tweeted with a link to the new trailer. He then added an Ariana Grande reference, for good measure: "God is *this* woman!" If anyone can be considered an expert in pop culture from the mid-1990s, when Captain Marvel is set, it's Smith; his directorial debut Clerks was released in 1994. Don't expect Larson (who's also starring in Charlie Kaufman's Netflix movie I'm Thinking of Ending Things) to drop lasagna references, though. Captain Marvel has different culture touchstones.
"It's giving Carol a place in the cinematic universe that she can carve out for her own, where she wasn't one superheroine out of many," executive producer Jonathan Schwartz explained. "1990s action movie is not the worst reference in the world, especially when you start looking at Robocop, Total Recall, even Starship Troopers a little bit. Terminator 2, Independence Day. There's a high-concept action-movie feel there that ends up being very character-based but also super badass, which is kind of the bullseye we wanted to hit." It's a good thing Schwartz didn't mention '90s action-movie classic Armageddon.
That's a touchy subject for Smith.
Captain Marvel opens on March 8, 2019.
(Via Twitter)