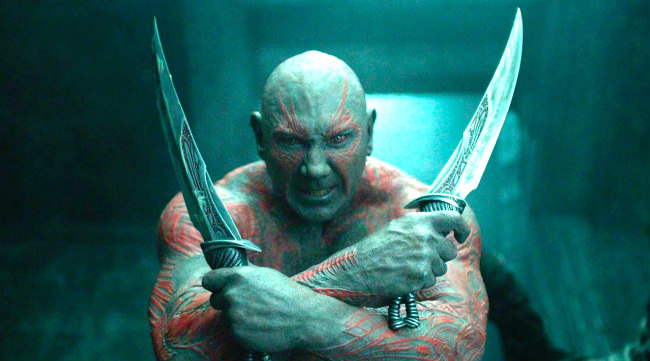 Shortly after the news broke that Disney fired Guardians of the Galaxy writer and director James Gunn over old tweets, Dave Bautista (Drax the Destroyer) tweeted, "I will have more to say but for right now all I will say is this: [Gunn] is one of the most loving, caring, good natured people I have ever met." He wasn't kidding about having more to say: the wrestler-turned-actor called it "nauseating" working for Disney after they listened to a "smear campaign by fascists," and in an interview with ShortList, he threatened to quit if Marvel doesn't use Gunn's already-completed script for Guardians of the Galaxy, Vol. 3.
"Nobody's defending his tweets, but this was a smear campaign on a good man," Bautista said. "I spoke to Chris Pratt the day after it happened and he's a bit religious so he wanted time to pray and figure it out, but I was more like: f*ck this. This is bullsh*t. James is one of the kindest, most decent people I've met." (The rest of the cast agrees.) He continued, "Where I'm at right now is that if [Marvel] don't use that script, then I'm going to ask them to release me from my contract, cut me out or recast me. I'd be doing James a disservice if I didn't."
There were rumors that Marvel was planning to reinstate Gunn, but that doesn't appear to be the case anymore. If Bautista does quit and others, like Pratt and Zoe Saldana (who might not be back for other reasons) follow, one possible solution is a soft reboot. "There's no law saying that a third Guardians movie can't involve the outer-space adventures of Sylvester Stallone's Stakar Ogord, Michael Rosenbaum's Martinex, Ving Rhames' Charlie-27, and Michelle Yeoh's Aleta Ogord," writes Forbes' Scott Mendelson. "Throwing those folks into the movie, along with Groot, Rocket, and (if he renews his MCU contract) Chris Hemsworth's Thor, would arguably yield a solid return no matter who wrote and directed it. Obviously, Gunn's worldbuilding script would have to be scrapped."
It's not the best idea, but some fans feel the same way about Disney firing Gunn.
(Via ShortList)