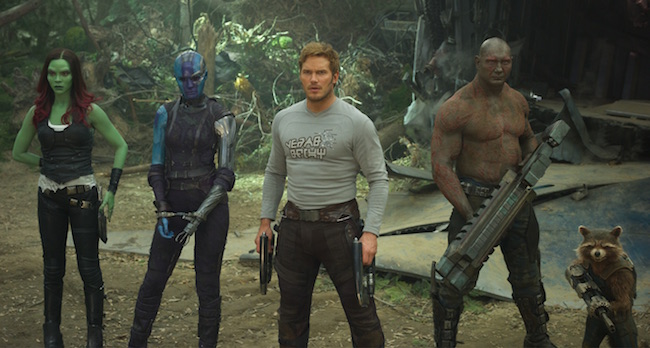 Following Disney's abrupt firing of James Gunn over long-ago "offensive attitudes and statements" made on his Twitter, the close-knit Guardians of the Galaxy cast has largely, and individually, backed the director. Michael Rooker quit the social media platform "over the ongoing BULLSHIT." Dave Bautista wrote that he's "NOT ok with what's happening to him." Chris Pratt tweeted a bible verse. Zoe Saldana loves "ALL members of my GOTG family." But on Monday, the actors came together to defend Gunn in the form of an open letter.
"We fully support James Gunn. We were all shocked by his abrupt firing last week and have intentionally waited these ten days to respond in order to think, pray, listen, and discuss," the letter begins. "In that time, we have been encouraged by the outpouring of support from fans and members of the media who wish to see James reinstated as director of Volume 3, as well as discouraged by those who so easily duped into believing the many outlandish conspiracy theories around him."
"Each of us looks forward to working with our friend James again in the future. His story isn't over — not by a long shot."
There was some speculation that the cast would refuse to make Guardians of the Galaxy Vol. 3 (which is scheduled to be released in 2020) without Gunn, but that doesn't appear to be the case. Rather, the letter is focused on the "court of public opinion. James is likely not the last good person to be put on trial. Given the growing political divide in this country, it's safe to say instances like this will continue, although we hope American from across the political spectrum can ease up on the character assassinations and stop weaponizing mob mentality."
You can read the whole letter below.
On his personal Twitter and Instagram, Chris Pratt wrote that although he doesn't support "James Gunn's inappropriate jokes from years ago, he is a good man. I'd personally love to see him reinstated as director of Volume 3."