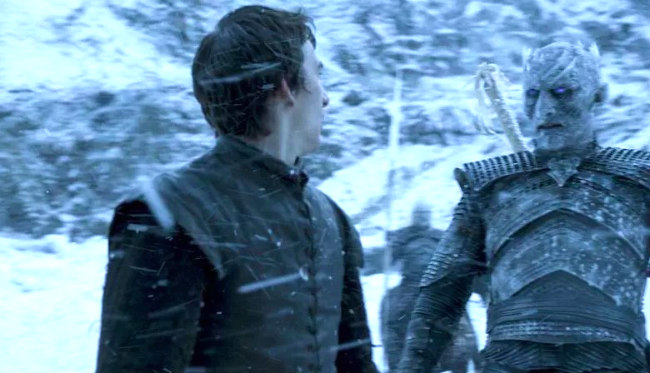 With the exceptions of councils and -jons, HBO's Game of Thrones doesn't do small. Case in point: the show's final season is only six episodes… but each episode will be "feature-length," and one will feature the "sustained action sequence ever made for television or film." It took 55 nights to film outdoors, and weeks more in the studio, and Peter Dinklage said it tops the Battle of the Bastards, "and then some. You are in for it. Truly." We still don't know who the epic brawl is between, but we do know when it will take place in the season.
While speaking at a fan convention in Hungary, Vladimír Furdík, who plays the blue-skinned Night King, revealed that in "the third episode of the last season, there is a battle that the creators intended to be a historic moment in television. Almost the full episode will be about the battle, it will take about one hour."
Game of Thrones usually saves its action-heavy episodes in the second half of the season — "Blackwater," "The Watchers on the Wall," and "Battle of the Bastards" were all episode nine, and "Hardhome" was episode eight — so placing the big battle in episode three is an interesting development. Expect the episode to thin the ranks before the final maneuvering for the Iron Throne kicks in (also expect for HBO to lock Furdík in a vault so he doesn't blab anymore).
In other Thrones news, Kit Harington is SO done with the show, and not only because he can cut his hair. "It was emotional to leave the job, definitely," he told the BBC. "But I wouldn't say I was sad. If, like me, you go all the way back to the pilot of Game of Thrones, that's almost 10 years of your life. That's really unusual in an actor's career." He added, "It was a huge emotional upheaval leaving that family. But would I want to go back and do more? Not on your life."
Not… on your life? Jon Snow dead confirmed.