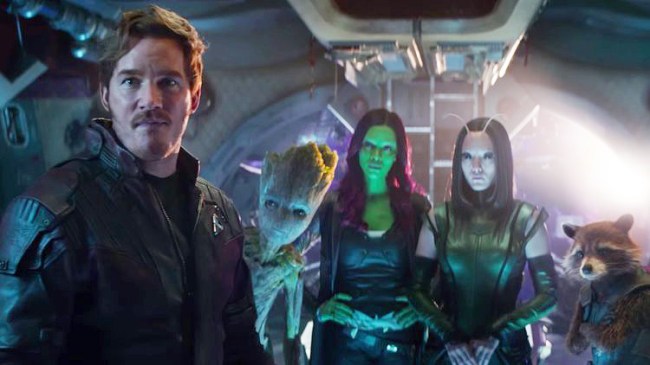 Following the news that James Gunn was fired for making "offensive attitudes and statements" on his Twitter feed, production on Guardians of the Galaxy, Vol. 3 has officially been put on hold. Marvel and Disney are "regroup[ing] on the project," according to The Hollywood Reporter, which also notes that "crew members, which is, at this stage, a small group that was prepping for preproduction, are being dismissed and are free to look for new work."
Marvel should be celebrating the box office and critical success of the Oscar-worthy Black Panther and Avengers: Infinity War, where the Guardians were involved in many of the film's best scenes, but instead, they're currently dealing with the fall-out of Gunn's controversial dismissal. The ensemble cast isn't happy, Dave Bautista is threatening to quit ("Nobody's defending his tweets, but this was a smear campaign on a good man"), and Vol. 3 is director-less.
The Marvel project was originally to have been directed by James Gunn and was to have begun principal photography in the winter, either in January or February. The project was crewing up and was to have gone into full preproduction mode in the fall… One person characterized the production hold as temporary and more of a "regrouping" as Marvel and Disney look for a filmmaker to take on the third installment of a franchise that has grossed over $1.6 billion and made stars out of Chris Pratt, Dave Bautista, and Zoe Saldana.

"The timeline has been pushed out," says a source. (Via)
Taika Waititi, who directed the crowd-pleasing Thor: Ragnarok, reportedly recently had a meeting with Marvel, "but it is unclear what project was discussed." Could he be the one to replace Gunn? Guardians of the Galaxy, Vol. 3 was supposed to come out in 2020, but now the release date is invisible.
(Via The Hollywood Reporter)