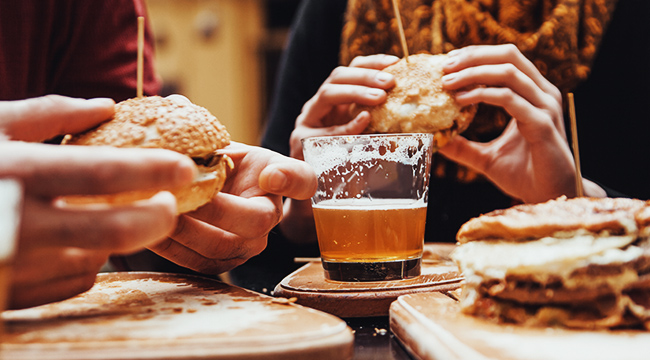 We're not here to discuss what makes a great burger today. Let's just enjoy the fact that so many amazing burger styles and toppings exist in this world. Which beers best pair with all those amazing combinations is another matter. And that's where we come in, because a great burger deserves a great beer.
We compiled a list of some of our favorite ways to eat a burger (sorry Hawaiian Burger, you didn't make the cut). And then started digging around our beer archives to find the perfect beer to wash down all that fat, cheese, salt, and pickle. There are few caveats here: These are great beers that work with burgers in various ways. Can you mix and match? Absolutely. Are there other breweries besides the ones we've called out? Of course. Look for these beer styles near you if you're not near the actual breweries.
Overall, it's about the flavors and textures and how they co-mingle and create a full experience. A burger and a beer is a classic combination. They go together like Han and Chewie or Troy and Abed or Dany and her dragons. It's always a winning combo!
CLASSIC HAMBURGER
There's a soft spot in our hearts for a classic, basic hamburger. The soft beefiness of a well-grilled patty accompanied by the crunch of lettuce, onion, pickle, and tomato is simplicity at its best. Add in the softness of a butter toasted bun and some decent hamburger sauce and you have the perfect amalgam of flavors and textures.
A great burger screams for a big, frothy milkshake to balance out the savory with sweet. Barney Flats Oatmeal Stout hits the mark as a light and creamy beer that use bitter and sweet well. There's a strong toffee and dark cherry taste lurking under the bitter roasted coffee creaminess, making this a perfect accompaniment for a classic burger.
CHEESEBURGER
Okay, take everything above and add some cheese. Has adding cheese ever been the wrong move? Classic American yellow cheese is the standard bearer to the great cheeseburger. You can amp that up a notch or two with a great sharp yellow Cheddar or even a nutty Edam. Then you've got yourself an extra layer of texture and flavor via cheesy goodness.