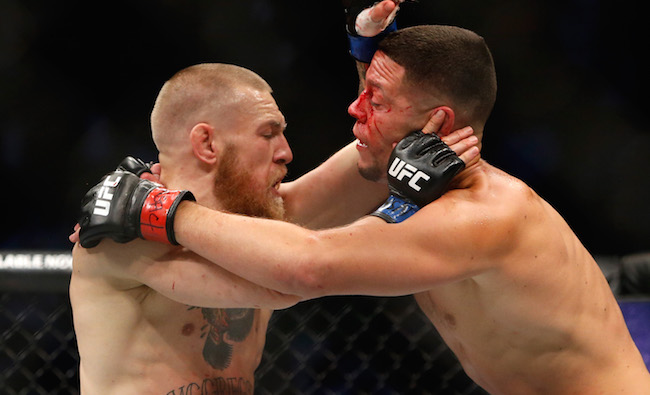 After his lucrative night out in the boxing ring with Floyd Mayweather, you might expect Conor McGregor to be chilling out in a fortress made of money eating cash sandwiches and exploding gold for fun. If Irish media reports are correct, we'll be be seeing the Irish fighting megastar return to the Octagon sooner rather than later.
The Sunday World claims McGregor and Nate Diaz are very close to finishing their trilogy of fights on December 30 in Las Vegas as the headline fight of UFC 219. McGregor's friends and family are confident enough that the bout will be a go that they've already started making the travel plans. At this stage nothing is officially confirmed, but there's logic to the date. The UFC tries to bring major star power to their big New Year's weekend card (not an easy thing to do with the current slate of MMA PPV draws) and Mystic Mac seems like the sort of gent that would like to earn as much money possible in a calendar year.
UFC fans haven't seen McGregor fight for the promotion is nearly a year. His last MMA fight was in November when McGregor KO'd Eddie Alvarez to add the lightweight belt to his collection of accomplishments. (And divisions where he's thrown the champion/contender system into chaos.) Any appearance from the Notorious one would be a hook and the Nate Diaz fights have done big business. Here's hoping these initial reports aren't just hot air about a tilt we want, but have no current confirmation of getting.
By the way, Conor clearly isn't worried about folks bringing up his (lost) bout with Mayweather.
(Via The Independent)