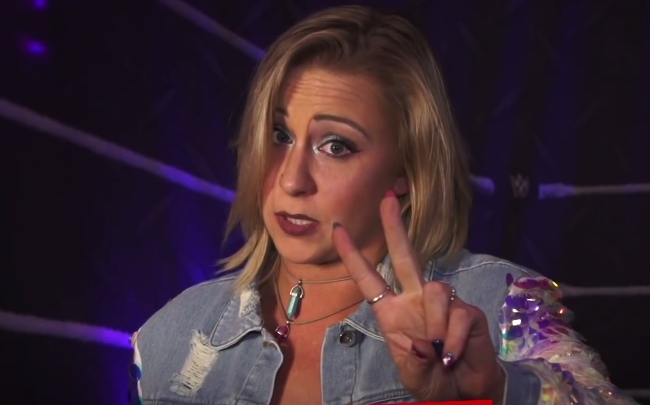 Here's some unexpected news for your Thursday afternoon: according to a report from Pro Wrestling Sheet, NXT talent and former Mae Young Classic competitor Abbey Laith has been released from her contract with WWE. She was reportedly given the news of her release on Wednesday, and as of this publication her only response on social media has been a quote from Rocky Balboa.
Laith — probably best known as everywhere-on-the-indies (including Chikara Grand) champion Kimber Lee — originally appeared on NXT television as enhancement talent, but officially signed with the company in January of 2017. Later that year she was announced as one of the 32 competitors in the inaugural Mae Young Classic and made it all the way to the semi-finals, defeating Jazzy Gabert in a well-received match and taking out Rachel Evers in round two before being knocked out of the tournament by Mercedes Martinez.
As mentioned, Laith is a former Chikara Grand Champion, has held women's championships in spots like JAPW and MCW, and held one half of the Tag Team Championship in both Shimmer and Shine. We wish Abbey the best in her future endeavors, whether that means getting back into NXT or teaming up with some pro wrestling ice cream cones.
UPDATE: Shortly after the news about Laith broke, word came from Squared Circle Sirens honcho Casey Michael that Sage Beckett has also been released. Beckett, who also wrestled on the indies as Andrea and in Impact as Rosie Lottalove, was signed in December 2016 in preparation for the Mae Young Classic.
Rechristened Sage Beckett, she appeared at NXT live events in early 2017 and competed in the Classic, losing in the first round to Bianca Belair. She has similarly posted an inspirational message on Twitter on Thursday.
Beckett was reportedly working at the Performance Center to become a commentator, but if this news of a release is accurate, that obviously didn't work out. We wish both of these talented women nothing but the best going forward.