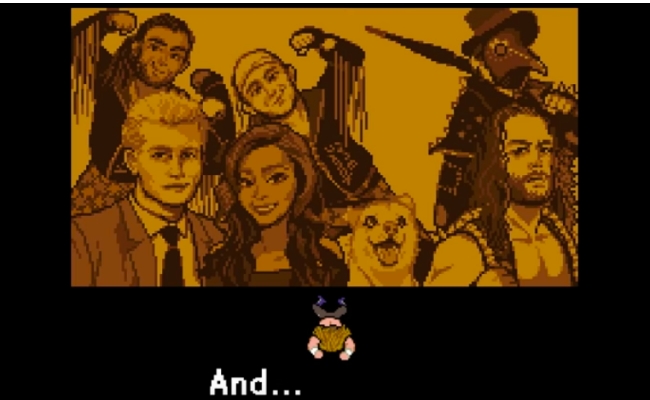 The first big wrestling news story of 2019, the official announcement of All Elite Wrestling, prompted more questions than it provided answers. We learned the new promotion owned by billionaire Tony Khan definitely exists, is associated with the group of wrestlers known as the Elite, and will have an event called Double or Nothing, which appears to be the sequel to All In. We can expect more questions at announcements at the Double or Nothing "rally" on January 8, but the AEW Twitter account gave us some information early: the first five official members of the promotion's roster.
Holding contracts, from left to right, we see Nick Jackson, Matt Jackson (with Dana Massie, proprietor of YoungBucksMerch.com and his wife), Brandi Rhodes, Cody, and Hangman Adam Page. Cody also stated via Twitter that he is an Executive Vice President of AEW, a position he shares with the Jackson brothers and "a few familiar names."
If you keep up with Being the Elite, these are some of the wrestlers you would expect to see in an Elite wrestling promotion, but not all. Although the SCU trio are on the Double or Nothing rally poster, their status with the promotion has yet to be officially announced. The last person in the show's opening credits, Flip Gordon, is known to be signed with ROH, and commented positively about the new promotion by retweeting the announcement video with an added "Change the WORLD." Marty Scurll, also signed with ROH, has yet to comment about AEW. Kenny Omega, whose absence is so notable that another NJPW wrestler pointed it out under the picture of the contract signing, also has yet to comment.
Though there's still a lot we don't know about All Elite Wrestling (almost everything!), the signing of Brandi Rhodes hints that they will have a women's division of some kind. Rhodes, who has wrestling in ROH's Women of Honor and in Stardom, has been increasingly promoting herself as a wrestler on social media recently. She has also spoken out about companies that treat women as "a complete novelty," and specified this was not in reference to her valet work in NJPW. Though every addition to the AEW roster will get the attention of wrestling fans, it'll be especially interesting to see which other women join the promotion.