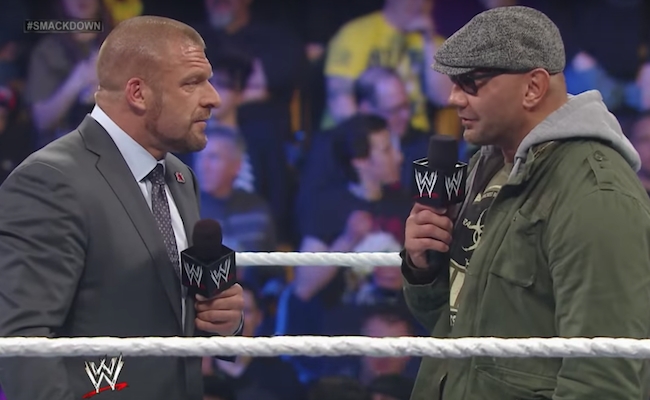 In his four-year absence from WWE, Batista has taken off in Hollywood, blitzing through two Guardians of the Galaxy films before taking part in the biggest opening weekend of all time as a member of the Avengers: Infinity War cast.
The former champ, however, isn't fully content on moving to the big screen. Batista has been talking for more than a year about what he hopes his final WWE rivalry would become: One more showdown with Triple H. He's acknowledged having conversations with Triple H and Vince McMahon on the prospect of returning in the past, but it wasn't until recently that the discussion nearly may have become a reality.
According to the man himself in an interview on the "Chad Dukes vs. the World" show, WWE reached out to him about coming back at WrestleMania 34 to partner with Ronda Rousey. Batista said he and WWE had positive discussions for three weeks before he was suddenly hit with radio silence.
"I sent a text to Hunter. I was like, 'Hey man, I don't know if you put any more thought into what's going on. I'm really excited about the possibilities,' Batista said.

"And I literally never heard back from them. They just stopped talking to me about it. Man, I don't know what else I can do to try to… I want to end my career the right way. I'm faithful and loyal to the WWE. I'm proud of being from there and I want to do good business with them, but they just don't make it easy. You know, they just don't."

Batista went on to note if he doesn't get the "right" opportunity next year, he'll simply walk away from the ring for good. While Triple H nor WWE has spoken publicly about the situation, it's understandable from the company's point of view why they wouldn't want to mix in restarting the old Evolution feud at that specific point in time. Rousey was clearly the focal point for WWE at 'Mania, and she was certainly the brightest star in her tag match with Kurt Angle against Triple H and Stephanie McMahon.
Batista's last match was on June 1, 2014, against the Shield in a six-man tag match with Triple H and Randy Orton at Backlash. Hopefully for Batista's sake he'll get the final run he deserves, and at the very least, we can look forward to him continuing to crush it on the big screen.
(Via CBS Sports)