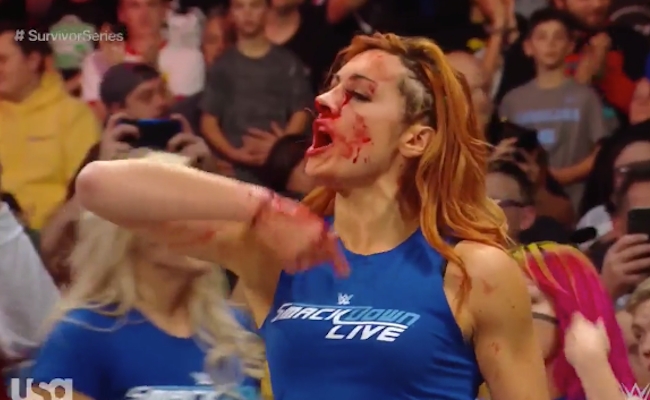 Becky Lynch has spent the last two weeks or so sending social media shots at Raw Women's Champion Ronda Rousey and her UFC husband Travis Browne. On Monday night, Lynch and the Smackdown women's roster showed up on Raw and made sure Ronda Rousey and the rest of the Raw women know exactly what they're getting into ahead of Sunday's cross-brand Survivor Series pay-per-view.
The Smackdown Women's Champion, Lynch, attacked Rousey backstage toward the end of Monday night's show before she hit the entrance ramp and proclaimed it "her show." The rest of the blue brand's roster soon followed suit, hitting the ring and laying out the entire Monday Night Raw women's roster. During the melee, Lynch and Naomi can be seen double-teaming Nia Jax in the corner before "The Man" was tossed aside to the mat. She immediately checked her nose and continued to check it with her forearm as Dana Brooke threw a couple punches at her.

[protected-iframe id="4b5cd365257a9352cd07a21277111467-60970621-76566046″ info="//www.clippituser.tv/c/embed_iframe/dgezax" frameborder="0″ scrolling="no" allowfullscreen=""]
Rousey tried to make the save for Raw, but it was Lynch who stood tall, jumping back into the ring as her nose poured blood and slamming a steel chair into the Raw women's champ's stomach. Lynch then landed two additional chair shots to Rousey's back before celebrating as Raw came to a conclusion.
[protected-iframe id="f7731f41a4bdf22f5c8b8c0c732556f0-60970621-76566046″ info="//www.clippituser.tv/c/embed_iframe/nbgzxk" frameborder="0″ scrolling="no" allowfullscreen=""]