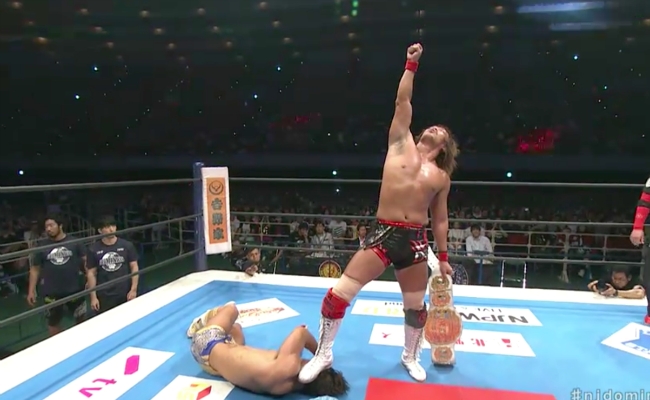 Previously on NJPW: Jon Moxley took home gold, Will Ospreay took home silver, and all the bronzer in the world couldn't protect Hiroshi Tanahashi's elbow (I don't know that he wears bronzer but it is possible and he definitely has at least once in his life and this recap gimmick fell apart.)
You can watch New Japan Pro Wrestling shows on their streaming service, NJPW World, which costs 999 yen (about 9 USD.) You can also watch certain NJPW shows on Fridays on AXS TV.
You can keep up with With Spandex on Twitter and Facebook, follow our home site Uproxx on Twitter, and even follow me on Twitter @emilyofpratt. Don't forget to share this column on Facebook, Twitter, or whatever social media you use! Also, leave a comment with your thoughts on the show and/or article! All feedback is appreciated and will help us keep up the NJPW coverage.
And now, the best and worst of Dominion from June 9, 2019, in Osaka.
Last year's Dominion featured a truly epic main event when Kenny Omega and Kazuchika Okada actually pulled off an incredible strenuous two-out-of-three falls match that lasted over an hour. This year's Dominion didn't attempt to be epic, which was probably a good thing. Wrestling is as silly as it is impressive, which can lead to diminishing returns on epics.
This year's Dominion went for fun and variety and ended up a consistently entertaining four-ish hours. Almost everyone came out of this show looking good too, including our show-opening United States Champion.
Best: Send Shota Umino On Excursion To Jon And Renee's House
NJPW rarely has matches that could be described as squashes, but Jon Moxley vs. Shota Umino was basically a squash. Umino has had longer, really standout matches this year against Zack Sabre Jr. and especially Tanahashi, but here the Young Lion who has only known the dojo system so far is completely out of his depth against an unhinged Ohio brawler.
The best thing about this match besides maybe Umino's pre-bell attack is how badass weirdo babyface Mox instantly respects him for being a maniac, helps him to the back, and basically adopts him as his son/sidekick. This could be the easiest way to give him a tag partner for the whole G1 and more of these backstage promos. I am completely on board the Death Ride that is Moxley's pre-AEW TV Japanese summer vacation.
Best: It's An Upper Body Business
Shingo Takagi vs. Satoshi Kojima is another look at the future for a relative newcomer to New Japan, but one with more in-ring substance. The man who went undefeated in the junior division through mostly arm and pec power and charisma gets his desired heavyweight challenge in the form of a man with a billed two inches, twenty pounds, decade-or-so of experience (and age, to his detriment), and way more achievements based on arm and pec power and charisma. One of the best parts of the match is the reminder that Kojima is still the lariat king when he completely wipes out this upstart who thinks he's the new number-one arm guy.
The other best parts are also when we see Takagi struggle in ways we've barely seen during his New Japan run so far. He's younger and faster than Kojima but being the smaller guy in a singles match for the first time in a while throws him off. We see him make adjustments like starting Noshigami, then changing it up to DDT when he realizes he hasn't weakened Kojima enough yet to get him up. Made In Japan is apparently here to stay and harder to execute on a bigger man. It takes a few tries for a Pumping Bomber to hit like the move has been hitting juniors. This dynamic doesn't just make this match more interesting to watch but it gives us a promising preview of how Takagi will be probably working with several guys in the G1.
Worst: Finish Him?
Our heroes in the third match – Tanahashi, Juice Robinson, and Ryusuke Taguchi vs. Jay White, Chase Owens, and Taiji Ishimori – are, like Takagi, coming off significant losses, but they are not dealing with them as well. We know from experience that Juice could be in an emotional funk for a while after losing his title, but at least this clearly miserable man gets to do a great "Eat shit!" punch to Jay White after saving the Ace.
Tanahashi and his insane cauliflower ear get his first post-surgery win, but at what cost? The cost is that now we have seen his new finisher. It's supposed to be a mix of a Slingblade and a Final Cut but just looks bad and kind of confusing. Maybe he will successfully polish it up over the Kizuna Road tour, but if not, the idea of Tanahashi with this new move vs. Jericho with the Judas Effect is at least pretty funny.
Best: Head Hunters Will Roll
The other non-title tag match of the night is solid all around and continues the Suzuki-Liger feud that now will not be resolved until the last night of August at the earliest. Suzuki and Sabre continue to be a reliable and entertainingly evil tag team and Liger kicking Yoshi-Hashi hard on his injured shoulder to get him to get it together is definitely the Yoshi-Hashi moment of the year so far. Sabre vs. Yoshi-Hashi is a weird title feud to have, but you can't help but want ZSJ to get owned by this usually very sad person at least a little more before he dislocates all his fingers.
Best: Ishii Winning A Title Is The Perfect Epilogue To Short Kings Appreciation Month
The Taichi vs. Tomohiro Ishii NEVER Openweight Championship match and feud are great in their simplicity. Ishii knows that as much as Taichi trolls and avoids straight-up fighting him, the Holy Emperor is a not-so-secret-anymore badass. Taichi seems to know that too, but he's such a garbage human being that Ishii has to yell at him and forearm him a bunch of times to bring that out. Once they get there, it's a hard-hitting fight to the finish, with Ishii being just that much readier for Taichi than Taichi is for him to pick up the win and his first singles New Japan-based championship since his fourth NEVER run in 2016. He might be the top "doesn't need a title" guy in wrestling right now along with Brock Lesnar (Let them fight!) and two zero-defense championship reigns for Taichi in a row is something I didn't expect, but a title win for the Stone Pitbull is never not a nice thing to see.
Open The Weight Gate
The post-BOSJ 26 state of the junior division is an odd one. In a promo in which he spent more time talking about wrestlers who have left the division/company than who are in it right now, tournament winner Will Ospreay said the weight class needed carrying. Then after winning the title he names his first challenger and "dares" the company that has obviously oppressed him so much in the past to put him in the heavyweight tournament.
The pretensions at noble intentions about the junior division would be more believable if he mentioned his resume beating New Japan heavyweights in 2018, winning the NEVER Openweight Championship from one of them, and already wrestling in one heavyweight tournament this year. New Japan is usually very good about acknowledging people's history and using it as storyline fuel even if it's stuff newer or more casual fans might not remember – see Taichi and Ishii cutting promos on each other about stuff that happened when they were much less prominent wrestlers ten years ago – so a character not mentioning this stuff reads as more misplaced underdog complex than bad writing.
The other tournament finalist and man in the division with most momentum, Shingo Takagi, is also not hanging around the division until that August Super J-Cup tour at soonest. At least he isn't going openweight in the exact same way as Ospreay – he said he didn't want to be constrained to one weight class soon after arriving in New Japan and the end of his winning streak was the thing that pushed him to really go after taking on heavyweights.
But still, this is the two guys who just had the highest profile and almost definitely the best match in the division all year basically separating themselves from it to a certain degree immediately afterward. If Takagi going to the G1 and Ospreay most likely going to the G1 doesn't mean they just go fully heavyweight soon afterward, having actual openweight wrestlers could be a cool thing for New Japan. It also might create more opportunities for inter-weight class matches, which could mean more opportunities for the juniors in general.
If it doesn't and Ospreay and Takagi are the only special cases here, the plus side for the juniors is that there are more angles for them this summer than usual. The Bullet Club juniors, Roppongi 3K, and Ryusuke Taguchi have things going on with ELP's RevPro Cruiserweight Championship and the IWGP Junior Heavyweight Tag Team Championships that can easily lead to more matches in the future, especially given that it looks like NJPW's still doing that global localization thing they were doing with the American shows before MSG where they highlight performers you could see in your area but with their branding on them when they come to your area.
Best: Dragon Slayer II: Essex Boogaloo
"Spotfest" is a word usually used negatively, but I really don't mean it in a bad way, for the most part, when I call Dragon Lee vs. Will Ospreay a spotfest. Lee goes into this the most doomed wrestler on the show behind Shota Umino and Ospreay brings back the sword that launched a thousand memes (mostly along the lines of this one but also some of this one) and there's almost no emotion. The whole match is about setting up and executing ridiculously impressive high-flying spots, and both Lee and Ospreay can do a lot of those. It's fun to watch on a card on which we really haven't seen any of this type of thing yet.
Overall, Lee vs. Ospreay is fun and extremely impressive but not the best on the card. The crowd really enjoys it and mostly supports Ospreay, but I feel like him winning the title could have been a bigger moment if there was some reason within this match for people to care who won. It's nice that Lee gets got by his new ultra-kill triple finisher like Takagi did, though it'll be interesting to see how it will play he goes back to using just one of these at a time to take out others, especially heavyweights.
A Rare Note On The State Of The *AJ Styles Voice* Internet Wrestling Community?!
I'm not really interested in writing about the fan community and/or media around pro wrestling (just about pro wrestling itself) but I think it's worth pointing out how weird the discourse surrounding it is.
For example, the type of wrestling Lee and Ospreay do at Dominion is clearly Dave Meltzer's favorite kind of wrestling right now. The veteran wrestling journalist/critic also recently said he thinks Ospreay is the best wrestler in the world. He gives his matches and these types of matches many stars. A lot of people have similar opinions and also get very upset if people do not share them, as if stuff like not liking a wrestler because you think his persona is annoying and preferring wrestling matches that look more like wrestling matches or fights makes you very stupid while enjoying more gymnastics makes you a patrician genius and wrestling connoisseur of the highest order.
There also seems to be attitude held by some that watching wrestling with a spreadsheet open in another window and an instant star rating of one's own ready three seconds afterward is the best and most objective way to watch wrestling. A fundamental part of pro wrestling as an art form is the audience getting to express themselves through booing and cheering and reacting in ways they don't get to in everyday life. If it's fun for someone for part of their wrestling fandom to be things like trying to figure out who draws and ranking everyone that's not a bad thing, but this type of thing does not make that person a better fan than a seven-year-old in the audience who wants more than anything to see their hero beat the bad guy.
The idea that there's some kind of homogeneous smark community with homogeneous smark opinions is pretty ridiculous too. The pro wrestling audience has never been homogeneous and if someone thinks it is, they've probably been experiencing wrestling in a space that is not welcoming to people different from them and/or isn't how a varied group of people prefer to engage with wrestling.
Those who claim to respect pro wrestling so hard but can't tolerate any form of dissent whether in the form of jokes or more serious takes from people who see things from a different point of view because they think their point of view is the objectively right one clearly don't actually respect wrestling as an art form. All art is subjective. Those looking to engage with art in a more serious way need to realize that all art can and should be read through different critical lenses.
This is a very long way to say people can prefer flips to fists or fists to flips and can make jokes about whatever wrestling or wrestlers they want (within, you know, the realm of human decency) and if this stuff makes you angry you just need to get off the internet and go take a walk outside or something.
Best: Shibata's Ark
Something exciting about the G1 declarations on the show from Moxley, Takagi, and Kenta out-of-nowhere is that they're all from badasses who want to wrestle. And when they want to wrestle, it's clear that these characters have the goals of fighting and winning rather than performing and telling stories. Variety in NJPW and any wrestling company is great, but the "sports" in "King of Sports" has sure felt more like it was supposed to mean "sports" and not "[insert highest star rating] performances" in the past.
Of course, Moxley, Takagi, and Kenta aren't actually throwbacks to an earlier era of New Japan – they're only recently in New Japan at all – but the type of aggression and spirit they have feels like it is. Like I just talked about for a couple of paragraphs, no one is entitled to wrestling being a specific way. No one is entitled to things they like remaining the way they like all the time either. But for those who got hooked on New Japan as a harder-hitting alternative and loved what Shinsuke Nakamura and Katsuyori Shibata were doing in the company in just the recent past, it's a comforting thing to see. (If your favorite NJPW stuff ever was Elite trios matches and now AEW is your number one priority wrestling company, that's also fine, etc., etc.)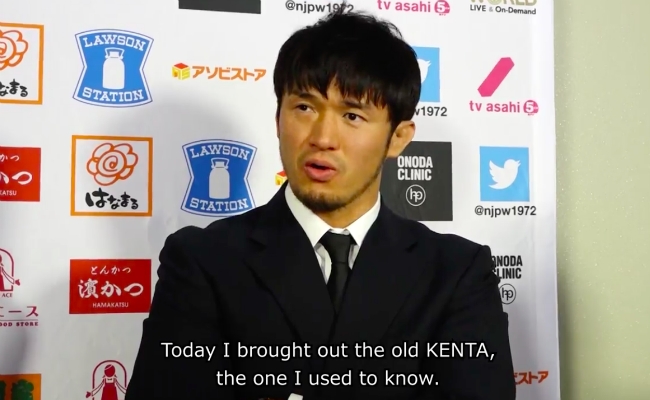 Shibata specifically introducing Kenta not only makes sense – they're former tag partners and so intensely best friends that they call each other soulmates – but brings fresh energy and new blood in a way that brings up something from the past that felt like it might have been lost without feeling like a retread. To some degree this can be read as Shibata saying, "I wish I could be here wrestling, but I can't and my disciples of Shibata-ism are still doing sumo drills in a park in Long Beach, so please accept my best friend in my place for a while for all your unbridled ass-kicking needs."
As for Kenta himself, he makes it clear that he's here to do his wrestling, not suddenly New Japan's wrestling, which is what you want to hear when someone so legendary and beloved from another wrestling company comes to a new wrestling company. It's unclear whether he can go anywhere near as hard as he could when he became a prodigy-legend though. Age and injury have definitely changed him, but those who watched his final run on 205 Live saw him bring back some of his NOAH energy and some brutal-looking spots for little payoff at the time – but soon might have so much payoff if it was secretly preparing for his return to the Japanese wrestling scene.
(It's still pretty lame for New Japan to have debuted him on the same day as a Misawa memorial show though, given how close a connection many Pro Wrestling NOAH fans feel to Misawa and how inspired they've been by his creative vision.)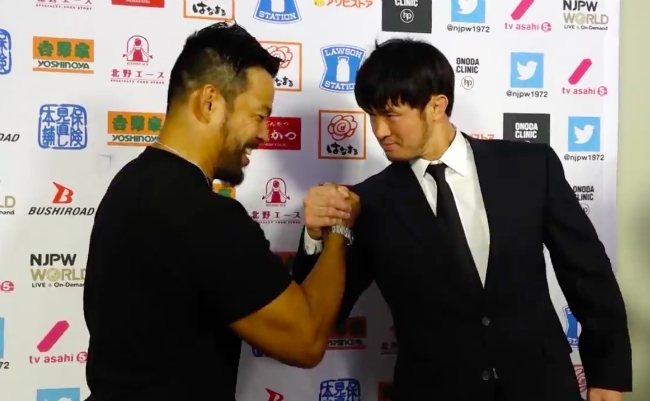 Even if G1 Kenta is a wash, it's at least really nice to see him looking more motivated and happy. It's nice to see both these guys who have given us so many great matches looking happy after what we've seen what they've been going through for the past few years.
May I Interest You In A Sanada During This Trying Time?
After the moment of peak G1 hype during this show, we get the match that was by far the least hyped: the Guerrillas of Destiny defending their IWGP Tag Team Championships against Evil and Sanada. These teams have wrestled multiple times over the past few years and if you think about it, G.O.D. are probably this L.I.J. team's main rivals, but you do have to think about that first.
They've had some good matches but their feud hasn't been executed like most in NJPW. They've faced off in almost exclusively two-on-two matches with little chance to interact and cut promos on each other in between because there has never been a big faction-on-faction Bullet Club vs. Los Ingos feud (which is something that should absolutely happen for whatever the White-Naito dynamic would be alone.) In addition to all that, this title match was announced last-minute through a show G.O.D. wasn't on and the inter-promotional shadow realm that is the War of the Worlds tour.
This match ends up not trying to force people to care about it in a serious way on the day, but plays up the personalities in the match in a way that's fun if you enjoy the personalities in the match. G.O.D. continues their story of being extremely statistically dominant but winning via shenanigans, kind of similar to the Suzukigun run with the junior tag titles last year. Bushi, who wasn't scheduled on this show but is a member of the most functional faction in the company so of course he was there, gets a surprise moment to shine.
But far and away the biggest star of the match is Sanada, and it's set up to make him look that way. It makes sense when the space pirate half of the "evil space pirates" is supposed to be the same-age rival of Okada now. Sanada gets a few different moments to show off his insane athleticism and crowd work and we're reminded of only his upsides. You could do worse with this less than fortunate position on the card.
BEST: Two Maniacs Try To Murder Each Other On Live TV
Let's get the big talking point about Tetsuya Naito and Kota Ibushi's IWGP Intercontinental Championship match, the insane neck bump Ibushi takes against the apron that was instantly replayed multiple times, out of the way right at the top here. This type of thing makes some people so uncomfortable that they can't enjoy the rest of a match. That's not a bad thing. Wrestling is supposed to be entertaining and if the possibility that someone just intentionally almost paralyzed himself and smashed his brain takes you out of the entertainment that might actually be a good thing.
Personally, I'm not sure how I still have no qualms about enjoying this match after I was in the audience for Hiromu Takahashi's neck injury, but I think it's because Naito and Ibushi are two experts at wrestling and consenting adults and though the reason they decided to do this is unfathomable to me, it's absolutely something they decided to do.
I doubt that crazy German suplex off the apron needed to happen for this match to be such a perfect conclusion to this chapter of the Naito-Ibushi rivalry, but it did fit with what they were doing here. Their matches have all been about two insane, loveable murders pushing each other to their limits in the ring, and this one seemed like the limit. They've both performed amazingly in the previous installments of this series, but Ibushi, after ascending to his murder-alien form to win, has been the top star. In contrast, this match is the most dominant performance we've seen from Naito all year and reminds everyone what makes him one of the best in the world.
That fact that this match happens in Osaka is so perfect too given Naito's unique relationship with the audiences here. They were the first to get completely fed up with and boo him as the Stardust Genius, starting him down the path to the Mexico excursion and joining Los Ingobernables and becoming the much more popular character he is today. They made him and they know it and he knows it and when they boo him and his behavior becomes even heelier in response it feels like a loving exchange of, "F*ck you" "Hey, f*ck you too." Naito posing with the belt he doesn't even really want and his foot on Ibushi's neck like a stone cold killer at the end is the cherry on top, and like an actual cherry you can eat, not one of those Maraschino ones.
Is it satisfying to see Naito win the Intercontinental Championship again? To me, it still isn't, and I still doubt it ever will be. The possibility that Naito could just win and lose the IC title over and over on a futile quest to become Naito Two Belts is a pretty bleak one. That doesn't make it any less fun to watch him wrestle though.
Worst: The Pain Event
The Chris Jericho vs. Kazuchika Okada main event probably suffered from going on after two more athletic and riskier contests in Naito-Ibushi and Ospreay-Lee, but that doesn't mean it would have been great in a vacuum. But maybe in a vacuum, NJPW would have somehow not lost the rights to broadcast Judas, a song by the band of the wrestler whose entrance song it is and also the source of the name of his new finisher and who knows how much the power of an internationally-broadcast Fozzy could have improved things!
Jericho vs. Okada is one of those matches where its downsides creep up on you. I'd say Jericho carries his performance with personality and crowd work, two things at which he will never not be great, until he regains dominance following his flex pose in the ring. In a world where Andy Ruiz Jr. is a world heavyweight boxing champion and also Samoa Joe has been crushing it for years, I'm not going to blame Jericho's physique for him seeming like a less credible brawler here. The way he presents himself in the ring has changed since he started this New Japan run, less threateningly unhinged and more obnoxious.
Jericho's age and physical limitations are also more obvious here than when he wrestled Omega for the first time even though he and Okada don't do anything nearly as crazy – and maybe because they don't. There's less actual wrestling along with the heel work as well, which isn't what people really want out of an Okada match.
I guess you could chock up the smarky Osaka crowd that happily booed Naito the match before angrily booing Jericho here to next-level heel work ("This is all Jericho's doing!" shouts Kevin Kelly) but they clearly start booing right after a roll-up finish to a match that never escalates to the heights you expect from an Okada defense. The booing (and the attempted throw of a bottle into the ring by some extra-motivated fan) after the beatdown and setup of Tanahashi-Jericho does seem like it's in response to an ending to the show NJPW knew would make people mad, but it's not fair to write off all the other weaknesses of this main event just because people were supposed to be mad about something that happened afterward.
"Chris G1icho" t-shirts would definitely sell, but his hint of entering the tournament sounds more like troll-riffing than anything else, partly because it just doesn't seem like he's interested in having that matches and possibly is not in that good of shape. He has a line backstage that "New Japan is better with me" which makes sense for him to say, but in reality, many regular members of the roster could have had a better and more exciting match with that. I'm still optimistic for Tanahashi-Jericho and it's absolutely still a dream match judging from their resumes, but judging from this show alone, these are the last two people you'd want to see in a big featured singles match, especially Jericho.
That's a downer ending for the best/worst, but it was a downer ending for the show! But overall, we got way more good things than bad from this year's Dominion and there's a lot to look forward to in New Japan this summer.