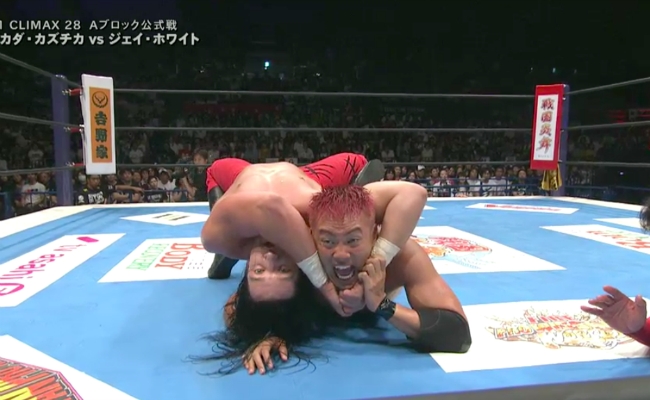 Previously on NJPW: Top talent competed in exhibition tag matches, the United States Championship was freed from the clutches of the emo edgelord by the heroic rave idiot, and the Guerrillas of Destiny brought their dad to kick Kenny Omega's ass.
You can watch New Japan Pro Wrestling shows on their streaming service, NJPW World, which costs 999 yen (about 9 USD.) They feature a different free match on the site every week and you can do a free trial month, so it's a pretty easy service to test drive. You can also watch certain NJPW shows with commentary by Jim Ross and Josh Barnett on AXS.
You can keep up with With Spandex on Twitter and Facebook, follow our home site Uproxx on Twitter, and even follow me on Twitter @emilyofpratt. And don't forget to share this column on Facebook, Twitter, or whatever social media you use! Also, leave a comment with your thoughts on the show and/or article! All feedback is appreciated and will help us keep up the NJPW coverage.
And now, the best and worst of the first two nights (July 14-15, 2018) of G1 Climax 28. (I know we started with three nights in a row, but so much good wrestling happened and so much was set in motion on these first two shows that the 16th is getting it's own separate article.)
Best: The Commentary
I'm going to start by appreciating two relatively small things about the first two nights of this year's G1 Climax tournament. The first is the three man English announce table of Kevin Kelly, Don Callis, and Rocky Romero. These guys consistently killed it and all brought different things to the table, with Kelly as largely the play by play and nice guy, Callis insulting everyone (except God of Pro Wrestling Kenny Omega) and delivering some good analysis, and Romero contributing to the play by play while adding locker room insight, especially about the now-fraught Chaos. Together, they effectively called the matches, added layers to the stories, and made me laugh a few times.
Best: C Block
Another little positive thing that probably contains seeds of a bigger thing is the running joke about C Block. The idea of a G1 Climax C Block mini-tournament for all the heavyweights who didn't make the cut started on Twitter between Toa Henare, Kevin Kelly, and David Finlay. The singles match between Henare and Finlay on the last night of block competition was dubbed the C Block finals.
C Block was brought into the physical realm during the Hirooki Goto and Jado vs. Ren Narita and Henare tag match. Henare, who has graduated from the dojo and has a t-shirt and theme song, but hasn't taken the next step in his career yet, enters doing a "C" motion. Backstage, he checks, "That wasn't a C Block match, was it?"
But the actual factual Henare storyline, only brought up on commentary at this point, is that he might want to ditch being sort of in Taguchi Japan for Bullet Club now that it has a subfaction that is extremely relevant to his interests of Polynesian pride and being a tough guy. Career advancement possibilities are also brought up, and it has been acknowledged in kayfabe that Henare trained at the Fale Dojo in New Zealand, so he does have a connection to those guys besides ethnicity and fighting them in tag matches sometimes.
On the opposite end of the career spectrum, Jado is back! We last saw the non-Rainmaker-hypeman half of Gedo and Jado before his injury in September 2017. Now he's back after a long and difficult recovery, taking credit for the sold out house and calling people c*cksuckers. This tag match is technically a preview for Goto vs. Sanada, but with Hiromu out injured there aren't enough L.I.J. tag partners to go around, and future B Block opponents Naito and Sanada are oddly tagging with each other. So Jado really does get to be the star of this tag match, though Goto gets the pin after a very nice Ushigoroshi to Narita.
Best/Worst: King Kong Karma
A Block has been less hyped that B due to its lack of obvious blood feuds, but it contains a lot of really good wrestlers who perform well on Night 1. Tournament competition kicks off with Togi Makabe defeating Yoshi-Hashi in a way better match than we've been led to expect from the Head Hunter. Yoshi-Hashi had a bad 2017 G1, points-wise, and 2018 has been pathetic for him in singles and tag matches. It's unclear how he's even in this tournament. His new "Just Keep Going" shirt is maybe the saddest wrestling shirt of all time.
However, he's a shoot good wrestler who's been playing a bad wrestler on TV. He shows up looking less anxious than usual with a new silver sleeveless duster thing and a codpiece on his tights. He goes in with strikes against Makabe and shows surprising fire throughout the match. Yoshi-Hashi countering the Spider German suplex with a sitout powerbomb was a surprisingly cool moment for him!
Makabe, in his 15th consecutive G1, shows he'll deliver reliably good and entertaining matches throughout the tournament. The crowd is fully on his side and loving his signature moves. I thought the finish was weak due to Yoshi-Hashi's weird sell of the Spider German that led to the King Kong Knee Drop, but the crowd was into it, and this was a fun match overall.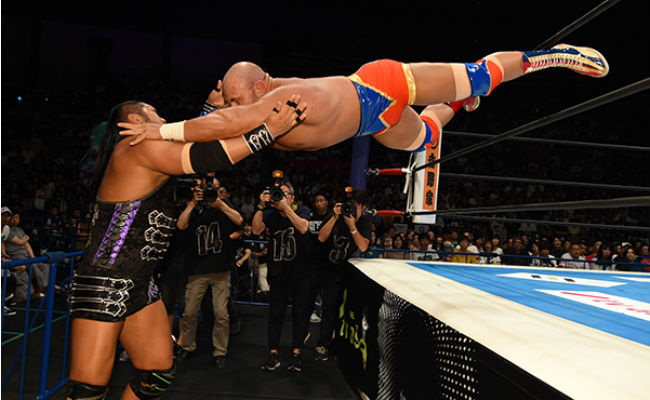 Michael Elgin defeats Evil in another good, but not widely hyped, match. Elgin isn't looking unbreakable at all after just becoming the shortest reigning NEVER Openweight Champion. Evil hasn't done much in singles competition this year, but is probably Chris Jericho's first IC challenger, and already won the fashion portion of this whole dang tournament.
Evil killed it in the G1 last year and earned a title shot, and it looks like he'll do it again this year, minus the title shot because A Block. The match gets off to a fun and aggressive start as the two men fight outside the ring and Evil takes a chair, wraps Elgin's arm with it, and shoves it into a ringpost. This goth hoss's bulldog into a modified Fujiwara armbar is super cool, and he looks strong, smart, and ruthless as he continues to work Elgin's right arm with submission holds and high impact moves. Elgin hurts this by bad acting and not convincingly selling pain with his facials or body language. Still, this match is athletically impressive and fun to watch overall. Elgin eventually wins with the Elgin Bomb and I guess is probably on a quest for redemption that will lead him to… (spins wheel of Michael Elgin career possibilities) Jericho's second IC Title defense, maybe?
Despite/because of the loss, Evil is extra aggressive in the next night's tag match (him and Bushi against Yoshi-Hashi and Sho), and looks like a boss tapping out Sho to the Banshee Muzzle.
Best: Ace Out Of The Hole
In A Block's most foolproof matchup, Hiroshi Tanahashi defeats Minoru Suzuki and it's freaking great. This is Tanahashi's 17th consecutive G1, and he's acknowledged he's no longer the Ace, but feels the need to prove he's not an afterthought. Suzuki has been on a big match hot streak, recently winning the RPW British Heavyweight Championship in a banger with Ishii, and declared at the press conference that the two remaining goals in his career are to win the G1 and take Omega's title.
These two, unsurprisingly, kill it performance-wise from the entrances. The match starts fast, with Suzuki going for the rear naked choke but unable to lock it on. He heel hooks Tanahashi, using the same strategy from their IC title feud earlier this year, when it was super effective due to Tanahashi's knee injury being at its worst. Suzuki just goes in on the knee here and it looks painful. If injured like before, it could effect Tanahashi for not only this match, but the whole tournament.
Suzuki is sadistic and happy as he expertly applies holds while Tanahashi screams in agony. The tension is so real, and both these men are so good at what they do. I was basically Desperado applauding from ringside when Suzuki switched to that ankle hold because I love submission wrestling and am also maybe a bad person. After some strikes, Tanahashi finally lands a flying forearm, but the knee prevents him from following up.
Things only get more dramatic after a nearfall for Suzuki. The King manages to lock on the rear naked choke and maybe could have finished with that, but, nope, he has to go for the Gotch Style Piledriver, his greatest strength and weakness. Tanahashi escapes and hits an Inverted Dragon Screw that leaves Suzuki screaming in pain and rolling to the ropes. After two High Fly Flows, Tanahashi gets the W, and finally gets Suzuki back for shelving him with injuries earlier in the year. I loved this match.
Suzuki pushes El Desperado aside and limps out of the ring, then throws a tantrum backstage. But he looks happy as he hits a Young Lion early and beats up Togi Makabe in the crowd when he and Desperado face off against the Unchained Gorilla and Henare on Night 2. Suzuki's knee seems fine now, but he makes up for his loss with extra mean spiritedness. Makabe and Suzuki had a good match at this year's anniversary show and a fun feud leading up to it, and this tag match makes it look like their rematch will also be really entertaining.
Relative Worst With Bests: Evolving On Mount Everest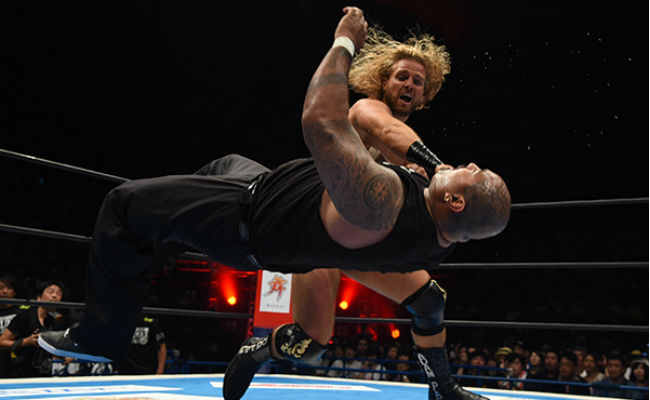 In contrast to that bulletproof rematch between longtime rivals, we got a shaky G1 start for the fractured Bullet Club. The BC guys still have leftover storytelling to do from the G1 Special In San Francisco, and it feels like they start a step behind everyone else in the tournament. Bad Luck Fale, Tama Tonga, and Tanga Loa (now basically a shadow G1 competitor) have to establish their identity as a faction, and Hangman Page as an individual out of the shadow of being Cody's Goon. When Hangman Page defeats Bad Luck Fale via a rare G1 disqualification, it shows the strengths and weaknesses of both men's current positions.
At the press conference, a slimmed down, more heavily tattooed Fale showed up, flipped the camera the bird, and said "F*ck 'em," as his entire promo. Hangman Page was IMMEDIATELY OFFENDED, and like "WHAT DO YOU MEAN BY THAT?" I think Page gets the idea when Fale attacks him before the bell and starts beating him up against the guardrail.
Although this match is short and has a screwy finish, it shows off both these men's strengths as wrestlers. This is the most motivated, athletic Fale we've seen in a while. He's notably really good at singles tournaments because of his size advantage and poor sportsmanship, and here he has the extra fire from needing to make a statement against the people he sees as ruining the brotherhood he co-founded and has been part of for the past five years. Hangman gets to look scrappy against this hoss, and his atheleticism shines against a wrestler with a way different style. That tope suicida was a rad moment, and the moonsault onto Fale and Tanga Loa was cool, although I felt like it took awkwardly long to set up.
This match also establishes the BCOG G1 strategy. Page is first distracted by Tanga Loa coming to hang out ringside, and, of course, Loa later attacks him and gets strong heel heat. Tama Tonga later comes out to get in on the beating up Page action and shoves the ref out of the ring. Fale gets DQ'ed due to extremely blatant interference, none of the Tongans care, and Fale actually takes Page's rope and goes to hang him, which was bound to happen sometime. You live by the questionable aesthetic decision to be a white, Southern noose-enthusiast, you die by – just kidding, Chase Owens, Kota Ibushi, and Kenny Omega prevent a literal in-ring murder from happening.
Backstage, Fale denies any wrongdoing and hilariously says his friends were just there to support him. Page calls Fale a bitch and says the OGs are stuck in 2015 while the rest of Bullet Club has evolved and grown. But as wrestlers, those three have all evolved since that time, Tanga Loa was still in TNA in that year, and the Guerrillas of Destiny weren't even a tag team.
However, that touches on the creative risk of styling a faction after a faction that was around only a few years ago, and one that did a lot of interference. I think every wrestling fan has been burned by a storyline or five that involved too many run-ins. That was one of the most frustrating things happening on Smackdown Live when I was covering its Best and Worst reports for a while. Run-ins and interference can get repetitive and stale, but also can be extremely effective if done right.
I think using these tactics in the G1 is both good in kayfabe (cheating to win to rack up points) and a good way to get meta heat, because there is a section of the New Japan fanbase that takes the G1 so seriously as the Mount Everest of pro wrestling that they get worked up when people don't follow the tournament's rules. You definitely see comments from people who would probably identify as smarks during NJPW tournaments acting as if pro wrestling is a shoot sport and people who don't win a lot of points, and/or don't win clean are actually worse wrestlers than those who do. The Tongans probably won't get people calling the New Japan office demanding they be fired, like Karl Anderson says happened with him and Prince Devitt due to their cheating in the early BC days, but they will piss people off, and they're getting good heel heat from the crowd so far.
Plus, this makes sense as a strategy not just as a throwback to the days of Gallows and Anderson in NJPW, but because stellar teamwork was a big reason Fale and the G.o.D. held on to the NEVER Openweight 6-Man Tag Team Championship for most of the first half of 2018. They had mostly comedy or comedy-ish matches during that title reign, but now the same teamwork is being used more seriously and could do some serious damage.
In contrast to the years of lore behind the BCOGs, NJPW Singles Wrestler Hangman Page is almost a blank slate. We don't have much of a character for him here now that Kenny vs. Cody is over besides 1) Angry Rope Guy, 2) part of the Elite, the section of the Bullet Club that evolved into sketch comedians with lots of t-shirts 3) can do cool moves.
We see more of the very cool moves that are likely to come out in Page's matches not against a man mountain who wants to murder him in his and Chase Owens' tag match against Michael Elgin and Shota Umino. I definitely popped for that dropkick into a moonsault.
Afterwards, the BTE BC guys cut a promo targeted directly a me, a person who mixed them up for so long that I had to issue a correction on my first ever feature article for With Spandex because I erroneously said Chase Owens challenged Jay White for the US Title. "Do you think we're maybe two different human beings?" asks Page. I do now, guy!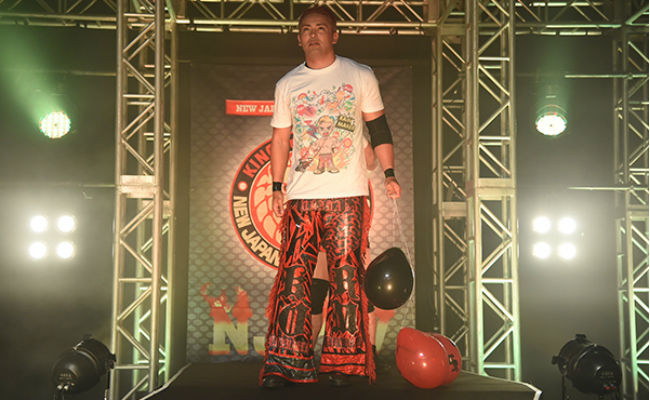 The new Bullet Club subfaction is already working in a better and less frustrating way when Bad Luck Fale and Tanga Loa defeat Kazuchika Okada and Gedo in their tag match on Night 2. Okada is even sadder and weirder after his Night 1 loss to Jay White (I'm getting to it), with he and Gedo in matching shirts that don't go with the rest of their gear, the odd combination of ballons and total dejectedness, the pop punk dye job, and the theme song remix. Also, Okada just freezes doing t-rex arms on the turnbuckle for like five seconds, staring into space instead of doing the Rainmaker pose.
Gedo looks… supportive, but concerned. Okada's new, weirder version of himself is fun to see agains the mean brick wall that is Fale, and barely escapes a Bad Luck Fall to the mat after the match. Tanga Loa looks good in this match too, pinning Gedo with Apeshit, his over the shoulder reverse piledriver, and yelling "Scooby do that shit!" after headbutting Okada in the stomach like twelve times.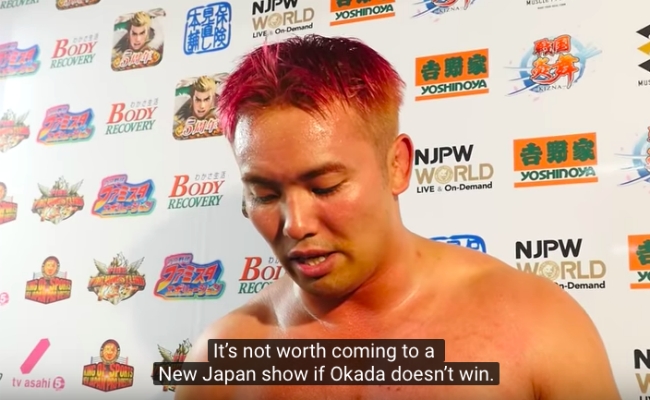 Backstage, Okada continues to have a crisis, saying the audience needs to see him win for an NJPW show to be good, and passive aggressively forgiving Jay White because they're teammates. What a guy!
But before we get to the crumbling citadel that is Chaos, our American boys, Biz Cliz and otherwise, also have stuff going on in B Block. The Guerrillas of Destiny defeat Juice Robinson and David Finlay in a match I was very happy to see on real NJPW TV, even if only as a preview tag match. G.o.D. has a comedy side, but they're more business than Burnard in this match, and so are FinJuice, despite their next level obnoxious, amazing entrance gear. Finlay is fired up and seems tougher than usual against both opponents. The match culminates in both teams running interference on each other, and Tama catching a jumping Finlay with a Gun Stun for the win.
Juice and Tama stare each other down and commentary reminds us this could be a future U.S. title feud if Tama wins their singles match. That bout didn't feel like the best possible match these two could have against each other (which would probably involve a lot more punching), but, to me, it made that title feud seem likely.
Both of these charismatic and sweary dudes are presented as way more serious G1 contenders than they were last year. Juice babyfaces it up, giving his hat and glasses to people in the crowd, and the extremely confident Tama declares he's going "to make easy work of this ho-ass muffin right here."
This match is heavy on storytelling, and starts off with slow, traditional North American wrestling. Tama tosses Juice outside and into the barricades, where Tanga Loa is waiting as a visual threat and distraction. We get an idea of how difficult this tournament is going to be for Juice when he faces anyone even slightly underhanded when Tama works Juice's broken hand against the barricades and tries to slam the gate door on it.
Each trash talks the other to try and get him to play the other's game, with Juice challenging, "Come on, motherf*cker, right here in the middle of the ring," while Tama skulks on the mat saying, "Play with me outside." Juice falls prey to Tanga Loa attacking him outside the ring while Tama distracts the ref, and also to Tama stepping on his broken hand like a real jerk. Later, Juice is dumb and hot tempered enough to get distracted by Tanga Loa messing with the ref. He punches him with his cast hand (for no DQ, because that guy's not even in the match,) which gives Tama the opportunity to hit a Gun Stun for the win.
Honestly, I think the most fun part of this match between two wrestlers commentary calls "future world champions" was the backstage promos. Tama gets extremely intense and cult-like (reminiscent of Ishimori's BOSJ promos) about how he and his brother and cousin are doing pretty well at cheating at sports so far. He asks if people can see the heat "radiating" off his body, and tells all the categories of people, "Ladies, children, boys, girls, aliens, and those who want to be Bullet Club members… We are the truth." Juice cuts a good, serious promo in which he recognizes the reality of how badly he just got his ass kicked, and how hard this G1 is going to be for him. He puts over the tournament as a matter of survival, and "hell on earth" for anyone who doesn't win.
Best: Chaos Is Fine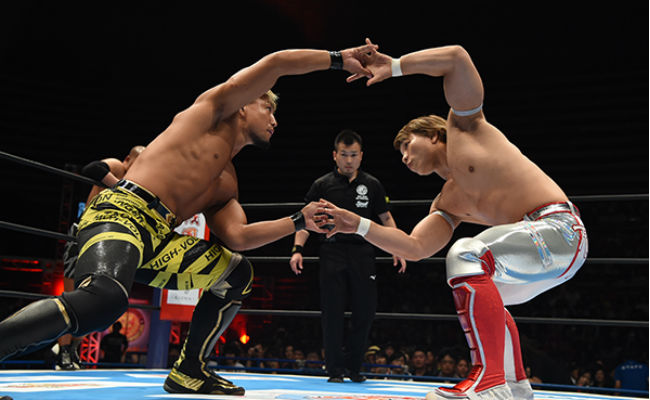 With Bullet Club kind of, sort of doing better, the Tomohiro Ishii and Sho vs. Toru Yano and Yoh tag match first posits the question, "Is Chaos fine?" This All Chaos tag match between two split up regular tag teams is clearly between men who know each other well and don't face each other often. That gives it a really fun dynamic. We haven't see Sho vs. Yoh (Kelly: "Which son is your favorite?" Rocky: "I love them both equally.") since they were Young Lions, and they mix quality mat wrestling with what Rocky calls working out their frustrations. In the same match, facing Ishii brings out Yano's real wrestling skills, which he used to use a lot more back when he bleached his hair. Though he does try to untie the turnbuckle only to be narced on to the ref by Sho, Yano mostly stays true to his new motto that "Morals are more important than any victory," and even lands a brainbuster on Ishii.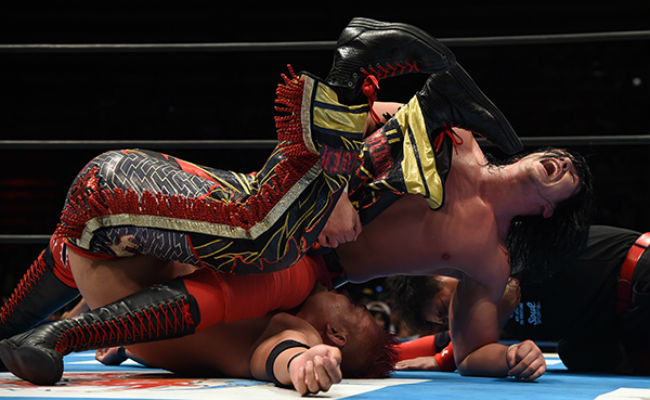 The Chaos drama really gets going when SWITCHBLADE JAY WHITE DEFEATS KAZUCHIKA OKADA. They've been teasing this match since literally the day Jay White joined Chaos, and does it ever deliver.
Jay enters in his wannabe Shinsuke gear (How sad do you think Switchblade is that he just missed having the talking point of being the IWGP United States Champion while Nakamura was WWE U.S. Champion?) and tells Red Shoes to use his eyes, because he's still mad about Juice not being DQ'ed in San Francisco. Okada, meanwhile, doesn't know who he is without the title, but he's trying to figure it out, and is getting weird with it. He hasn't won a singles match since Tanahashi at Dontaku, having lost to Omega, then tied Suzuki, then lost to ZSJ in the UK.
When Jay White transitions the gentlemanly handshake into a Blade Runner attempt, the frenemy vibes that have been festering beneath the façade of intra-faction fraternity emerge. The tension is real as they trash talk each other and fight outside the ring. Okada knows White's game and he's not going to let himself be pushed aside just because he's not the champion. But White is even more ruthless, using the same tactics he used against Juice in San Francisco, then trying to choke Okada in the ropes and smother him in the ring skirt.
In the ring, they both do damage to each other, including a really nice Saito suplex from Jay and Okada's beautiful as usual dropkicks. Okada hits a Rainmaker and covers and would have won, but White knocked over the ref while being spun out. White hits a low blow to Okada and hits him with a chair, then pins after the Blade Runner for the win with Red Shoes once again watching.
This edgelord dork finally succeeded in what he told us for months he was going to do after waiting until the opportune moment. He throws a spectacular sore winner tantrum, telling the camera "I don't care about any of these people," before grabbing the mic and telling them the same. He says he pulled the plug on a dying Okada, and that "Okada is now my Rainmaker." (What does that even mean? Nobody knows what it means, but it's provocative!)
Jay sounds like a brat saying this is "my Chaos, and this is my G1," and grabbing an English commentary mic to say, "F*ck you, Rocky, it's my Chaos now." In his tag match with Yoh against Finlay and Tanahashi on Night 2, we see how he plans to remodel Chaos in his own image besides probably putting up My Chemical Romance posters in the locker room.
He hugs Yoh (who knows him from the dojo and ROH before joining the same faction) before the match and gives him an aggressive shoulder massage from the front like a real creep. Then White just powders out after the bell rings and heads for the exit, saying "Tomorrow I'll get the points." Technically, this is very smart strategy, but incredibly poor sportsmanship. He decides to go back to "soften up that man. He's got a bad knee," but powders out to leave Yoh to fight first. ("Trust me," says Jay White. "Don't trust him," says Rocky on commentary, watching his shiny idiot son be corrupted before his very eyes.)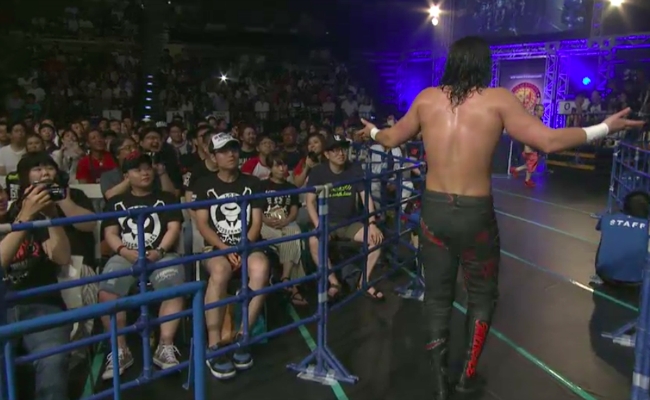 We get a Tanahashi vs. White preview, and it's very satisfying to see Tanahashi get in offense on this guy. White attacks Tanahashi with a chair, then gives sweet, stupid Yoh the chair and tells him to hit Finlay. Yoh looks like he might, but ultimately does the right thing. When Finlay stunners Yoh and pins him, White intentionally doesn't break it, saying, "You didn't listen to me!" Are we getting Evil Roppongi 3K, or at least half of it (my money's on Sho, source: his Iron Finger stabbing spree) this G1? Is Switchblade going to make Rocky cry?
Best: The Odd Couple Explodes
In an intra-Chaos match not fraught with melodrama, Tomohiro Ishii kicks off B Block competition by defeating Toru Yano. It's their first singles match after hundreds of matches together as a tag team. Yano is hesitant at first, but soon goes in for strikes, and succeeds in knocking Ishii over with a shoulder tackle. Though Yano does more actual wrestling than usual, his impulse to cheat is too strong, and he goes for the turnbuckle pad. Yano's normal tactics plus knowing Ishii better than probably anyone else on the roster work out well for him, and Ishii has to win Yano-style, via a La Magistral cradle after a low blow. It ultimately isn't a teamkill match, just a fun one with a cute story.
Best: The Strong And The Silent Type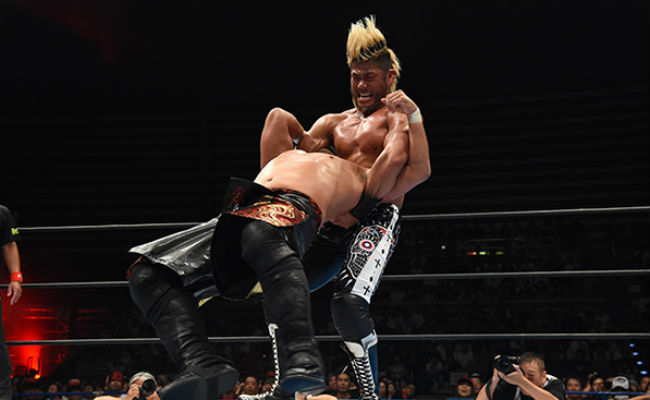 Hirooki Goto defeats Sanada in just a straight up good wrestling match, unburdened by the personal drama of the other Night 2 B Block bouts. Not that I didn't enjoy all the drama, but this was a nice change of pace. This match saw Goto's superior power go against Sanada's speed. I liked the strikes, Sanada's sell of his missed moonsault, and that rolling transition into the Skull End. The series of moves and counters from the Reverse GTR to the regular GTR for the finish was skillful and fun to watch.
Best: Pumped Up Kicks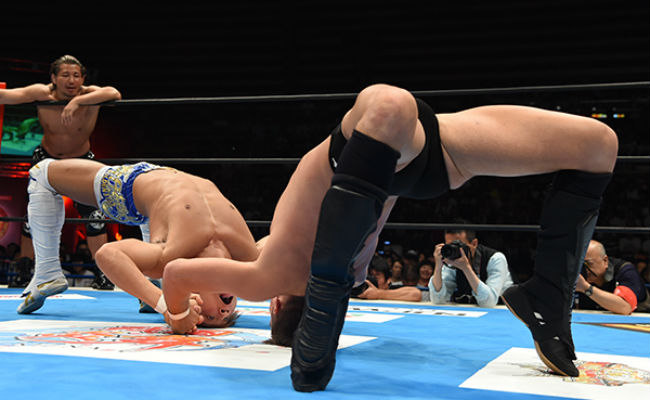 Zack Sabre Jr. vs. Kota Ibushi is an even more creative test of skill as the bratty submission master faces the pure-hearted kickboxer/moonsault maniac for the first time since defeating him on the road to winning the New Japan Cup. ZSJ is really good at tournaments for the same basic reasons Fale is, although they're obviously very different wrestlers: he bends the rules and has an unusual style, so he's difficult to prepare for and deal with. He's on a hot streak right now, and looks even stronger after using what proud papa Taka Michinoku declares the "Zack Driver!" (the Michinoku Driver.) Ibushi hasn't done much this year as a singles competitor, and even his new t-shirt (which says "Can't Stop Loving," so if the Golden Lovers weren't That Couple before, they definitely are now) connects him with Kenny.
In their singles match, Ibushi and Sabre both show the inexplicable things they can do with their bodies. The mat wrestling and submission holds is so unique, and Callis points out that fighting ZSJ is "like fighting an octopus." Ibushi starts in with kicks and elbows, a good strategy when wrestling a Paper Mario who inexplicably never realizes he'll crumble in a strike exchange. After a standing moonsault to nearfall for Kota, ZSJ instigates my favorite maneuver of his in this match, snatching Ibushi out of the set up for a moonsault off the the turnbuckle for a leg lock on the apron, then a heel hook on the floor.
To get back to Ibushi, I appreciated seeing him as something other than essentially a damsel in distress for the first time in a while. His kicks and open handed strikes look like they really hurt. He wins with a Kamigoye knee strike after a series of nearfalls and blocked Kamigoyes. This match made it seem like something big should happen for Ibushi this G1.
BEST: El Gobernador Y Lo Ingobernable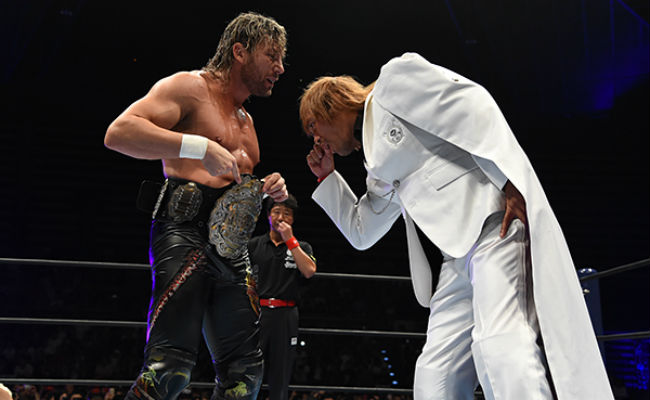 Kenny Omega and Tetsuya Naito, the winners of the past two G1 Climax Tournaments, had a great match in last year's final. They're both in tip top shape (and Kenny's physique is fantastic) for their G1 Climax Night 2 main event, and now have more personal beef than ever. Especially since I'm guessing they'll be the Wrestle Kingdom 13 main event, I'm going to talk about the stark differences between these two men fighting to be the face of NJPW in a post-Okada world.
Naito is on a long road to redemption, the same road he's been on since the crowd turned on the Stardust Genius, since he got voted out of a Wrestle Kingdom main event, since his exile to CMLL, since returning to NJPW having joined Los Ingobernables, which was unexpectedly extended when he couldn't beat Okada in the Tokyo Dome on January 4, 2018. Naito is cool and popular (the most popular wrestler in Japan according to a recent poll and crowd reactions, despite Kenny's claims he's cooled off) because of his incredible wrestling ability combined with his tranquilo attitude. He gives zero f*cks, or at least appears not to, which is really difficult to do. That's a big part of what makes him aspirational despite looking like he cuts his own hair every two months.
Roland Barthes did a series of lectures in 1977-78 called The Neutral, and now I'm going to be incredibly pretentious and insert a quote from critic Maggie Nelson about them from her book The Art of Cruelty because I think it's relevant to this feud:
"The Neutral, a third term into a situation that otherwise appeared to consist of but two opposing forces… is that which throws a wrench into any system that demands, often with menacing pressure, that one enter conflicts, produce meaning, take sides, choose between binary oppositions… that are not of one's making, and for which one has no appetite.
As it disrupts such demands, the Neutral introduces responses that had heretofore been unthinkable – such as to slip, to drift, to flee, to escape. In a world fixated on the freedom to speak and the demand to be heard, the Neutral proposes "a right to be silent – a possibility of being silent… the right not to listen… to not read the book, to think nothing of it, to be unable to say what I think of it: the right not to desire." … Insofar as third terms – however volatile or disturbing – baffle the oppressive forces of reduction, generality, and dogmatism, they deserve to be called sweetness."
Naito (and also Stone Cold Steve Austin back in the day) is such a folk hero because he offers this rare, difficult-to-impossible in real life Option C. He and L.I.J. do what they want, and do it without the sadism of Suzukigun or, say, Kenny Omega's need to "change the world."
While Naito is a hero of the people, Omega is a wannabe technocrat. The concept of the Elite is essentially that they "rule the wrestling world" because they're better than everyone else. They are, unsurprisingly, elitists. Before he had it's most elevated title, Omega believed he was the best due to self-confidence bolstered by the acclaim of the experts. He has multiple shirts with his match star ratings on them. His "Best Bout Machine" nickname cites him winning the Tokyo Sports Best Bout awards.
Unlike Naito, he has incredibly thin skin, and cares so much what other people think of him. He can't stand when others disagree or have different methods. Japanese wrestlers he doesn't see at the gym at the same time he's there are called coasting and lazy. The Tongans are dubbed children because they don't do what he wants anymore. The "change the world" slogan is really (when Kenny is a heel) about making the world conform to his standards because he's the best.
After Naito and Sanada defeat Omega and Chase Owens in their preview tag match, Kenny is immediately a sore loser backstage. He says to Naito that he "gave him" one of his greatest matches last year and never heard a thank you, never a, "Kenny, because of you, people care about me." He starts off their singles match just as shook, annoyed at how long it takes Naito to remove his suit and doing his taunt at him in the least cool possible way, then getting worked up when Naito taunts him back.
Then they're off, and it's a match that puts even Night 1's main event to shame. It's one of those matches in which people not hitting moves is almost as satisfying as them hitting moves. Kenny has a really nice carry into a backbreaker early on, and a great You Can't Escape after one failed attempt. Plus, he clears the freaking barricade for a crossbody from the ring! Naito is incredibly smooth, dropkicking Omega outta nowhere from behind the mat Kenny is in the process of removing from the floor, and later stopping Rise of the Terminator with a clothesline into a swing DDT. That whole sequence from the Dr. Wily Bomb to the dodge of the V Trigger to the successful V Trigger is so good. After some tense almost-One Winged Angels, Omega eventually hits the One Winged Angel after a V Trigger for the win.
Kenny cuts a promo in Japanese congratulating Naito on last year's G1 win, then trashing him for not getting the IWGP Heavyweight Championship or developing since then. He gets booed and definitely helps keep up interest in seeing Naito kick his butt ASAP. He also, interestingly, says if Naito works hard he can be number three in the company under him and "my Ibu-tan," which makes it sound like Kenny might consider Ibushi beneath him. So that's something to watch for over the almost a month until the happy couple faces each other on the last night of B Block!
Now I think I've talked about most of the one million things that happened in the first two nights of the 2018 G1 Climax tournament! I'll see you back here very soon to discuss Night 3 before we get four days in a row of dense, high quality wrestling programming. If you're an NJPW rubbernecker who for some reason read to the end of this giant thing, I definitely recommend trying out the NJPW World free trial month now, because they're doing All The Wrestling between last weekend and the beginning of August.