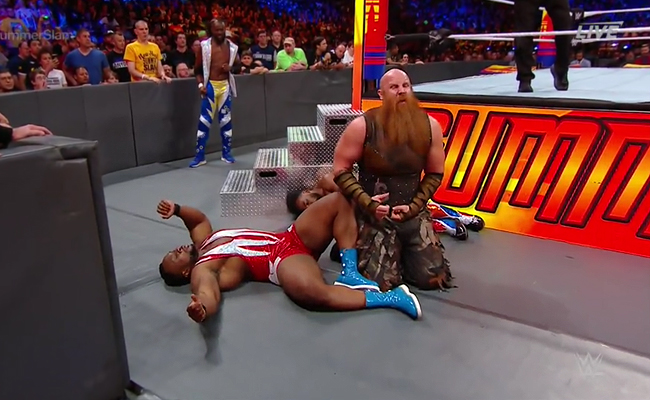 The red-bearded Bludgeon Brother known as Rowan (once called Erick) reportedly suffered some kind of injury at SummerSlam which kept him out of last night's SmackDown house show, and may affect what happens with the Tag Team Championships tonight on SmackDown Live. According to PWInsider, it may have been a bicep injury, although they say that detail is unconfirmed.
Rowan and his Brother in Bludgeoning Harper (formerly Luke) had a match for the SmackDown Tag Titles with the New Day at SummerSlam Sunday night, and it got pretty serious. Rowan tumbled or leapt out of the ring to the floor several times, as well as running hard into a ring post and at one point lifting Xavier Woods (a smaller man than him, but no lightweight) over his head.
In other words, there are a number of moments in the match when it seems possible that Rowan may have been hurt, even if he didn't let on (or perhaps even realize how serious it was). Harper was the one selling like he was hurt when they won the match to retain the titles, but that's most likely just Harper being a good actor.
Tonight on SmackDown, the Bludgeon Brothers are set to face the New Day again in a rematch. If Rowan is hurt badly enough to need substantial time off, we'll likely see the New Day take the belts in a match where Rowan's spots are limited. If the Bludgeon Brothers retain again, on the other hand, we'll have to assume Rowan is more or less okay.