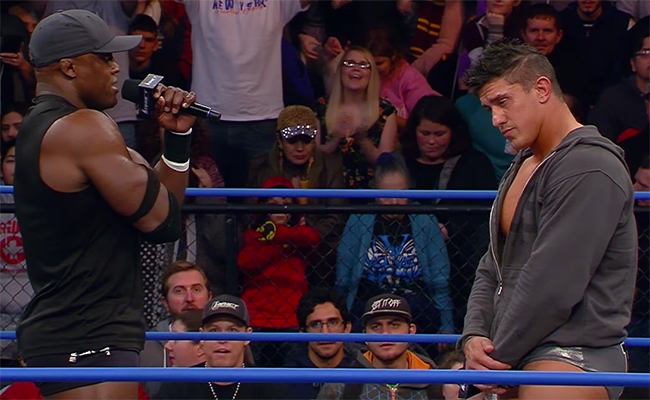 Change is in the air, as it tends to be when we're about to embark on the Road to WrestleMania. As always, changes are constantly afoot over at Impact Wrestling, and three former champions have left the company after the most recent set of television tapings. Laurel Van Ness is on the move, and both Bobby Lashley and Ethan Carter III have finished up and are likely to be headed elsewhere. (Reportedly, that is. It's important to say "reportedly.")
This is all in addition to James Storm having left the company seemingly for good (or at least for the time being), and all of a sudden we're speculating about whether we might see any of these people in WWE, perhaps as soon as a surprise appearance at the Royal Rumble.
We've known for some time that WWE has a lot of interest in both Lashley and EC3, but we drew the obvious conclusion that their respective appearances on Impact television would have to be finished airing before they could pop up on WWE TV. But that might not actually be the case!

PWInsider reports that as of right now, EC3 is "free and clear" to sign with any promotion he pleases, and PWI's implication is there's no restriction to how early he can appear on competing television, even if his Impact television appearances will stretch into February. That means — according to PWI — an EC3 surprise appearance at the Royal Rumble is actually possible.
On the Lashley side of the equation, his contract with Impact will actually be up on Feb. 1, at which point he can sign with any other promotion. That takes him out of the running for a Rumble appearance, but the only certainty is that if WWE chooses to sign both men, they could potentially be part of any WrestleMania build-up.
But what's most LIKELY to happen at this point — since WWE generally has a good idea of what they want the WrestleMania card to look like by this point in the year — is that they would appear shortly after WrestleMania, as part of the big annual surprises. I mean, unless they want to start Lashley and EC3 in NXT. (They do not want to do that.)