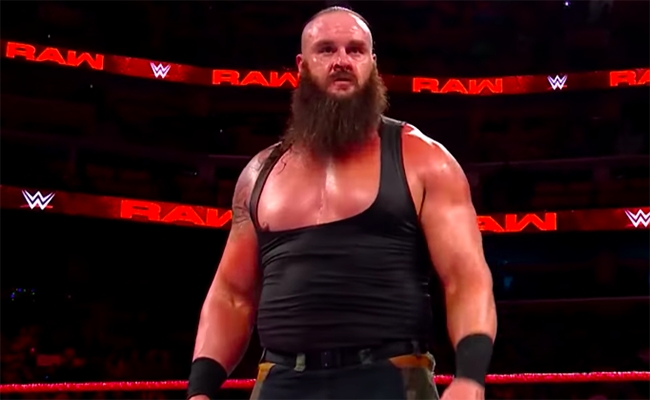 Braun Strowman might be the most popular wrestler in WWE. In fact, scratch that, he might just be the most popular wrestler in the world right now, thanks to his propensity for ruining lives and objects alike via feats of freakish strength.
Strowman, who two weeks ago won a match where the weapons of choice were an orchestral bass and a piano, and who this week tore through the Raw tag team roster and managed to win a shot at The Bar at WrestleMania, is white hot. The fact that most fans barely raised an eyebrow at one man declaring himself a tag team just further puts everyone on notice: it's Braun's world, and the rest of us are just paying rent.
However, when it comes to dream matches for Strowman, he hasn't had a chance to have the one of his choosing just yet. During an interview with CBS Detroit on Monday morning, Strowman revealed that his road dog (not to be confused with his Road Dogg, who is running Smackdown Live) is Bray Wyatt, and it's Bray Wyatt who he'd most like to have a rivalry with one day.

(Transcript via Wrestling Inc.)
""I usually travel with Bray Wyatt. We've gone astray per se as being a team, but our friendship is gonna go down forever. Bray is a very, very close friend of mine.

"I look forward to possibly having a rivalry with him. He's an unbelievable talent. He's one of the best guys we have as far as speaking, in-ring ability, everything. He's the total package, and he taught me a lot coming up with my time with the Wyatt Family, and yeah I'm sure it'll come back one day full circle with the monster and his per se creator goes at it."
The idea of a Wyatt-Strowman showdown does sound intriguing, even if Wyatt's character has been floundering these days. (Or these years, more accurately.) The idea of Strowman's character going full circle dealing with the man who "brought him into" WWE as part of the Wyatt Family seems like something that has the potential to revitalize Wyatt's character. We're in.
At the end of the day, one can only hope that this rivalry comes to fruition, in all of its glory. It could be the rare rivalry these days that would be great for both parties.