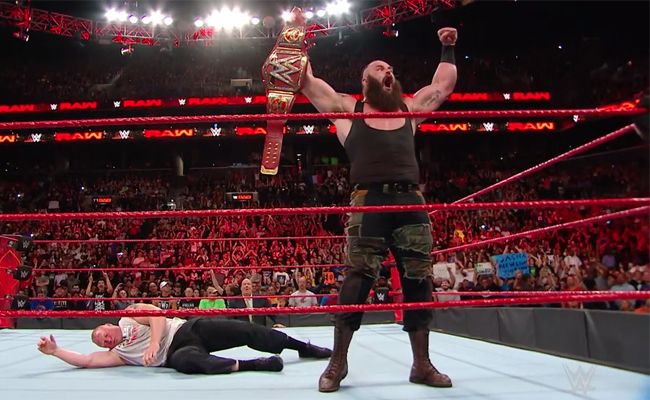 It's safe to say that Braun Strowman is one of the absolute most popular professional wrestlers in the world right now. The Monster Among Men lives up to his nickname in most ways you can imagine, from intimidating chain restaurants for not stocking enough food, to flipping over semi trucks, to even being the real-life son of the Babe Ruth of softball.
But although Strowman's popularity is verging on being a phenomenon, his success in his short wrestling career doesn't have many tangible accolades. Since emerging from absolute obscurity in his WWE debut – bypassing the usual seasoning on the independent scene or even in NXT – Strowman has only held one championship. And he held that championship for less than 24 hours. And it happened just a couple of weeks ago.
Yes, the Raw Tag Team Championship that he captured with the "assistance" of small child Nicholas at WrestleMania 34 (much to Steve Austin's chagrin) was Strowman's first title run. He gleefully surrendered the titles the next night on Raw, and one presumes he'll move on to bigger and better things.
Strowman will, of course (barring something horrible) end up being a multiple time world champion, and the first of those reigns will probably come this year. But despite his lack of titles and accolades, and despite the fact that his career has only spanned two and a half years (and his current popularity and singles run began just in July of 2016), he has lofty goals for his future.

During a recent appearance on Sam Roberts' podcast, Strowman said he intends to go down as one of the all-time greats. (Transcript via Wrestling Inc.)
"A lot of it is WWE Creative really hitting the nail on the head that we do, and the other half is just my work ethic. I want to be the best. I don't believe going out and competing for second best. If I can't be the best at something then I don't want to do it, and that has always stuck with me. I had that mentality when I competed at World's Strongest Man. I brought that mentality here. I am going to be a WWE Hall of Famer. I am going to main event WrestleMania and that's just the fact of it."
It's certainly not a stretch to imagine Strowman will be in those hallowed halls one day – his success in wrestling has certainly already eclipsed that of Hillbilly Jim, who went into the Hall of Fame this year. In fact, we spoke to Big Show last year, and he believes Strowman will become one of the all-time great big men.
But it's good to know that Strowman has lofty aspirations for himself. You've got to be your own biggest fan in this industry, and our beloved big beefy boy appears to understand that.