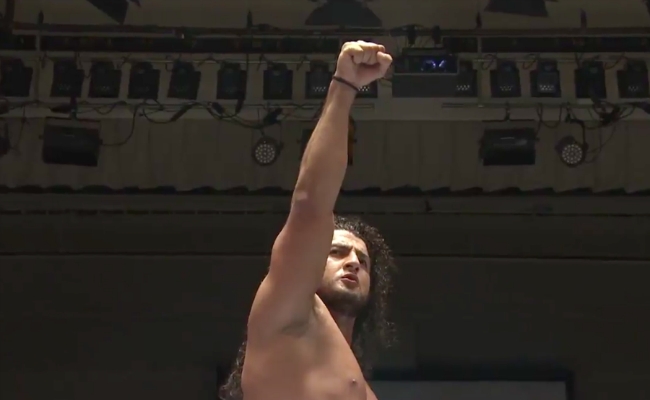 Though Andrade's main roster WWE career has seemed stop-and-go at times, he's also been called the future of the company. If the messages Rush has been putting out on social media and in the press are true, Andrade's WWE situation is so good that the top CMLL and rising ROH star, who was Andrade's stablemate and last opponent in the lucha libre promotion, is thinking of joining him.

Last week, Rush retweeted an article about a report that he's considering a move to WWE, and in a Sports Illustrated interview published today, El Toro Blanco said he wants "to be the top star in Mexico and America" and that his next goal is "becoming the top star in America." He also spoke highly of Andrade's WWE run and promised that he will be reunited with his former stablemate in Los Ignoberables someday:
Andrade has had his way in WWE, and will be their biggest star. He will always be part of Los Ingobernables, which is represented all over the world, and we will always be connected in blood. At some point, we will be back together again.
Rush and Andrade (as La Sombra) were, along with La Máscara, the original members of CMLL's Los Ingoberables heel stable in 2014. Andrade brought the group's signature pose and catchphrase, "tranquilo," with him to WWE. In addition to their continued success in CMLL (with Rush still the leader, accompanied by his real-life father La Bestia del Ring, El Terrible and recently rejoined by La Máscara) and unnamed representation in WWE, the Japanese chapter of Los Ingoberables (Los Ingoberables de Japon, fronted by Tetsuya Naito) is New Japan Pro Wrestling's most popular faction.

In addition to his work with Los Ingoberables, Rush has been making moves with his family, La Dinastia Muñoz. He and his brothers Místico and Dragon Lee have tagged with each other in different combinations in Mexican promotions and on New Japan's Fatasticamania tour, and Rush and Lee are set to wrestle the Briscoes for ROH later this month. Lee, at age 24, is already very successful in his own right as the current CMLL World Welterweight Champion, a former two-time CMLL World Lightweight Champion, a former King of the Indies winner, and a former IWGP Junior Heavyweight Champion.
Rush's success as part of Los Ingobernables and alongside his real-life brothers, his crowd-pleasing feud with L.A. Park, and his popularity in Mexico, Japan, and increasingly in the United States after recent appearances for MLW and ROH, are all reasons WWE might want to pick him up. However, they're also reasons Rush might actually just be angling for higher-paying contracts elsewhere. He's signed with ROH through the end of 2019 and CMLL through the end of 2020, so he's probably not going anywhere else for a while. But wherever Rush ends up, we're likely to see more success for Los Ingobernables and the Muñoz family all over the wrestling world in the future.