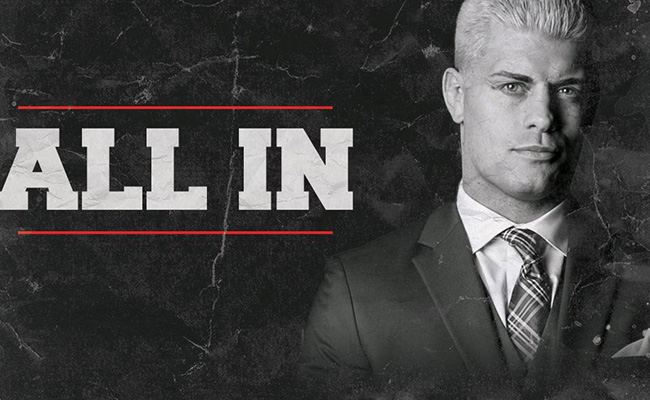 Last year, Cody Rhodes and his Bullet Club buddies the Young Bucks made one of their many headlines by announcing their intent to run a self-funded supershow in 2018 in a 10,000-seat arena.
An independent wrestling show of this magnitude hasn't been attempted in a good long while, much less one that is entirely self-funded by professional wrestlers. Much LESS much less one that many are expecting has a legitimate shot at legitimately selling out. But with interest in New Japan and the Bullet Club at an all-time high, and with Young Bucks and Cody merch flying off the shelves of every Hot Topic in the country, and with Cody claiming 2017 was the single most profitable year in his pro wrestling career, interest in the show is already high, and fans are hopeful this will be a fun and successful show.
The "successful" part is yet to be seen, but they can pretty much guarantee the "fun" part, given that many of the Bullet Club members will be on board. On Wednesday, Cody and others announced via Twitter that although the show does not yet have a final announced venue, they do have a date and a half-dozen or so big names confirmed for the show.

All In 2018 will take place on September 1. The latest word is that the show may very well happen in the Chicago metro area, but the 10,000-seat venue is still the unwavering plan.
For the initial talent locked up for the show, in addition to Cody and the Young Bucks, Kenny Omega is confirmed (which is obviously huge), and so is Arrow star and frequent Cody nemesis Stephen Amell will be there, which is a way of making good on his attempts to get the whole Bullet Club on his show.
We've also got Marty Scurll and Hangman page confirmed, to make it expectedly Bullet Club-heavy at the outset.
More roster announcements will be made over the next [checks notes] eight months, and we can expect that with the date announced, we'll hear the venue announcement in short order. It's officially time to start getting excited for this one.