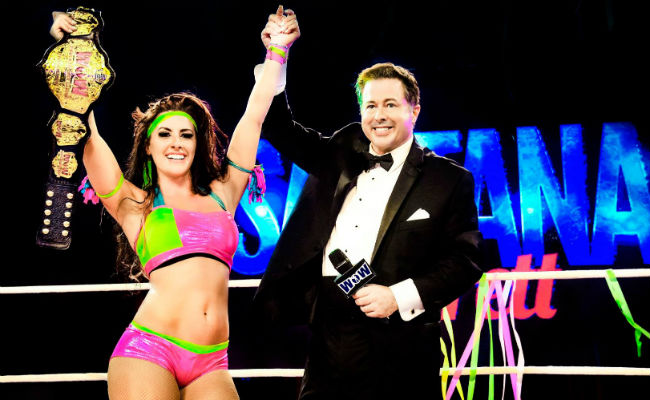 At first, everything about WOW Women of Wrestling founder David McLane feels old school, a reminder of professional wrestling's carnival roots. I first met him briefly on October 11, 2018, before the second night of tapings at the Belasco Theatre in Los Angeles for the new WOW series on AXS TV. He entered the room to speak to members of the media clad in a tuxedo and accompanied by several members of the WOW roster in their wrestling gear. When he started talking up the show and its performers, it was in such a way that I couldn't help but imagine him holding a megaphone on a fairground stage, telling onlookers to step right up and see these women of wrestling that would make you say, "wow!"
However, when McLane shifted the figurative spotlight to his employees, they were presented not only as special attractions but as human individuals, each with an important life story. After he briefly introduced them, the wrestlers shared the aspects of their histories and skills that have contributed to their wrestling careers and WOW characters. Keta Rush's experiences with bullies in high school motivated her to open up her own gym where she teaches self-defense and translates to a kid-friendly babyface wrestling persona. The Dagger's past in an abusive relationship was written, in a campy way, into her character's history, as was her real-life passion for shooting firearms, throwing knives, and practicing Muay Thai.
As McLane outlined the family history of WOW's new ring announcer, Shaul Guerrero, he paused and remembered that her father Eddie's "birthday was two days ago," and they both teared up. Other performers also didn't hesitate to show real emotion as they shared their stories. McLane concluded the talent introductions by saying that WOW is a company that's "inclusive of everybody, and that's what we provide in the ring." By this point, he didn't quite fit the image of a stereotypical wrestling promoter.

McLane's career isn't one of someone content to fit a pre-determined mold. When he created GLOW – Gorgeous Ladies of Wrestling, women's wrestling was not a top priority for any major American wrestling promotion. But GLOW was produced as a television series for four seasons between 1986-1990 and returned to the pop culture conversation when the critically acclaimed GLOW comedy series, based on the promotion's history, premiered on Netflix.
McLane credits the 2017 series for elevating "the legitimacy" of women's wrestling by showing what the ladies of the '80s went through to perform in the squared circle, and "WWE had to answer that… So when they say it's an evolution or a revolution… it's because they were never promoting women, ever." However, he says his wrestling organizations took that step much earlier, and with the new WOW TV series, "our timing is good because everyone's caught up to us."
McLane left the original GLOW after its second season to create the less well-known Powerful Women of Wrestling promotion in 1987. The company closed its doors in 1990 but kicked off a much longer relationship between McLane and former WCW wrestler Bambi, who would go on to wrestle as Selina Majors in WOW and train wrestlers for the company, a role she still plays in 2019.
Before returning to wrestling TV, McLane promoted niche sports like the World Roller Hockey League in 1992 and Pro Beach Hockey from 1998-2000, which failed to capture the attention of much of the sports-watching public. WOW originally seemed short-lived as well, only running from 2000-01, but after McLane had more success promoting the Triple Crown of Polo, which started in 2006 and continues today, he got back to work on his vision for women's wrestling, this time with Jeanie Buss as his business partner.
He and Buss repackaged WOW in 2011 and started running live events, then pivoted to promotion to a primarily digital media product in 2015. WOW Superheroes was produced for for four seasons as a YouTube series before MGM Television announced that Buss and Mark Burnett (also an executive producer of Lucha Underground) would partner up to develop new WOW programming.
The new program turned out to be a show on AXS TV, which will start its initial run of eight episodes on Friday, January 18, at 9 p.m. Eastern. According to McLane when I spoke to him at the AXS TV headquarters, when the show premieres "the face of wrestling's going to change forever." The conversation that followed about the new show, its wrestlers, McLane's view of the current wrestling landscape, and more, is below and has been edited for length and clarity.

With Spandex: Let's start with that. How is the face of wrestling going to change forever?
David McLane: Professional wrestling has had women's wrestling since the '30s. It started with Fabulous Moolah as the most well known in the '40s, '50s,'60s, et cetera. In the '80s it came back as GLOW, Gorgeous Ladies of Wrestling. Then it went away again, and then it came back very quickly in 2000 when 9/11 hit with WOW Women of Wrestling. Now, staged with Jeannie Buss, the owner of the Los Angeles Lakers, Mark Cuban, the owner of AXS TV, myself, who founded GLOW, and a burning passion of all three of us to see women succeed, women's wrestling is not only going to be different and change at January 18 at nine o' clock due to AXS TV's broadcast; the face of wrestling's going to change.
"And why?" you might ask. Stone Cold Steve Austin emerged over time as a superstar. The Rock emerged over time as The Rock. There's very few wrestlers, maybe Andre the Giant, that the second they step into the ring, they're a phenom. Very few. I challenge anyone to tell me how many when they first step into that ring.
On Friday night, Janaury 18 at 9 PM Eastern, everybody that loves wrestling and that may be just watching is going to see a phenom when she jumps into the ring. Her name is The Beast. And I've seen and met numerous wrestlers – there's no athlete like this. And that is one reason the face of wrestling is going to change that night on AXS TV. A phenom is going to step into the ring. Not someone who's going to be built up and become a star. The second they step in the ring, is a phenom, the Beast. That's why the face of wrestling is going to change that night on AXS TV.
Definitely seeing the Beast wrestle and meeting her, I thought, "Oh yeah, she's a star." You can just tell. But how did you first get in contact with The Beast and how did you know she was going to be a phenom?
In WOW, we're always searching for the best talent. There's many training schools now in wrestling, all the way from Flordia to St. Louis to the East Coast. They're training professional wrestlers. There's even one in Texas. When we started up WOW again and were going to be taping live in L.A., I wanted to see what new potential opportunities there were for wrestlers that were in training already to be wrestlers, wrestlers that are on the independent circuit currently wrestling, and see if there's anyone out there that's dreamed of being in wrestling. So we had an event staged in LA for new people to come see and meet myself, our trainer Selina Majors, and see what WOW is about.
When I walked into the room, sitting in the front row was this lady who started to tear up, and I said, "What's wrong?" She says, "You're David McLane!" I said, "Yeah." She says, "I used to watch you as a kid. You ran GLOW. When I saw it, I wanted to be a professional wrestler." And that person was the Beast.
So she had a dream when she was kid, but she was so skinny and little and suffering from asthma, and she overcame it and numerous other obstacles and here fate brought us together. And when she stood up and shook my hand, I instantly said, as you did when you saw her in LA at the Belasco, "There's a star." But then when I got to know her and I saw her training and the regimen of training at the gym, that's when I knew "Holy smokes, professional sports has a new phenom."
There's only been one Kobe Bryant, only one LeBron James, only one Larry Bird, Magic Johnson. You can name the top basketball players in the world on your hand all the way back to Elgin Baylor and Jerry West. You can name ten professional wrestlers, with all the ingredients of what they have to make them great from Hulk Hogan to Ric Flair to even an architect in the ring of Bret Hart. The Beast combines so many ingredients of all those stars that she is what I call the phenomenon.
So we met by chance, fate brought us together, and now she, the Beast, along with all other women wrestlers, have a platform to shine in that ring that they've never had in over eighteen-some years since WOW was in syndication, and that's something unique. We're an alternative to all the other wrestling programs. I think it's an alternative that fans are going to like, and they deserve to be tuned in on. The fans need to be tuned in on it and the wrestlers deserve the fans to tune in on them.

You've been in wrestling for decades at this point and it's changed so much since WOW was last on the air, obviously since GLOW. How when rebooting WOW did you respond to how the wrestling landscape has changed and changed for women especially when creating that alternative?
When Jeanie Buss and I met and decided let's do it, let's bring WOW back, the first thing we did was take the old programming that was done in syndication and we put together a marketing group and we toured the country and went to wrestling fans' homes. We went into their living rooms. Mom, dad, the kids. All different age groups, even college kids because there's a drop-off… College kids really don't go to wrestling matches. Not in any numbers. I have a reason for that. They have other interests when they turn 18, more on pizza, having fun, and chasing the future loves of their lives.
So anyway, that said, we went out and did a marketing campaign respectful of asking fans of wrestling, what do they want to see in wrestling? Because there's a glutton of it if you consider digital media and all the wrestling programs on television and the King Kong of wrestling, the WWE, has I think over 15 hours of it or so every week on TV. The last thing the country needs is another wrestling program. Unless you're delivering a wrestling program that's unique and that the audience and fans want to see, and that's WOW.
Because they asked for a few things. They wanted to see female wrestling presented in a serious manner, they wanted to see women excel as athletes, and they wanted to see women wrestling in a full, one hour program, and the thread that everyone coast to coast wanted to see again in wrestling was they wanted the fun, F-U-N, back in wrestling. And WOW delivers all those things to the fans. So WOW wasn't put together with let's just go do a wrestling show, it was put together by the fans and for the fans. And our passion is shared with millions of fans who want to see the best in women's wrestling. And now AXS TV's going to present that on Friday nights.
And let's take it for what it is. AXS TV has found a niche in delivering the stars of MMA now, and taking New Japan wrestling to heights in America that it's never seen before in its rich history. And now they're putting another chip into the stone of uniqueness and alternative programming by doing WOW, and how lucky are we to follow New Japan wrestling, because they have a built-in great audience. And I've been told their audience may not like WOW. I think they will. I think a broader audience than just wrestling fans are also going to like WOW. And I hope those college kids on Friday nights are also going to get to watch WOW, and are also going to like it.
One change, kind of a smaller change in the new show, is you passed on your ring announcer role to Shaul Guerrero. Why did you pass that up, and to her specifically?
When I started in wrestling as a photographer and the announcer, the host that… got me involved in it with Dick the Bruiser had retired. He was in his seventies. And they made me the ring announcer. And I loved it, because you got to get in the ring like a Michael Buffer and introduce the stars that you loved in professional wrestling, and later on that I had a hand in somewhat creating. So I loved the enthusiasm of being the ring announcer.
But it was time for a change, and it was time for a new day in wrestling. And I'd been searching for over – no one knew this – for over two years when we would do wrestling, to find a new voice, someone else to take the microphone in the ring, and I had tried several people and none just fit the bill, and fit the bill meant even being able to be in the ring and command the audience and have a presence that people would stop and listen.
And I was at Lucha Underground on a Saturday afternoon event and I was in the back with the executive producer Eric Van Wagenen and I said to Eric, "Hold it! Who's that voice?" It was almost like Mark Burnett's The Voice show. "Who's that voice?" and echoing from the ring, I heard this loud, dynamic voice, and I said, "That's the voice!"
Eric said, "For what?"
"That's the new voice of WOW."
I walked out and saw this young lady in the center of the ring. I didn't know who she was. And I said, "Who is that in the center of the ring?" and they said "Shaul Guerrero." The last name didn't even register with me that second, I just heard "Shaul," and I went and wrote Shaul on a piece of paper. I did not write the last name.
So, as we're making the new programming for AXS TV, I called up Eric and I said, "Tell me who's the voice I heard. I know it's a 'Shaul.'" He gave me Shaul's last name, told me the background, and I couldn't believe it. I mentioned that because her name had nothing to do with her getting the job. It was her voice. It was her command of the microphone. She is the best ring announcer I've ever heard. She is the new announcer of WOW. She's the chosen one.

Something that surprised me when I went to the tapings was Kobra Moon was there as Kobra Moon from Lucha Underground. Could you explain how that crossover came to be?
Two things came out of me visiting Lucha Underground's tapings in Los Angeles. We got a new, great announcer in Shaul Guerrero, and Kobra Moon was able to come onto WOW Women of Wrestling and wrestle. And that happened due to Lucha Underground's executives… in Mexico and MGM Studios that does the television production and partners with it… they combined resources to make Kobra Moon appear on WOW Women of Wrestling.
And then you might say, "Well, why Kobra Moon?" Because on that Saturday when I was there, I got to see her wrestle, and wow, she flew through the air with the authenticity of a lucha wrestler.
We had in WOW when we started a great wrestling persona in Azucar. She has since gone on to have a great family. But one thing that was missing was not her heritage authenticity, she had that down to a core, but her in-ring capacity as a luchadora. And Kobra Moon has both, authenticity on both levels. And to me that's what the fans what to see, authenticity. And to that extent we were fortunate enough – but once again, the fans are fortunate enough – to see a star from another wrestling promotion inside the promotion of WOW. So that's a treat also.
You have… a rising star in wrestling, you have Tessa Blanchard on the program, and I was wondering how you got involved with Tessa? Do you want to talk about some of the stuff she's doing on the show?
Anyone that's followed wrestling recently knows the name Tessa Blanchard. Anyone that's followed wrestling for years knows the name Blanchard. Four Horsemen. Her dad, Magnum T.A… Tessa Blanchard has a name. She's a third generation wrestler.
I was told about this young lady named Tessa Blanchard over four, five years ago from the WOW trainer Selina Majors and I said, "God, how old is she?" I think at the time she was 19, 18, I don't remember. But I said, "It's kind of like a gimmick. Why is she getting a shot in WOW, because of her last name?"… I'm not going to give a job just because of the last name. Guerrero got it on the voice. So I said, "Let's see."
Over time, Tessa Blanchard's become the It Girl in professional wrestling, a superstar in her own right. Not a phenom, because she rose to greatness… Tessa Blanchard learned the ropes through George South. Selina Majors' best friend from old wrestling: George South. They have a connection, a bond, they have a trust.
People told me, "Don't hire Tessa Blanchard. She's hard to deal with. She's a hard-head. She's tough." I listened, but if I listened too good there wouldn't be women's wrestling. There wouldn't be a GLOW documentary. There wouldn't be a GLOW series on Netflix. There may not be any women's wrestling that's been – "evolution," they like to use – evolved without saying, "I don't listen to no."
That said, I met her at an event in Long Beach and I – again, just like meeting Beast, by fate – she and I ran into each other in the back of the venue by fate, no design, just literally our elbows hit. I introduced myself; she introduced herself, and she was going to grab dinner. By fate, we sat and just yakked.
I got up and I was with the trainer and I told her, "Okay, that girl you always told me to get, Tessa Blanchard, she's coming to WOW." She said, "How? How's that possible? Why?" I said, "I just met her. She's everything you would want in someone in your company. She's got a dedication to greatness. She's got a dedication to professionalism. She's got a dedication to professional wrestling. She has a dedication to see women's wrestling grow to new heights that it's never been. She has a foundation of passion that is unmatchable…"
And she and Selina Majors next year are starting – it's already started, if you talk to them – the first all women's wrestling school in the history of wrestling since the days of Moolah. If any woman in this country wants to get into wrestling, they come to the WOW training school. They learn the basics of wrestling with safety as the number one concern… of getting into that ring. I spoke to Lisa Moretti, who became famous as WWE's Ivory – she was in GLOW as Tina Ferrari – many wrestlers – and I've heard a theme, and the theme starts with WOW to the extent that safety is first.
When they get into that WOW ring in front of thousands of fans, they will have the foundation that would make a John Wooden, a Bobby Knight, a Mario Andretti, all those people proud because they have the foundation to get into the ring and do it properly and be successful. And so Selina Majors, Tessa Blanchard, the combination of their background with George South, they're bringing that to women athletes that want to get into wrestling, and I think that is something new and unique in itself. So 2019 is going to be a huge year for women's wrestling. We start with AXS TV and we nurture the foundation to grow…
We start with 8 programs on AXS. The goal for the year is 26. Don't know if we make it to 26. Some fans go, "Why not put on 52 weeks right out of the gate?" Because we want to it be successful long term, and to do that you've got to take your time. I've already risen and shot the mountain. I've already been on TV Guide. I want to make sure this lasts for a long time. If you want, becomes the WWE of women's wrestling, because nobody's more successful than them on multiple levels. You gotta say it where it's said. They've built a dynasty. And now there needs to be one for women's wrestling.

In the upcoming first 8 episodes, is there something you think if the fans knew about, not like a spoiler, but why should they tune into the first 8 episodes? What's going on on the show that people should check out?
You've got to watch WOW for multiple reasons inside the blender. But the personas of the professional wrestlers that step into WOW include newcomers like Princess Aussie, who's an Australian lady who grew up with a tribe taking care of her. She pays homage to that tribe by bringing dancers from Australia out to enter the ring with, paying homage to how she legitimately grew up. You've got Keta Rush who steps into the ring, who's a young woman who was pulverized by bullies when she was younger, and she dons a wrestling gear outfit and she starts from WOW a 501(c) organization to help young kids with bullying called Bully Busters.
You've got independent stars like Jessicka Havok from the East Coast – the Monster of Madness, we call her – who comes to WOW. You've got Holidead that comes to WOW. You've got Kobra Moon. You've got Tessa Blanchard. You have a lady from Texas who's Abilene Maverick, who's been on the independent circuit. And then you've got homegrown WOW stars like the Beast, and in Stephanie Slays, a hustler who's got four jobs like every kid out there in the country today, who started with us when she was eighteen and is now in her twenties getting a master's degree in the medical field, and she's held down four jobs and wrestles at night.
So that is the combination of all the ingredients to the blender, why there's something for everyone to watch in wrestling in WOW on Friday nights on AXS TV at nine o'clock. It's got a blender of personalities. It has a diversity of wrestling stars, and it has the fun put back in wrestling that the fans have been asking for and demanding, and AXS is going to deliver it every Friday night.