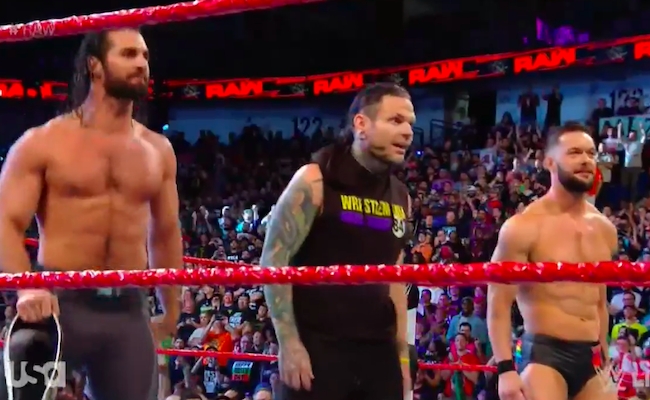 Matt Hardy's "Ultimate Deletion" presented the Hardy Compound to the WWE Universe and resulted in the delightful deletion of Bray Wyatt in the main event of Monday Night Raw just weeks ago. After Wyatt joined Matt at WrestleMania 34, it seemed Jeff would return and naturally join the newly paired duo, especially given his cameo in "Ultimate Deletion."
Apparently for now, Brother Nero won't be part of the Woken Universe.
Jeff Hardy made his return to Raw on the Monday after 'Mania, backing Finn Bálor and new Intercontinental champion Seth Rollins as they faced off with the Miz, Bo Dallas and Curtis Axel.
Jeff was knocked away from WWE television six months ago with a torn rotator cuff reportedly suffered during the Hardy Boyz' 30-minute Iron Man match at Great Balls of Fire. After Jeff was put on the shelf, Matt was (finally) granted the rights to the entire #BROKEN universe following a lengthy battle with Impact Wrestling.
In Jeff's absence, Matt became fully unhinged, unleashing his Woken brilliance for the first time on WWE television in a strange rivalry with Wyatt. After spending most of 2018 stuck in what seemed to be a meaningless rivalry with Matt, Wyatt's fall into the Lake of Reincarnation led to him joining Matt in a surprise return, helping him win the Andre the Giant Memorial Battle Royal.
It only seems like a matter of time before Hardy joins Matt and Wyatt. For now, he seems firmly planted in a chase for the Intercontinental title.