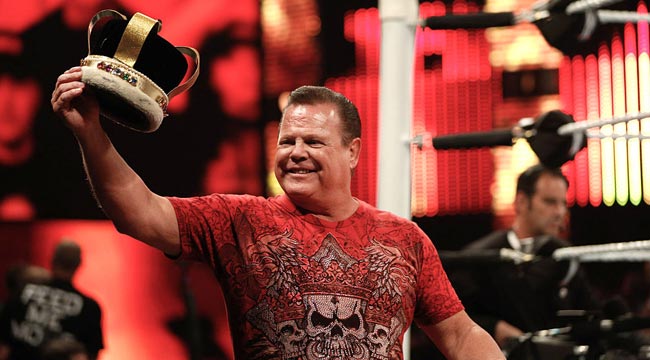 Jerry Lawler's legendary career in pro wrestling is being immortalized in a way that most wrestlers would appreciate — a custom beer. Meddlesome Brewing Company has created its own limited edition Jerry "The King" Lager, a crisp and delicious golden brew that is full of flavor. The beer was debuted this week at Lawler's Memphis BBQ Company during a Raw meet and greet with Mick Foley, who has not weighed in on the microbrew.
Here's the origin story of the beer, as told by Lawler to the Memphis Flyer:
"A while back I was contacted by someone from the brewery who explained to me they make beers with names that are familiar with Memphis. One was 201 Hoplar and they had the idea to do a Jerry 'The King' Lager. I thought it sounded fun, so I gave them the go-ahead to use my name."
Here's a look at the limited brew being served at the tasting room. It comes in 32 or 64oz growlers so get it while you can, like an Andy Kaufman slap on Letterman:

The lager is currently sitting at an impressive 4.05 rating (of 5) on the crucial and yet totally unnecessary beer check-in app Untappd. Reviewers such as Joshua G. call it a "lager as regal as the Mid-South Coliseum" and Robert M. says it's a "flavor bomb off the top rope" that would "leave The King proud."
The only thing — Jerry Lawler is basically straight-edge, telling the Memphis Flyer: "I've never tasted beer, wine, or whiskey in my life and I'm not going to start just because one's named after me."
So he'll just have to take everyone's word for it.
(Via The Memphis Flyer/The Takeout)