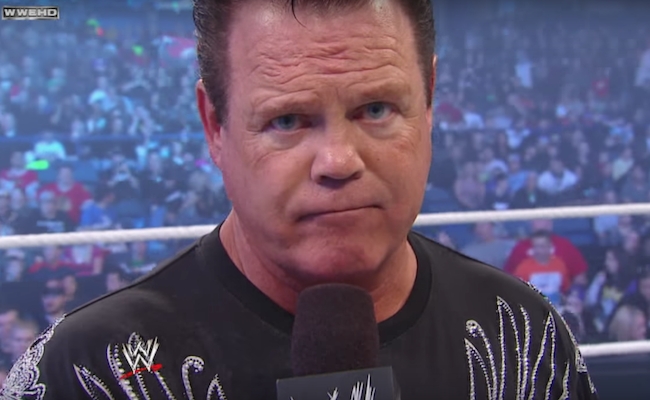 Jerry "The King" Lawler's health problems have taken over headlines in recent years, from suffering a heart attack live on an episode of Monday Night Raw in 2012 to being hospitalized with diverticulitis back in 2015.
When the King showed up during WrestleMania weekend, the Memphis wrestling legend's health appeared to be fine. He tossed a fireball at Joey Ryan's crotch, hosted the WWE Hall of Fame ceremony, appeared at WrestleCon, and took part in calling the Andre the Giant Memorial Battle Royal during the action-packed weekend.
Apparently, everything was not as it seemed for Lawler. On a recent episode of Dinner With The King, Lawler acknowledged he suffered a stroke nearly three weeks before hitting New Orleans.

Lawler explained how he and his fiance, Lauryn, were "expressing their love for each other" on Wednesday, March 21 when he got up and she realized he was suffering a stroke.
"At the end of that, I got up and said something to Lauryn and she said, 'What did you say?' I realized then what I said didn't sound right. We made eye contact and she said, 'Oh my God, Jerry go look in the mirror.' My whole right side of my face was drooping all the way down to my chin. I looked at Lauryn and I couldn't speak. She screamed, 'Oh my God, Jerry, you're having a stroke.' We live about five minutes from the Baptist East hospital in Memphis. She didn't even want to call an ambulance — she said just get in the car and she figured she could get me there before an ambulance," Lawler said.

"I was bleeding out on the cognitive part of my brain, which controls your speech and memory. I could hear, but I really couldn't say anything."
He couldn't speak for days before finally waking up Friday morning, when his speech had returned for the most part. Lawler was discharged Saturday, March 24, and recovered enough to fulfill his WrestleMania weekend obligations.
Lawler said his blood pressure was 256/145 at the hospital and he had fallen off track with his medication. He is now back on his blood pressure medication and seems to be recovering from the scary health incident.