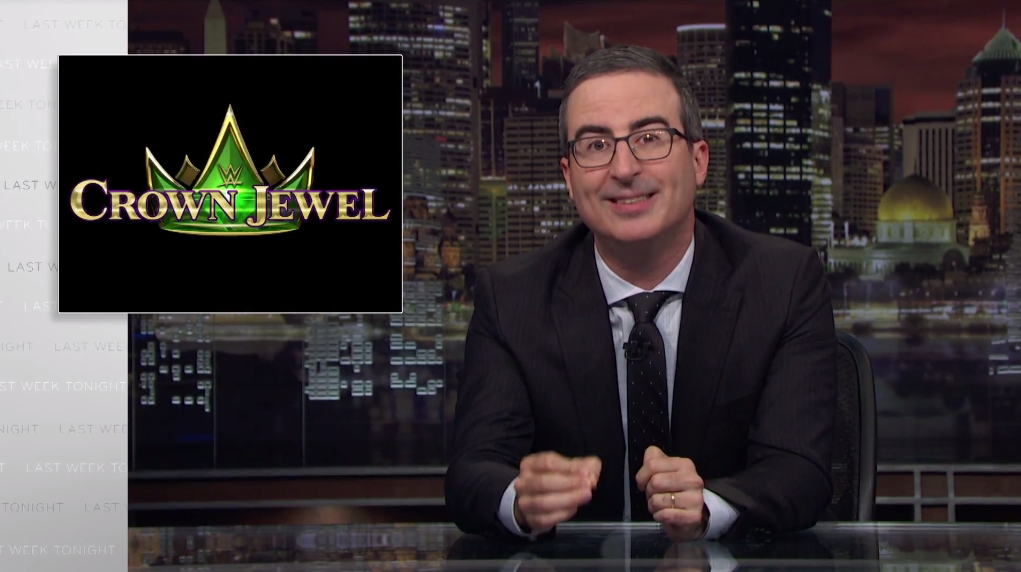 As a wrestling blog, we're sort of beholden to post updates about the upcoming WWE Crown Jewel event in Saudi Arabia even if it's not a regular pay-per-view, and we believe it shouldn't be talked about as if it is. With a #CancelCrownJewel hashtag going around, actual U.S. senators calling on WWE and WWE Hall of Famer The President to pause the event, and the Washington Post giving WWE a monkey's paw version of the mainstream press it loves, all eyes are on WWE; do they cancel the event entirely, change the location and move the important matches to Survivor Series, or just move forward as planned (which is what they're reportedly currently doing)?
The story's become such mainstream news that John Oliver talked about WWE and Crown Jewel on Sunday's episode of 'Last Week Tonight', which you can watch a clip of below. Oliver — who once cut a promo with Mick Foley on 'The Daily Show' and has an entire stand-up bit about John Cena's announcement of the compromising to a permanent end of Osama Bin Laden — brought up Greatest Royal Rumble's weird propaganda video, Cena's in-ring thank you, and more.
The "wrestling is homoerotic" line at the end is a pretty lame and dated stinger — yes, wrestling is ALWAYS deeply homoerotic, that's one of the reasons we love it so much — but the full video (which you can watch below, jump to the 17:00 mark) features a much better finishing joke, with WWE's announcement that they're "monitoring the situation" coming in big air quotes.
It's certainly a complex and challenging situation no matter how you look at it (at least when you aren't on the Internet), but we hope WWE will continue to actually monitor this situation, and do the right thing.