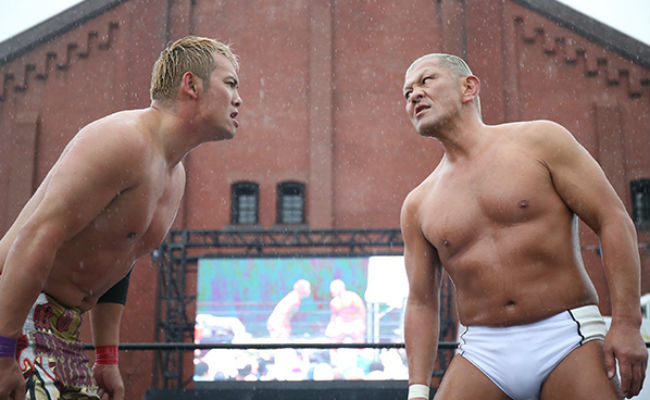 Minoru Suzuki is one of those professional wrestlers it's impossible to forget. The self-proclaimed "King of Pro Wrestling" (proclaimed by others to be "The Man With The Worst Personality In The World") is a brutal submission and catch wrestling specialist, and currently one of New Japan Pro Wrestling's top heels. His sadism and surgical precision makes audiences fear for his opponents, and his showmanship and stage presence makes every match feel important.
On June 23, 2018, days after his fiftieth birthday, Suzuki celebrated the thirtieth anniversary of his pro wrestling debut with an outdoor festival in his hometown of Yokohama. The Great Pirate Festival lasted two days and admission was free because, in Suzuki's words, "as soon as you have people pay, you're putting in a barrier to entry." One Piece artist Eiichiro Oda drew a cartoon of Suzuki as a pirate king for the festival poster, another artist painted a mural, and the man of the hour wrestled Kazuchika Okada in the rain in the main event of the wrestling show.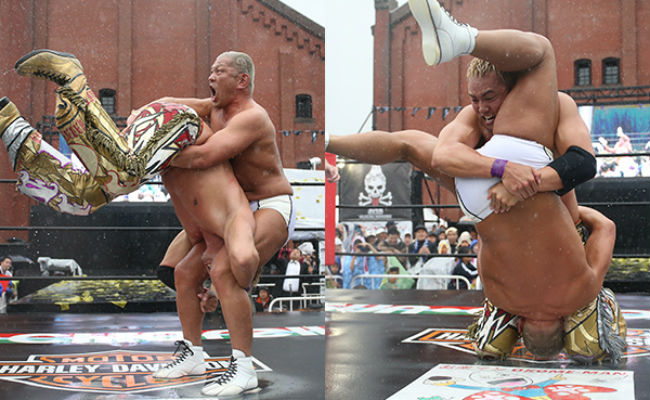 The two wrestled to a thirty minute time limit draw, and Suzuki took the microphone to speak to the crowd:
"It doesn't matter that I was close, or that I did my best. I didn't win. (To the kids in the front rows of the crowd) When you go out into the world, you have to win and keep winning. The world isn't going to cut you a break. Oi, all you dispirited middle aged guys too, I just turned 50! A 30 year old couldn't beat me today, nobody can! I'm taking everything I want. The IWGP title? I've already booked my place. You SOBs thinking of leaving now? That this is done? There's awesome people to come! This festival's still got way more in store! And I'm not going to close with that, but with this: Thank you!"
The "awesome people to come" included Aja Kong and DDT's Sanshiro Takagi on the second day of the festival, at which the wrestling was less cinematic, judging from pictures on the internet.
Not everyone who loves and/or fears Minoru Suzuki could make it out to Yokohoma for the festival, but we can take some time to look back on his long and incredible career, which includes mutiple runs in NJPW and Pro Wrestling NOAH, co-founding one of the world's first MMA promotions, holding All Japan Pro Wrestling's Triple Crown Championship twice, and some other freelance projects that might surprise you.
Early Days And MiSu's Debut, 1968-1990
Suzuki was inspired by Antonio Inoki as a child, and starting training in amateur wrestling when he was in high school. 1986 saw the first bout in what no one could have known would become a decades-long rivalry when Suzuki beat not-yet-Blue-Justice Yuji Nagata in a wrestling tournament when they were both high school seniors. Suzuki's biggest accomplishment in Greco-Roman wrestling was becoming an Olympic alternate, but that was far from the most significant of his shoot fighting career.
Suzuki trained in pro wrestling at the NJPW Dojo and debuted against Takayuki Iizuka (now Takashi Iizuka, member of Suzukigun and possibly a cannibal) in 1988. He didn't stay in New Japan for long though, and followed his mentor Yoshiaki Fujiwara to the new Universal Wrestling Federation (UWF.) That match embedded above is from Suzuki's UWF days, and worth watching to see a rare example of Suzuki not pinning a guy after the Gotch-Style Piledriver, his tribute finishing move to his other mentor, Karl Gotch. Also, his hair was unnervingly fluffy in those days.
Pancrase, 1993-2003
In 1993, Suzuki and Masakatsu Funaki, another yet to become legendary pro wrestler, left their mentor's Fujiwara Gumi promotion because they felt it was deviating too far from shoot style. Inspired by Inoki, specifically his 1976 fight with Muhammad Ali, they founded a mixed martial arts promotion, one of the first in the world. Early on, it included some rules taken from pro wrestling like the use of rope breaks, but later changed to be more like other MMA promotions. They named it Pancrase after the Ancient Greek Olympic event pankration (one of the inspirations for modern MMA), and you can watch its current and historic fights on UFC Fight Pass.
Ken Shamrock made his MMA debut in Pancrase, drawn to the promotion by a tape Dean Malenko showed him of Funaki and Suzuki fighting. He was fascinated by their style, of which he says, "I'd never saw that combination before except for in a street fight." Suzuki and Shamrock fought multiple times and Suzuki famously submitted him twice, although the second one has been acknowledged to have been a work.
The videos above, parts of a YouTube series in which Bas Rutten gives commentary on his fights, gives you an idea of Suzuki's unusual but effective offense, which grew from him often being at a size disadvantage as one of the smallest men in Pancrase. Of Suzuki, Rutten says, "This guy is an artist, trust me," and describes him as having "a bag full of tricks." Rutten says that beating "the unbeatable Minoru Suzuki" for the first time was "one of the happiest days of [his] life."
Suzuki ended his MMA career with a 30-20 record, which includes him tapping out Jushin Thunder Liger in about a minute in the Beast God's only shoot fight in 2002. Suzuki was held back by never becoming a great striker, though he was an expert grappler, and being prone to injuries.
Return To Pro Wrestling, 2003-2006
In 2003, Suzuki returned to pro wrestling as a freelancer and as essentially the same character he plays today, an over-the-top version of how he was perceived during his MMA career: aloof, self-serious, and not someone who plays well with others. In 2004 he added the theme song that's produced some of the best singalong moments in wrestling, Kaze Ni Nare, written for Suzuki at his request by Ayumi Nakamura.
Suzuki started tag teaming with Yoshihiro Takayama, who he has called his best friend. They won the IWGP Tag Team Championship, had a run in CMLL in 2007, and Takayama later made appearances with Suzukigun. When Takayama was forced to retire in 2017 after an injury left him paralyzed from the shoulders down, Suzuki helped promote "Takayamania," a foundation created by DDT to help the wrestling legend and his family with medical costs.
Suzuki's biggest match of this period was probably against Kenta Kobashi (c) for the GHC Heavyweight Championship. It's an entertaining bout, and includes one of my favorite transitions into the rope trap headstand armbar at 10:11 after Suzuki catches Kobashi's arm while seated on the top turnbuckle.
All Japan Pro Wrestling, 2006-2010
Suzuki appeared surprisingly in AJPW, attacking Triple Crown Champion and current leader of Bread Club Satoshi Kojima after he'd just defended his title against the Great Muta. The King of Pro Wrestling eventually won the Triple Crown from Taiyo Kea, and went on to defend it at Wrestle Kingdom 1 against Nagata, in what was promoted as their last ever match. (At this point it's the fourth out of seven singles matches they've had so far.)
On March 21, 2010, Suzuki was defeated by his old pal Funaki in All Japan's first cage match. Their decade-long rivalry actually did end later that year, when Suzuki won the Champion Carnival tournament for the second year in a row by beating Funaki in the final. This earned Suzuki the title shot that won him the Triple Crown for the second time from Ryoto Hama. This match included the challenger delivering the Gotch Piledriver to the over 450 pound Hama, because Suzuki just glares at the laws of gravity until they cooporate with him, I guess!
Return To NJPW And Foundation/Hostile Takeover Of Suzukigun, 2010-2015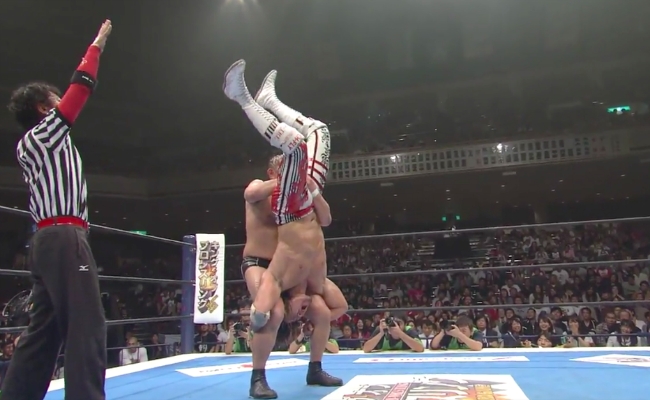 In December 2010, Suzuki returned to NJPW to set up a match at Wrestle Kingdom 5 with who else but Blue Justice. But more significantly, his return in May 2011 saw him take over Kojima-gun, with Taka Michinoku and Taichi turning on their leader in favor of the "Boss" they've now been following for over seven years. Lance Archer joined what was now dubbed Suzukigun ("Suzuki's Army") during NJPW's first American tour later than month (and loyally spit water on the already rain-drenched crowd at the Great Pirate Festival this past weekend because I'm pretty sure Suzukigun actually is 4 Life.)
One of Suzuki's most important, ongoing/never-ending rivalries began during this NJPW period when a defeat by Chaos co-founder/DVD producer and master of the low blow Toru Yano stopped him from getting to the G1 finals in 2013. Suzuki tried to get his revenge at Destruction in Kobe 2013, but Yano defeated him by spitting water in his face, handcuffing him to the barricade, and getting him counted out.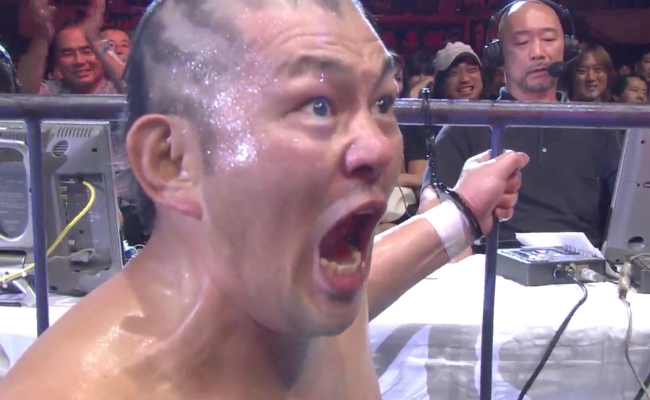 Now that I've scrolled down far enough that I don't have to look at that terrifying face while I type, I'll tell you that Suzuki managed to beat Yano via more handcuff shenanigans plus a Gotch Piledriver at that year's King of Pro Wrestling, only to be humiliatingly defeated at Wrestle Kingdom 8 when Yano and the Great Muta beat Suzuki and Shelton X Benjamin. Getting rolled up after a low blow and Asian Mist is not a good look.
Suzuki had some legitimately really good matches during these NJPW years too though! He and Tanahashi had a highly acclaimed (five stars, even, back in the days when there were only five) IWGP Heavyweight Championship match at King of Pro Wrestling 2012, he and Nagata went at it again at WK7 (okay, this one might be more notable for the live Kaze Ni Nare performance during Suzuki's entrance), Suzuki vs. Naito during G1 Climax 23 was rad, and his G1 Climax 24 performance included great matches with Okada and AJ Styles.
At Wrestle Kingdom 9, Suzuki faced Kazushi Sakuraba in a match that could only be won via knockout, submission, or ref stoppage, and got very "MMA for psychopaths" very fast. (Meaning you should check it out even if you don't usually like pro wrestling that looks like MMA, because it's insane.)
Miscellaneous MiSu
As a freelancer, Suzuki's been able to mix in a lot of guest appearances in between terrorizing the top babyfaces of Japan's major wrestling promotions. In 2017, he faced Sanshiro Takagi in DDT's empty arena match, the No Fans Street Wrestling Match Throughout All Of Tokyo Dome. It's as good and hilarious as you'd expect from that title, and Takagi challenges Suzuki to a rematch, this time a falls count anywhere match on an uninhabited island, after it's over.
In 2014, Suzuki and Meiko Satomura faced Kana and Naomichi Marufuji at Kana Produce ProMania Reach at Korakuen Hall. This straight up good tag team match has become infamous for the long sequence of Suzuki just beating the crap out of Kana to the degree where his own tag partner tries to stop him at one point. (Sometimes you'll clips from this go around with titles like "Suzuki Shoots On Asuka," but it was very clearly a regular part of the match.)
Suzuki also fought monsters with Kota Ibushi in 2016, feuded with Mecha Mummy in 2006, and cameoed in an episode of One Piece (yes, a wrestling episode.) He also once won a One Piece trivia competition on a variety show. He also has a podcast called "Manga King Minoru Suzuki," on which he talks about manga. What a nerd. (Please do not alert Minoru Suzuki to the fact that I called him a nerd.)
Suzukigun Invades Pro Wrestling NOAH, 2015-2016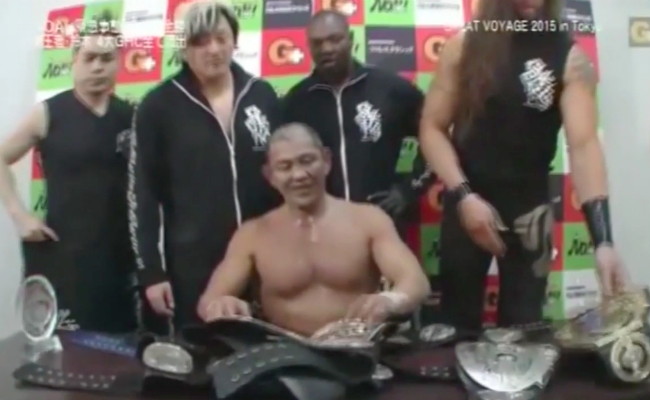 Back in the wrestling world, Suzukigun became part of a very long, increasingly poorly received storyline in Pro Wrestling NOAH starting in January 2015. The invading mob did a lot of run-ins and at one point held All The Belts (see above.) The rest of NOAH, heels and faces alike (including Takayama after a face turn), joined together to defeat these jerks.
This storyline included Suzuki winning the GHC Heavyweight Championship for the first time from Naomichi Marufuji, and losing it back to him at Destiny 2015, which is generally thought to be the best/only non-frustrating match from this angle.
Suzuki lost a Loser Leaves NOAH match for this title in December 2016 to Katsuhiko Nakajima, and Suzukigun left the promotion. Around this time, reports and rumors started to emerge about the NJPW and NOAH relationship. We heard that Suzukigun was sent to NOAH from NJPW to help out the struggling promotion, but the unpopular storyline didn't really help… but then when Suzukigun left, NOAH started doing even worse in terms of attendance numbers and profits. It didn't help that NJPW wrestler Jado, tag partner of NJPW wrestler and booker Gedo, took over as NOAH booker in 2015. That's why sometimes you'll see NOAH fans talk about NJPW booking NOAH into the ground, although we really don't know many confirmed specifics about the relationship between these two companies.
Second Return To NJPW, 2017 – Present
Minoru Suzuki and his army returned to NJPW at New Year Dash!! 2017 to target IWGP Heavyweight Champion Okada, fresh off his all-timer of a WK11 main event with Kenny Omega. Their title match at the New Beginning in Sapporo was extremely good, and included Suzuki (with help from Taichi) trying to provoke Gedo into throwing in the towel for the champ by ostentatiously brutalizing him with leg locks. Okada shows fighting spirit through torture that prompts Don Callis on English language commentary to say, "Kevin, at some point Okada needs to think about his future," and both men come out of the match looking strong.
Suzuki went on to defeat Hirooki Goto for the NEVER Openweight Championship in April 2017 and have some great matches during G1 Climax 27, most notably with Okada and Omega. G1 Climax 27 also included the revitalization of the Suzuki vs. Yano feud when Yano won their match by taping Suzuki's arms to his sides. In fall 2017, Suzuki defended his NEVER title in two Death Matches that couldn't have been more different: NJPW's first ever Lumberjack Death Match vs. Michael Elgin, and a Bull Rope Death Match against Yano that was basically a front for a murder attempt.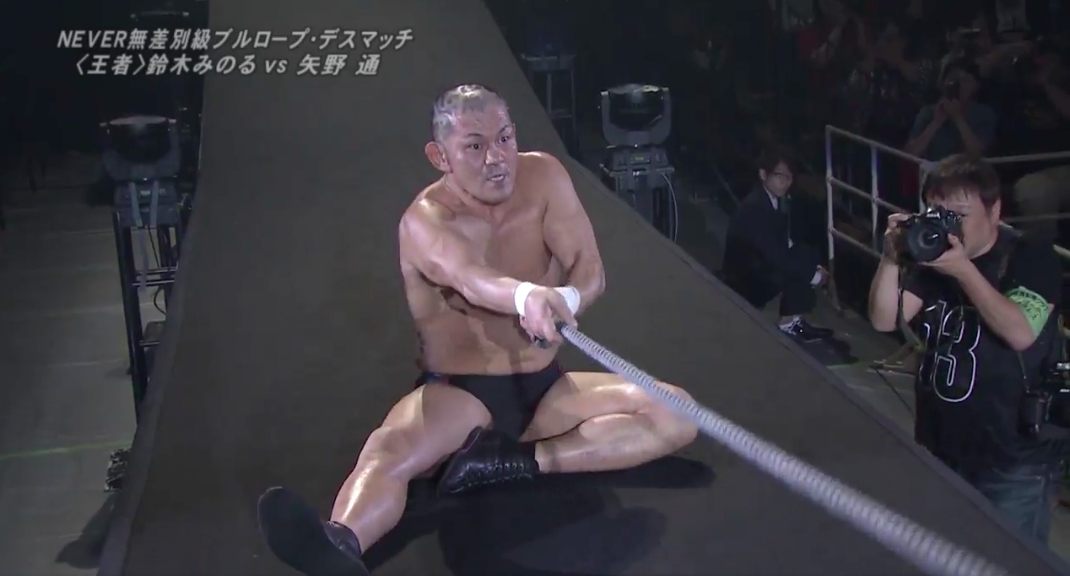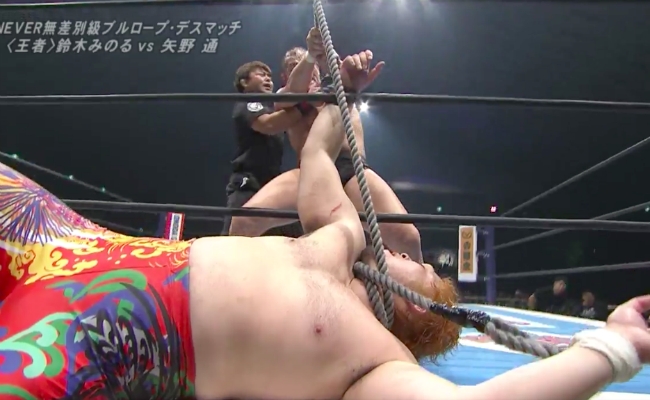 Suzuki started 2018 by losing a Hair Vs. Hair Death Match against Hirooki Goto at Wrestle Kingdom 12, after which he furiously shaved his own head in the ring. He got his dignity back when won the IC title from Tanahashi, giving him serious enough kayfabe injuries to let the Ace take time off to recover from shoot ones. On the recent Road to Dontaku, Suzuki and Suzukigun feuded with Naito and L.I.J., and New Japan live audiences were extremely invested every step of the way. After losing the Intercontinental Championship, Suzuki entered a feud with Ishii that's ostensibly for the RevPro Undisputed British Championship and will include a title match for that, but we all know is really about seeing who can hit the other in the neck the most times.
This RevPro crossover feud is just one example of how Suzuki's international popularity has exponentially increased since he returned to NJPW. As New Japan expands, more people become aware of the magic of the Man With The Worst Personality In The World. He made his first appearance in the United States in twenty five years to challenge Cody for the ROH World Championship at Death Before Dishonor XV. Suzuki and Zack Sabre Jr. are RevPro's Undisputed British Tag Team Champions. Strong Style Evolved in Long Beach saw the crowd sing his theme song title line so loudly it surprised the Japanese announce team and got the guy to crack a mostly towel-hidden smile.
Over WrestleMania weekend this year, Suzuki was the last minute replacement for Low Ki in the main event of Matt Riddle's Bloodsport, and the surprise tag partner for Brian Cage and David Starr against Juice Robinson, Sami Callihan, and Hiroshi Tanahashi at WrestleCon. His match with Keith Lee at Over The Top Wrestling's ScrapperMania 4 in Ireland was accurately promoted as an "international dream match."
Minoru Suzuki makes adults watching wrestling feel like kids. His entrance is truly The Magic Of Theatre every time, he scares everybody for real at least a little bit, and he makes you worry about his opponent because jeez, that looks like it hurts. Thirty years in, at fifty years old, he's a master of his craft, and I'm always excited to see what he does next.
At some point that might be following through on the threat to kill the entire audience of the NJPW Anniversary Show.