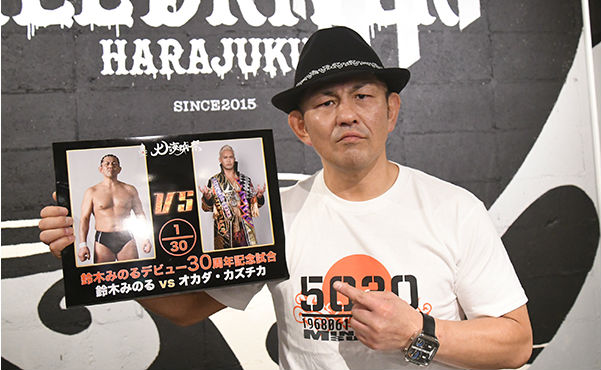 If you've watched New Japan Pro Wrestling, or really any puroresu promotion, you probably know and fear Minoru Suzuki. Since he returned to NJPW with his Suzukigun ("Suzuki's Army") stable after Wrestle Kingdom 11, he's been one of the promotion's top heels. Just in 2018, the catch wrestling expert and submission master has lost an epic hair vs. hair match and shaved his own hair off out of spite, won the IWGP Intercontinental Championship from Ace of the Universe Hiroshi Tanahashi, had exciting feuds with Togi Makabe and Tetsuya Naito, competed in international dream matches with Matt Riddle and Keith Lee and convincingly threatened to kill the entire audience at New Japan's anniversary show.
On June 23, just after his fiftieth birthday, Suzuki will celebrate the thirtieth anniversary of his pro wrestling debut with the Great Pirate Festival, a free, two-day event in his home town of Yokohama. And what better way to celebrate three full decades in the biz than by fighting the best wrestler in the world? A normal human might say, "Maybe sleep in?," but this is Minoru Suzuki we're talking about, so he's wrestling Kazuchika Okada FOR FREE.
In a press conference at his store in Harajuku, Piledriver (the world's #1 resource for Gotch Style Piledriver-themed clothing, I'm assuming), Suzuki explained why he chose Okada has is opponent (via NJPW):
"When we were putting this card together, this match was part of the conversation from the very start. The reason I wanted Okada was that he was born at the same time my career started, and right now he's at the very top of the wrestling world. It's really a dream match to show to so many people, all gathered for free under the blue Yokohama sky. He's the best opponent I could think of to show everyone just what incredible things can happen in life. That's what I kept in mind as we negotiated the match."
Okada and Suzuki have only faced each other in singles matches five times, most memorably in the Rainmaker's third defense in his ongoing, record-breaking 700+ day IWGP Heavyweight Championship reign. The feud, which started when Suzukigun invaded New Year Dash!! 2017 after a few years in Pro Wrestling NOAH, reintroduced Suzuki as a serious threat to New Japan.
Suzuki said that he considered Tanahashi and Naito as opponents because he wanted to face one of the best in the world, but he decided on Okada for an interesting reason:
"…I started wrestling in 1987 and debuted in 1988. You look at active wrestlers born around that time and Okada is absolutely the best. If he was a little older or younger, it would become something different, but the point is that I have 30 years of history in this business, and that's his entire life; it just clicked. Now you might notice that every match on my 30th anniversary card has a 30 minute time limit. There's no meaning behind that, it just looks cool."
Suzuki also explained why he chose to make the event free and outdoors, and in doing so showed the depth of his love for pro wrestling:
"As soon as you have people pay, you're putting in a barrier to entry. When plans started to come together for this 30th anniversary, the first thing, the very first thing we discussed and I was firm on, was to make it free, and outside, under a blue sky. And for my opponent, I wanted it to be something that would get worldwide attention, something that wouldn't be out of place in the Tokyo Dome. If you do that… there are going to be a lot of people watching pro wrestling for the very first time here, and whatever pro wrestling you show someone for their first time, they will feel something, take an impression home with them. So let's make it the very best thing to show them… Of course, if I'm there it's going to be the best anyway…

Maybe some grannies just passing by will be watching, maybe little kids who don't know what this wrestling thing is. Lately more kids are coming to shows and yelling in the crowd, not all that different to when I was a kid. That atmosphere is starting to come back. I want that to happen!… This is a 30 year celebration, but it isn't a celebration of me, it's not something to put me over. I've spent 30 years walking out on a stage that other people have busted their asses to build, and now I'm inviting people to come on a stage I've built myself."
The Great Pirate Festival will also feature wrestling by Killer Elite Squad, Aja Kong, Masada, and more, and will introduce a new version of Suzuki's iconic "Kaze Ni Nare" theme song. All my fingers and toes are crossed that footage from this event will show up on the internet! (Suzuki's pretty active on the gram, so I'm sure it will.)