It's safe to say that things are going well for current IWGP Heavyweight Champion Kazuchika Okada. His faction, Chaos, is full of champions, and he was Pro Wrestling Insider's No. 1 wrestler of 2017, the first Japanese wrestler to hold that rank. He's won the G1 Climax tournament twice (the second time coming along with a record number of wins in the tournament), main evented Wrestle Kingdom five times, and won the IWGP Heavyweight Championship four times.
His current, record-breaking title reign has solidified his position at the top of the wrestling world, but has also started to change his relationship with the Japanese audience. But before we talk about that, let's talk about how Okada got here.
The 30-year-old is a 14-year vet; he started wrestling for Ultimo Dragon's promotion in Mexico in 2004. He signed with NJPW in 2007, and they sent him on a learning excursion to the United States that they thought would help him unlock his potential. It did, but not in the way New Japan expected. You see, they sent Okada on excursion to TNA, where they thought it would be a good idea to use this future superstar first on their b-show, Xplosion, then as Samoa Joe's Green Hornet-themed sidekick, Okato. Okato.

He has the mask and everything! NJPW did not enjoy this quality television programming, and Okada's handling was reportedly one of the reasons they ended their relationship with TNA. Despite all this, Okada still says he learned a lot in TNA — mostly that he needed a character.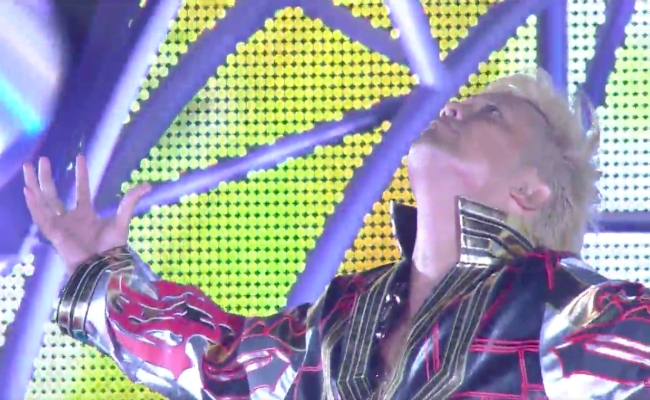 When he returned to NJPW at Wrestle Kingdom 6, he had one: the Rainmaker. He was arrogant, he made it rain money, and Gedo was now his hype man. The Rainmaker Kazuchika Okada soon defeated Hiroshi Tanahashi to win his first IWGP Heavyweight Championship, and would gain accomplishments and popularity over the next few years. He become so popular he turned babyface and got an entrance with a freaking animatronic dinosaur. That's when you know you're a big deal.
Okada's current title reign began on June 19, 2016, when he defeated Tetsuya Naito, leader of interfering heel stable Los Ingobernables de Japon. The first of Okada's 10 title defenses was against Pro Wrestling Noah representative Naomichi Marufiji. His second was the legendary six star WK11 match against Kenny Omega, which gained international attention for both men.
Okada's fourth title defense against Katsuyori Shibata at Sakura Genesis 2017 gained notoriety for way less exciting reasons: the combination of a stiff headbutt and dehydration gave Shibata a brain injury that ended his NJPW career.
Okada retained the title for the sixth time after his rematch with Omega at Dominion 2017 ended in a draw at the 60-minute time limit, and everyone once again got to freak out in a good way.
The Rainmaker defended his title twice more before becoming the longest-reigning IWGP Heavyweight Champion in history on October 22, 2017. Three days before Wrestle Kingdom 12, he broke Tanahashi's record for most combined days as champion. Then things took an interesting turn.
This promo video for Naito vs. Okada at WK12 shows the champ at what might be the peak of his career, at least as a babyface. The video shows things from his point of view, but many felt that his opponent had a more compelling story, or at least a cooler persona. During their Wrestle Kingdom 12 match, the crowd chanted Okada and Naito's names over each other, with Naito clearly gaining more support at times. We then heard Okada get booed during the build to his tenth title defense against Naito's stablemate Sanada, and the relatively unaccomplished Sanada was put over as a potential champion.
The New Beginning in Osaka crowd created some controversy among Japanese wrestling fans (source: Google translated versions of Japanese NJPW watcher tweets) by yelling "Go home!" at Okada after he retained. I think it shocked fans more than it did the Rainmaker, because he deflected the heckling to deliver a solid promo.
Okada hasn't done anything nefarious, but he clearly doesn't have the same level of babyface support anymore, especially when Los Ingobernables de Japon members, who seem to only be becoming more popular. Not to quote my own recap, but I'm going to quote my own recap for a sec:
[Okada's] going to compete in the New Japan Cup and fight the Junior Heavyweight Champion … at the upcoming anniversary show. Okada has it all, and he wants more. As the announce team says, "every day history is made for Kazuchika Okada … "

A weird thing about Okada's 10 title defenses is that they've all been at least 30 minutes, and it's not like Okada's some strategic genius who intentionally plays the long game. It's created this strange dynamic where he's such a dominant champion, but so many people have gotten so close to dethroning him. He's this morally neutral, untouchable-but-so-close-to-touchable, godlike figure reigning over NJPW now, and when he loses that title everyone is going to lose their minds.
How will audiences continue to respond to Okada and his record-breaking IWGP Heavyweight Championship reign? How much longer will he hold the title? These are questions I can't answer. But the uncertainty is one of the reasons Okada's title reign, which has already resulted in so many great matches, is one of the many reasons New Japan Pro Wrestling is so exciting to watch right now.