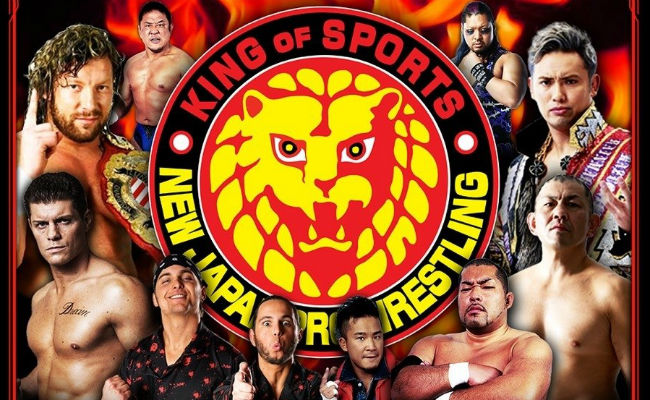 New Japan Pro Wrestling's expansion outside of Japan is off to a strong (style) start. They just had a successful first ever tour of Australia, their upcoming show in Long Beach is sold out, and they have their own regular Best and Worst column here on With Spandex (yes, all these things are equally important.) We also might see a spread of the puroresu wrestling style as the new New Japan dojo opens in Los Angeles.
Though they have streaming site, NJPW World, which has hours and hours of content and has become easier for English speakers to use, NJPW has decided the next step in their expansion is the release of a compilation DVD for the non-Japanese audience. According to a press release sent to Powerhouse Nation, the DVD will be released through WrestlingStore.co.uk later this month (it's currently available to pre-order.)
It's called "An Introduction to NJPW," and will feature the company's current stars Kazuchika Okada, Kota Ibushi, Tetsuya Naito, Hiroshi Tanahashi, Kushida, and The Young Bucks. The DVD also heavily features former NJPW talent who have since become high profile performers in WWE: Prince Devitt (now Finn Balor,) Shinsuke Nakamura, AJ Styles, and Ricochet (I'm assuming Ricochet is going to be huge in WWE because if not it will make me very sad.)
The matches are all from 2013-2014, which makes it seem like this will be the first in a series of compilations. I don't know what kind of number wrestling DVDs do these days so I'm not sure how effective this will be, but this certainly seems like an attempt to court new fans with names they might already know from elsewhere. It seems like a good gift for the wrestling fan in your life who hasn't gotten into New Japan yet because they gave up on the streaming service (it can still be kind of weird to navigate), or because they don't know where to start.