Welcome to the first episode of NWA Powerrr, spelled with three Rs, like you're a Dragonball character about to start screaming. If you aren't aware, it's Billy Corgan (smiling politely) and the National Wrestling Alliance's attempt at a "sequel series" of sorts to the old studio wrestling from Atlanta, which aired from the 1960s with Ed Capral until World Championship Wrestling in the 80s and 90s. It's an ambitious project in a gluttonous world of live pro wrestling that I've seen best described as, "GLOW for dads," in the best way possible.
Today, Lightning One and the National Wrestling Alliance bring studio wrestling to a whole new age. #NWAPowerrr was produced with the age that wrestling fans consume their media. The power is truly in the hands of the performers to walk to the microphone and be their true authentic self. For the fans, it's the opportunity to see a classic wrestling format in a traditional media viewing landscape.

NWA President Billy Corgan talked of a 20 year plan when he took control of the National Wrestling Alliance. As we enter our second year, NWA Powerrr is not only Billy Corgan and David Lagana betting on themselves but every talent who walks through that curtain.
As the show's exact target audience and a homer for the wrestling I grew up watching in southern Virginia as a kid in the 1980s, I figured I'd give the show an honest look and share some of my thoughts with you. I can't guarantee this'll be a weekly, recurring column as there is literally so much live wrestling on TV right now that it's hard to get to it all, but if you like it and want to read more about it, drop a comment down below and give the column a social media share or two.
For now, let's dive into episode one.
The Basics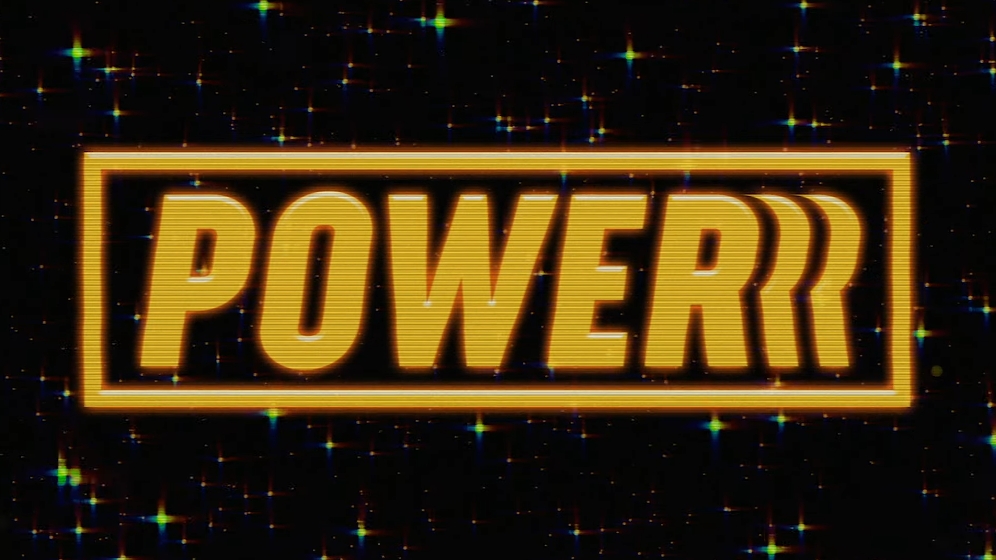 First of all, no, I don't know why there are so many Rs in Power. A trademarking issue, I imagine, in case anyone was getting the online wrestling show confused with 50 Cent's version. Although now I want to see Ice Cube and Dr. Dre start a spinoff show called NWA Power just to fuck with everybody.
The hour-long studio show, which airs on the NWA's YouTube channel for free on Tuesdays at 6:05 PM as a loving tribute to its ancestor on Turner Time™, does its best to recreate but modernize the look and feel of the old Championship Wrestling studios in Atlanta. They've got the classic NWA ring apron, complete with that weird shot composition where the apron takes up the entire bottom half of the screen, and flags of the world hanging from the rafters like retired jerseys. It's instantly recognizable, and takes you back to a very specific time and place in professional wrestling if you experienced it back in the day, and the best thing I can say about the show is that it evokes that era without trying to directly mimic it. The show doesn't feel like a parody of itself; it feels like the natural continuation of a thing you thought didn't exist anymore. It's like finding a flock of dodo birds hanging out in your backyard like they live there, and nothing's wrong. It makes my heart grow three sizes.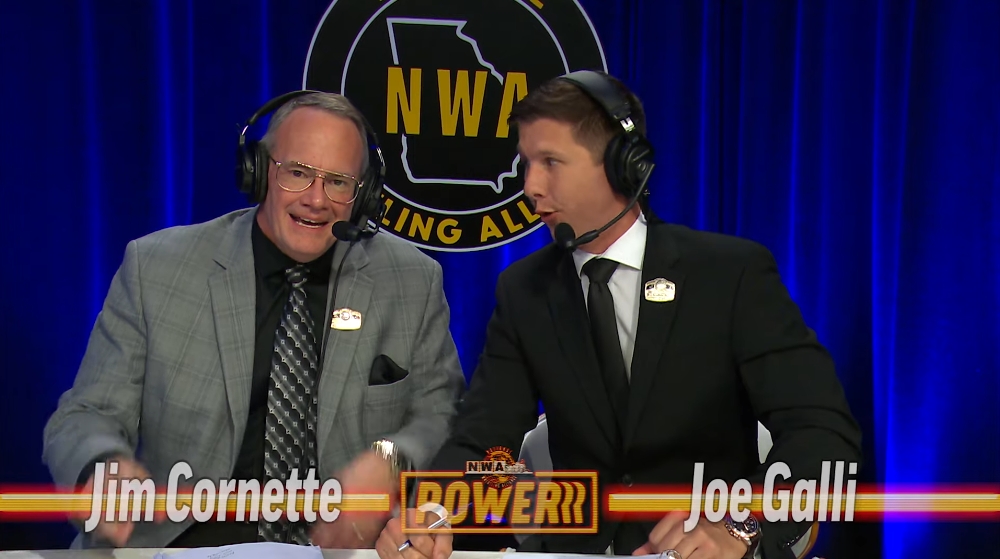 Your commentary team, because Tony Schiavone and Jim Ross are hella busy, is the adorably and authentically uncool Joe Galli of Championship Wrestling from Hollywood fame, and NWA legend Jim Cornette, whom you may recognize from every wrestling-related Twitter argument ever had. Normally Cornette would be a pretty red-ass red flag for a show like this, but I think in a steadily-maintained environment where the whole point of him is to add some old school wrestling knowledge and put everyone and everything he sees over, it's hard to find someone better. I doubt we'll see a lot of things that irrationally piss Jim Cornette off on the climate-controlled Atlanta studio wrestling show.
You can watch the first episode in its entirety here. The opening theme is appropriately corny, and I'm sad to assume WWE owns the rights to the best wrestling show theme ever synthesized.
Promo Superior
One of the first and best things you'll notice about the show is the promo style, which is ripped right out of 1985. It's a niche thing, but God, nothing says "professional wrestling" to me like slightly concerning, aggro-ass adult (often southern) men confidently asserting themselves at each other in a realistic but theatrically elevated manner until it comes to blows. The WWF pioneered a kind of unnatural, cartoonish delivery of information from pro wrestlers and while I also have a very soft spot for that, the NWA's promo style of "bring a wrestler out here and let them talk" feels intensely refreshing. Let the talented people be talented, they say.
Another thing I really love is the studio set-up of the interview lectern thing being right next to the ring, so when someone like Eli Drake wanders out and cuts a promo, they then take like 10 steps to the left and they're in the ring for a match. Drake goes straight from this promo into the ring to wrestle Caleb Konley, and I spent most of the match wondering what it would look like if, say, Montez Ford just jogged up to Cathy Kelley at Full Sail University, spoke from the heart about whatever the hell he wanted for a few minutes, and then immediately slid in the ring to wrestle. If WWE wants to steal anything from this little fledgling show, they should steal that as quickly as possible. Scripted promos are for the birds. If a wrestler can't take a couple of talking points and have a normal five-minute conversation about them in front of a camera, they shouldn't be in front of a camera. Or they should be on camera standing behind somebody who can.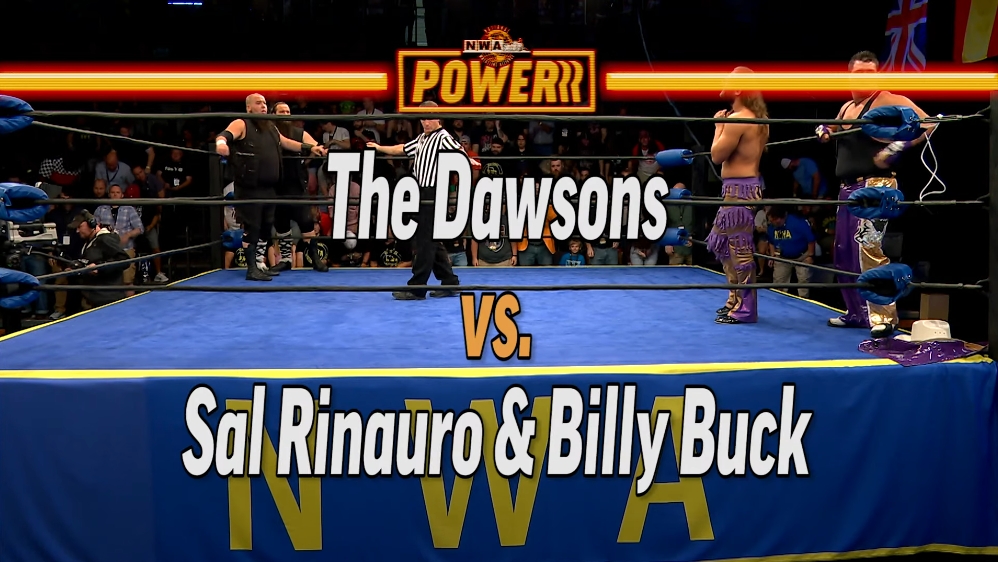 Another thing I'm really digging is the return of (something approximating) the old school NWA match graphics. They could've left this show in a bassinet on my doorstep and I would've adopted it on the spot.
One quick note: I'm going to try to avoid that thing I do where I describe the jobbers in an unbelievably invasive and rude fashion, as this show is current and close enough to ground level that I don't want random dudes vanity searching themselves and coming after me in the parking lot. There are a lot of jobbers squashes on the debut episode, which I enjoyed, and I will say that it's super funny that the jobber on this team named "Billy Buck" isn't the one dressed like one of the Young Bucks. Shout-out to Sal Rinauro for still getting work, though. Special K for life. Embassy represent /\
The Dawons are an interesting team, though, as they kinda look like if the Viking Raiders hadn't made any money. Their finisher is like Heavy Machinery's Compactor turned inside out, as seen here with a delightful replay graphic. I will say that if the Dawsons are going to be Tag Team Champions, they're gonna have to work on their Pacing. If not, they're gonna be up a creek.
Bram In The Place Where You Work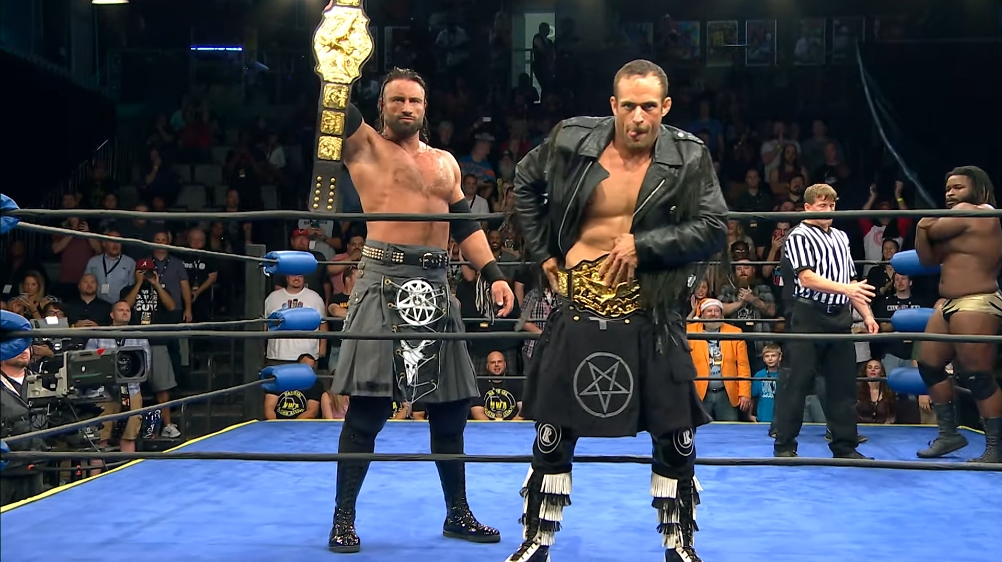 Speaking of the Tag Team Champions, they're The Wild Cards, Royce Isaacs and Thom Latimer (pronounced "Thom"). You may recognize Latimer as Bram, the former TNA star who reportedly signed a new contract like every week on wrestling news sites. They go up against the team of "Danny White" and "Mims," who really make me wish someone in the NWA still had Thunderfoot's phone number.
After the squash, The Descension Wild Cards run their mouths about tag team dominance and end up running afoul of maybe the best wrestler in the entire world at just turning a camera on and talking off the top of his head, Eddie Kingston. If there's one person other than Eli Drake who will truly benefit from this format, it's Kingston. Dude has been one of the best talkers in wrestling for like a decade now.
Kingston drops the appropriate Bram references — he likes to push the Bram-a-lot –and ends up bringing out his Outlaw Inc. tag team partner Homicide to even things up. If you're like me, you know Homicide best as the guy who ended Bryan Danielson's magical, genre-redefining 462-day Ring of Honor World Championship run just to drop it to Takeshi Morishima like two months later and should never, under any circumstances, be forgiven for it. I'm kidding, he's another good get for the promotion, and I think he and King are going to do some really great stuff together on Powerrr. Also I'm not kidding, I'm still mad about it.
Idol Threats
Just wanted to give a quick shout to the "quit your job and become a wrestler, stupid" commercial from Austin Idol. I want Austin Idol to start wrestling again, I don't even care. He was like the Memphis Wrestling equivalent to Rocky Horror.
My Name Is Jocephus, I'm A Son Of A Gun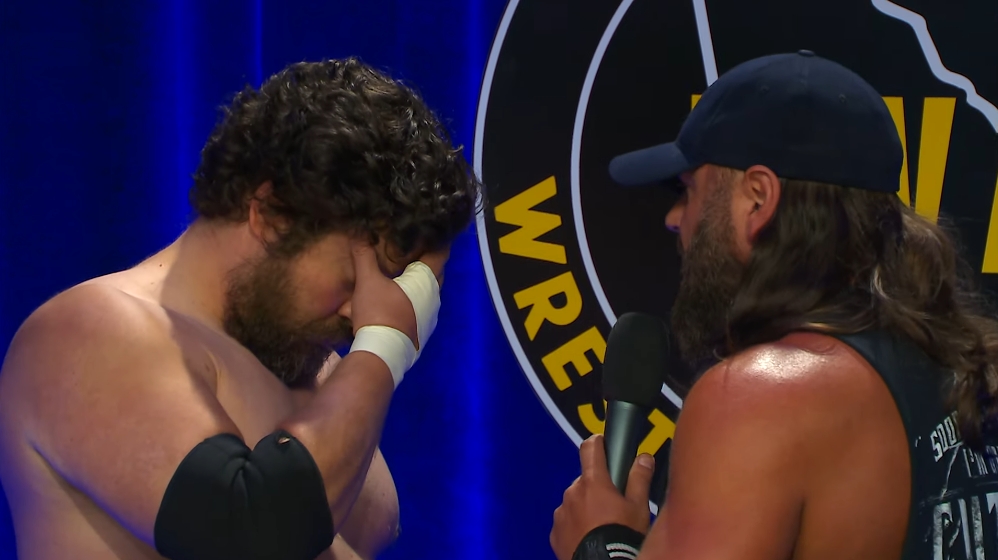 Joesphus is a first-century Romano-Jewish historian who was born in Jerusalem—then part of Roman Judea—to a father of priestly descent and a mother who claimed royal ancestry. He shows up to … [checks notes] Sorry, this is Jocephus, a previous NWA World Heavyweight Championship challenger out of Tennessee who looks exactly like the guy you'd expect to see main-eventing your local NWA satellite promotion's card.
He gets called on his sad shit by Cowboy James Storm, famous for tricking everyone into thinking he was going to NXT only for his old tag team partner to do it instead, and for once murdering a woman with the Hogwarts Express on national television. He can also talk, which is great, and ends up literally chasing Jocephus around the studio. It's cowardice taken to such an extreme level it starts to be funny, especially when they're doing a slow cat and mouse thing around the announce desk.
Part of me hopes they never wrestle, and that they spend like 200 episodes of Powerrr just chasing each other around that same room.
And Finally, NWA Champion Nick Aldis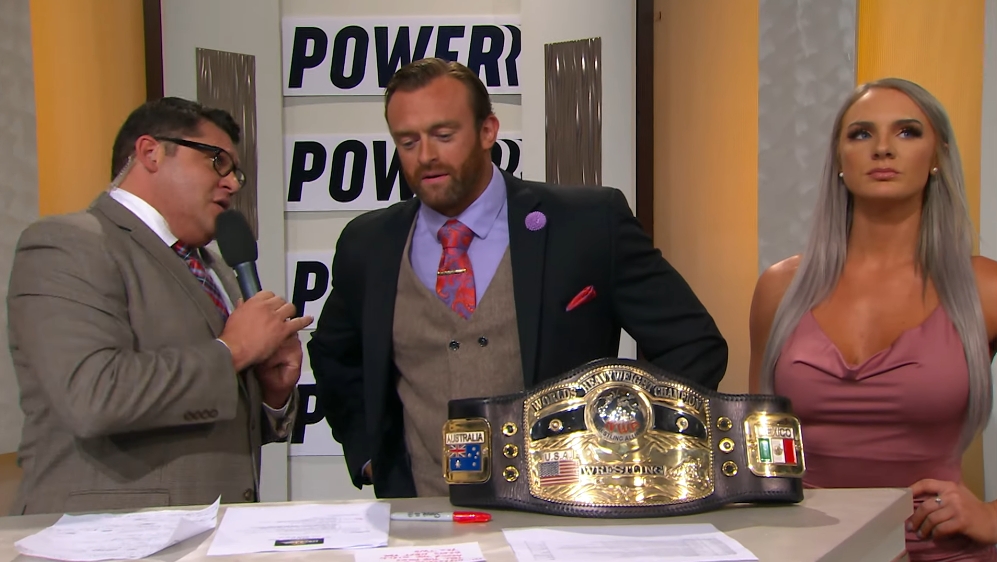 Lots of former TNA Impact guys on the show. You may remember Aldis as Brutus Magnus over there, but now you probably know him best as, well, NWA World Heavyweight Champion. His championship match with Cody Rhodes at All In last year was a solid indicator that both the All Elite Wrestling and revitalized National Wrestling Alliance concepts had legs. In the NWA he's now accompanied out by Kamille, who upon first glance is what happens if you mash up Chyna with Penelope Ford. She's pretty bad-ass, not gonna lie, and in NWA heel dirtbag-in-a-suit valet terms is a senses-shattering upgrade from Baby Doll.
The main event pits former champion Tim Storm, a quinquagenarian school teacher who looks like one of the Gorons from Legend of Zelda, against the current champ under the stip that if Storm loses, he can never challenge for the championship again. Like most of Tim Storm's NWA stories, it works because Storm is such a wonderfully "old school" looking and feeling kind of guy that you just inherently want to see him do well. It's like one of your nice uncles is a wrestler and he's not what he used to be, but he's trying, dammit, and he won't be made redundant because Bram signed.
There's a lot of good pro wres drama in this one, from Storm having to fight through the Texas Cloverleaf to keep his dream alive to feeling like he's got to "go big" off the top rope to put Aldis away, because his normal offense isn't hitting like it used to. They also do the very "classic NWA" bit where the valet keeps sticking their nose where it doesn't belong, and accidentally get decked by their own wrestler: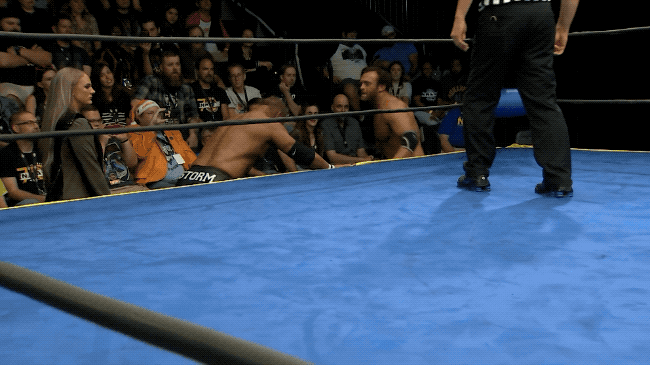 Bonus points to Kamille for just shrugging it off afterward and not being a damsel in distress, because Jesus Christ, look at her. It's gonna take more than a Magnus lariat to keep her down.
Storm ends up losing the match to an inside cradle, of all things, putting the perfect pro wrestling ribbon on the escalation story. Storm was trying to go up top and do stuff way out of his paygrade, and he got beaten with the world's simplest wrestling hold. He just took his eyes off the prize. Aldis hangs on by the skin of his teeth, because that's what good sorta-heel champions do, and Storm's going to have to have a long, sad think about what's next.
All in all, I really enjoyed the first episode. Like I said, it's just nostalgic enough without feeling like it's living in the past, because that NWA studio aesthetic and those graphics are actually in style again. I hope they keep going and keep growing, and that one day I can get to the that studio in Atlanta and loudly complain to anyone who'll listen about how there still isn't a U.S.S.R. flag in the rafters.