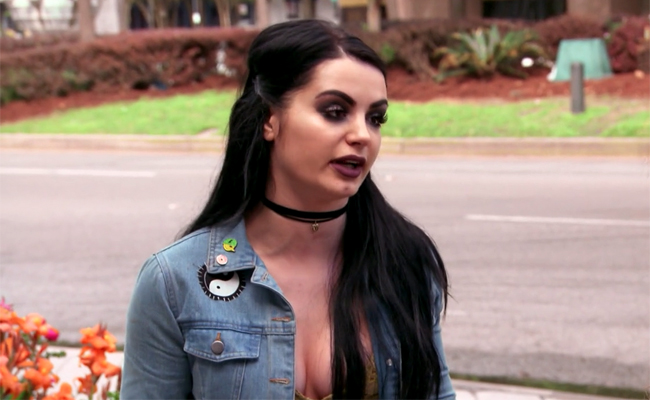 To mark the Season Premiere of Total Divas, Paige sat down for a candid interview with the Mirror, in which she opened up about her feelings about things she's been through in the last couple of years. To begin with, she said that the new season will also reveal a lot about the things that have happened to her since her previous departure from Total Divas during Season 6:
You hear a bunch of my stories, the year and a half I took out, just everything. All the trouble I got myself into… I was just very open about everything. I was very open with the taped sex that unfortunately got leaked, the popping [failing] of drug tests, I was just very open about everything because I want people to learn from my mistakes, you know?
For those who want to get to know the real Paige even better, she's also got an upcoming episode of the WWE Network series WWE Chronicle, which will cover the ups and downs since her return to WWE TV last fall.
I was the first one to have a Chronicle and it shows me the first day I come back in WWE, walking into the building, seeing everyone for the first time, then literally wrestling every single week, having my singles match with Sasha, doing this, doing that, then it shows me breaking my neck, pretty much.

Then he comes with me to the doctors and it shows the doctor telling me I can't wrestle anymore. Then it shows me just being happy now I'm general manager.

I can't wait for that to come out – if it does come out, who knows? I can't wait for that to come out because it's beautiful. That just made me cry watching it. It breaks my heart. I sometimes feel like 'I'm okay and I can get through this' but then I will watch that or I will watch Total Divas, and it reminds me I can't wrestle anymore and it does get to me. First and foremost, that was always my passion, I wanted to wrestle, but unfortunately it took me down a road that I can't do that anymore.

Paige goes on to name another WWE Superstar who retired due to a similar neck injury as someone who's given her advice and comforted her about her own situation.
The person who helped me with that too was [retired former WWE Champion] Edge, because he was like 'I promise you…' he told me the day I was about to retire, he pulled me to one side because he had sort of the same thing – spinal stenosis – he told me 'I promise you after you make this retirement speech you will have so much weight off your shoulders and you will feel so much better'.

And I did, it did make me feel better. But he was like 'you'll also constantly be reminded of it and you will be upset, but you will be in a better place once you say goodbye'. And he was right. I do feel in a good place, but sometimes it can get me down, you know?
Whether or not you enjoy Paige on Total Divas and Smackdown Live as much as I do, you can't deny that she's been through a massive and undeserved amount of crap since 2016, and has managed to get back on her feed and find a next step to her career when many doubted she'd ever be able to do either. To see her now opening up about the problems she's had (while understandably continuing to stay pretty quiet about her troubled relationship with Alberto Del Rio) makes her an even more inspiring figure in the often rough landscape of 2018.