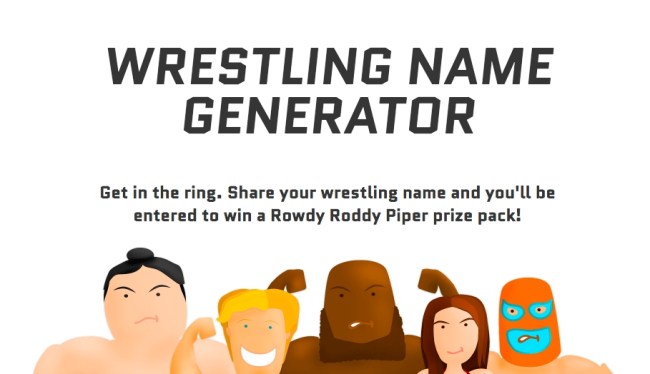 Penguin
Look, we can all agree that wrestling names are important. Whether you're a Big Guy, a Beast Incarnate, or just your standard, run-of-the-mill boogeyman, every wrestler needs a memorable name. If you've been in search of a fighting moniker for yourself, we have some good news.
To celebrate the release of Rowdy, the new biography of Roddy Piper by his children Ariel and Colt Toombs, Penguin Random House Canada has put together a very cool wrestling name generator, so you can enter your actual name and find out what your in-ring name would be if you were a professional punchkicker. (Or kickpuncher; I would never pigeonhole you without knowing your actual fighting discipline.)
So let's take this to its logical endpoint: putting in the names of ACTUAL pro wrestlers and finding out if we can get some more badass names for already fairly badass people. Let's start with a timely one: Goldberg!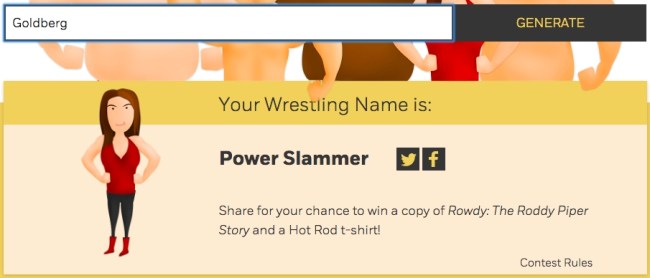 That's … wow, that's surprisingly accurate. Okay, let's kick things up a notch. How about Stone Cold Steve Austin?

Penguin
Hmmm, I guess he WAS pretty of wild. He didn't do much crippling of his own, although he did wear some pretty intense knee braces. Okay, we'll allow it. What about … Bray Wyatt?

Penguin
Yes. YES. That is appropriately badass and ominous. Of course, he'll probably eventually have to lose one of those names, given predominant WWE naming conventions. "Making his way to the ring: BLOOD."
Okay, one last one: The Big Dog himself, Roman Reigns!

Penguin
Sufferin' succotash, son. That's one heck of a wrestlename you've got there. Thank you, Penguin Random House Canada, for bringing this into our lives. You can
click here
to head on over to Penguin and get your own name.