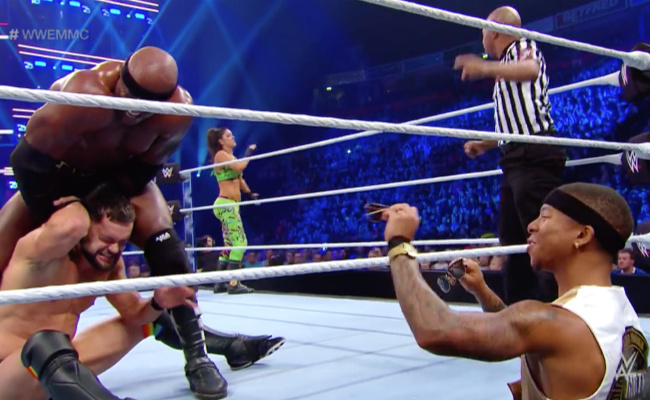 Welcome back to the WWE Mixed Match Challenge Season 2, a half-hour show featuring a 1o-team round robin mixed tag tournament between Raw and Smackdown. The episodes air live on Facebook Watch at 10 p.m. every Tuesday night, but you can watch the new episode any time you want. Each week, I'll be taking you through the ins and outs of this compact two-match card.
Last week, Monster Eclipse and Fenomenal Flair smashed Mahalicia and Ravishing Rusev Day in two finishes that surprised no one (although Ember Moon's Eclipse was more surprising than ever before). Now, let's dive into this week's matches:
Match One (Raw): Country Dominance Versus Team B'N'B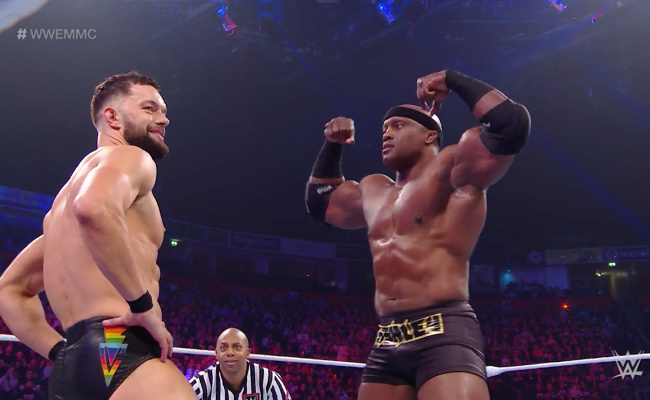 British crowds still love Bayley, and I love them for that. Back before WWE did everything they could to quash her popularity among the WWE Universe, there were times when American crowds tried to sing that Bruce Channel song at her, and it always came off a little forced and obnoxious. When British crowds (who started it in the first place) do it, on the other hand, it's still somehow charming. Watching it get under Mickie James' skin is even better.
Finn and Bayley continue to be a perfect pairing, and this continues to be the most I've enjoyed either of them in a long time. Finn smirking when Bobby tries to intimidate him with muscles, Bayley doing a muscle pose of her own and Bayley-to-Bellying Lio Rush, both of them breaking up each other's pins by any means necessary — everything they do together is fun, and their tag team obviously builds on their close real-life friendship. It's just a shame they had to lose here, just to establish the dominance of the team with "dominance" in the name.
On the other hand, I'm also a Mickie James fan, and it's not that often in this stage of her career that we get to see her involved with any winning endeavor, so at least that's a bright spot. And honestly, I'm maybe starting to come around on Bobby Lashley now that he's a heel and has the always entertaining Lio Rush by his side, but we'll see on that part. In any case this was a fun match, even if I didn't love the finish.
By the way, after B'N'B's loss, commentary started talking about how even though they're 2-2 and there are two 3-0 teams ahead of them in the rankings, they're still eligible for the playoffs. Am I the only one who has never heard that there were MMC playoffs until this moment? I thought each Raw team fought every other Raw team once, and the same on Smackdown, and then the top teams from each brand would meet in the finals. Apparently the tournament is more complex (and longer) than that. I now officially have no idea how long this tournament even lasts, or how long I'll be here doing these recaps. Nevertheless, I'm happy to know Finn and Bayley still have a shot, or at least another fun match or two to come.
Match Two (Smackdown): Day One Glow Versus Fabulous Truth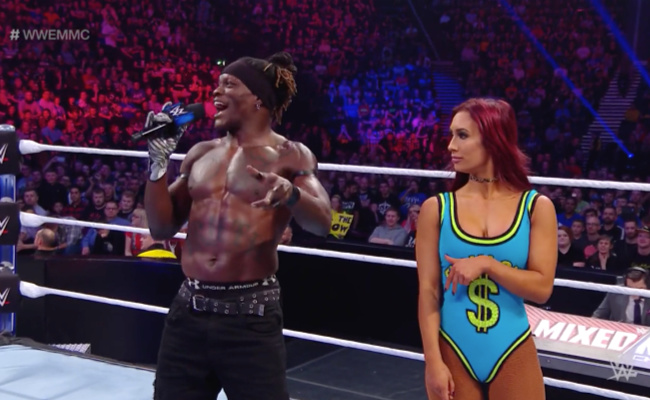 We've now crossed an inevitable threshold in the development of WWE's silliest wrestling show, because this wasn't really a wrestling match at all. They had a full rap battle, they danced a bit, and then they wrestled for about 65 seconds, with Naomi getting a quick pin on Carmella. I don't mind that, really. It was a very fun segment. I just think it's interesting how this show increasingly arcs away from wrestling towards everybody doing much sillier stuff than they get to do on regular WWE TV. I guess you could say Carmella and R-Truth are an exception to that, actually, because they're basically this silly on Smackdown too.
The rap battle itself was fun, and nobody embarrassed themselves. In fact, I can now say with certainty that Carmella is a more legit rapper than anyone she ever accompanied to the ring in NXT. I think Naomi's rap might be the weakest of the four, but it's still not bad, and she's the absolute best at dancing (and one of the best at wrestling, not that that's relevant to this show), so that makes up for it. As for the dance break, it didn't last long because Carmella used it as an opportunity to sneak-attack Naomi and finally get the match underway.
Another thing that makes this show seem silly is what the standings look like at this point. Each brand has two undefeated teams, one 2-2 team, and two teams with no wins. Next week, in the final episode of the first round, the two undefeated teams from each brand face each other. All of this is just way too symmetrical. I know we all know that wrestling is a work, and Mixed Match Challenge is far less interested in realism than most WWE shows, but do you have to make the tournament seem this planned out? Nobody ever sneaks out an unexpected win? Granted, it's not as bad as last year, when Asuka's streak spoiled the entire bracket, but a little more randomness in the match outcomes would go a long way.
Day One Glow are now the 2-2 team from Smackdown, mirroring B'N'B on Raw. Does that mean Finn and Bayley will face Naomi and Jimmy in these mysterious playoffs, or do they each have to fight a team from their own brand again? I genuinely have no idea, but stick around with me as we find out.
That's all for this week. Join us next time, when Monster Eclipse (Ember Moon and Braun Strown) go up against Country Dominance (Mickie James and Bobby Lashley), and Fenomenal Flair (Charlotte Flair and AJ Styles) face Awe-ska (Asuka and the Miz).