Welcome back to the WWE Mixed Match Challenge Season 2, a half-hour show featuring a 1o-team round robin mixed tag tournament between Raw and Smackdown. The episodes air live on Facebook Watch at 10 p.m. every Tuesday night, but you can watch the new episode any time you want. Each week, I'll be taking you through the ins and outs of this compact two-match card.
Last week, Team Pawz's losing streak continued against Team B'N'B, and Day One Glow lost to Awe-Ska in a face-off with a surprising amount of hugs. Now, let's dive into this week's matches:
Match One (Raw): Mahalicia Versus Monster Eclipse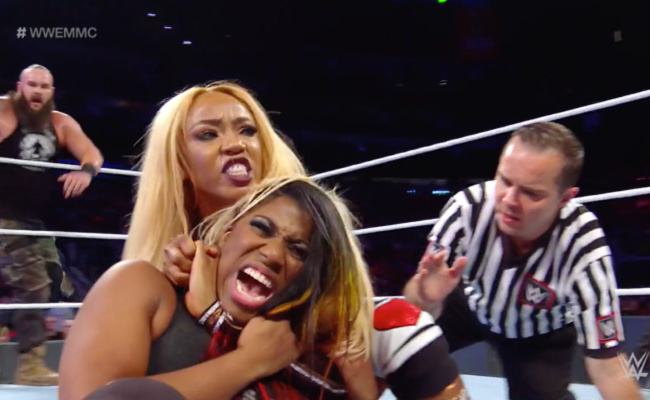 This was a fascinating match, because so much of it was Alicia Fox keeping Ember Moon trapped in submission hold. I think we're all pretty invested in the idea that at this point in their careers Ember should be stronger than Foxy (her actual in-ring skills certainly are, Foxy's gorgeous Northern Lights suplex aside), but this didn't bother me because it never really felt like Fox being a better wrestler than Moon. It felt like Ember just made the mistake of letting what she thought was a harmless little yappy dog catch her in its jaws, and then found that it wouldn't let go. The impossibility of Ember Moon ever tapping out to Alicia Fox just made her feel more desperate to get out of this embarrassing situation and tag Braun.
Alicia might have been the most dangerous competitor in this match, because she's worked into a manic froth by the Singh Brothers, who now outnumber her, and she doesn't appear to get along any better with Samir than she did with Sunil. She even got in Braun's face and demanded the respect a captain is due. Braun responded by stealing her hat, which almost fit him thanks to Foxy's dedication to extravagantly large headwear. Meanwhile, Ember responded by hitting an Eclipse out of nowhere, which wouldn't even be possible without a Monster Among Men-sized distraction.
Obviously Jinder never stood a moment's chance against Braun, so the real goal of this match was just to get the chaotic Fox out of the way so Braun could take the smaller big man down. Once that Eclipse accomplished its goal, Strowman powerslammed Mahal (while still wearing Alicia's hat) and that was that.
Match Two: Fenomenal Flair Versus Ravishing Rusev Day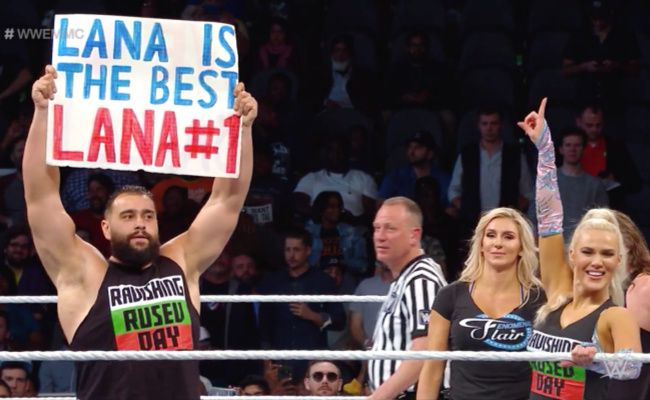 It's as big a surprise to me as anyone, but when she gets a chance to shine and be her full weird self, I love Lana's wrestling character. She's not the best wrestler, and she's not trying to fool you into thinking that she is. Or at least, as a performer she's not. As a character, she would love to make you believe she's the best, even though she knows she's not. She's this charming combination of enthusiasm and desperation, volleying between cheerful confidence and self-conscious brittleness. All of this makes her the perfect partner and foil for Rusev, who is both much better than her and usually has much less time for nonsense, but he loves her so much that he gives her endless chances and encourages her in whatever she wants to do, even if it's absurd to think she might succeed.
All of that said, the chop contest that started this match went on a little long. It's that MMC self-awareness thing I mentioned before, where long non-wrestling segments are just an expected part of the show now, even when the ring is full of characters who would usually rather just have a wrestling match. On the other hand, I've complained in the past about Rusev no-selling Charlotte's chop in Season 1 (and I know others have complained about my complaint). This episode completely fixed all of that for me, in a way that seemed like a deliberate choice on the part of the performers. First, Rusev barely sold AJ's chops either. It seems the Bulgarian Brute just has a mighty torso, which seems right from looking at it. Then, later in the match, Charlotte hit Rusev with a moonsault, and he definitely sold that move. So what seemed before like an old-fashioned refusal to bump for a woman now just looks like choosing which moves are strong enough to hurt, which is totally valid.
Lana also no-sold Charlotte's worm, which is fair. It's not a terrible worm, but Charlotte trying to impress Lana by dancing is like Lana trying to impress Charlotte by wrestling. Or like Lana trying to impress Naomi by dancing (or wrestling), for that matter. Once order was restored and Charlotte got back to actually wrestling, Lana tapping out to the Figure Eight happened just as quickly as you'd expect.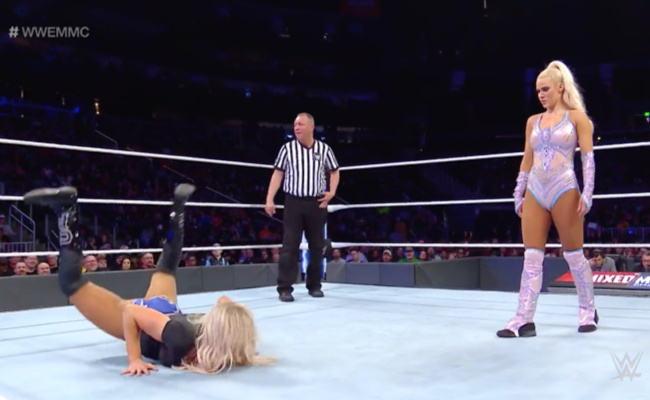 That's all for this week. Join us next time, when Team B'N'B (Bayley and Finn Bálor) go up against Country Dominance (Mickie James and Bobby Lashley), and Fabulous Truth (Carmella and R-Truth) face Day One Glow (Naomi and Jimmy Uso).