Previously on the Mae Young Classic: Kaitlyn muscled her way back into the hearts of the WWE Universe, everybody (in one match) was kung fu fighting, the Full Sail University became a stop on the Frenemy World Tour.
You can keep up with the Mae Young Classic on the WWE Network! And you can keep up With Spandex on Twitter and Facebook. Also, we have a podcast! Also, you can follow me on Twitter @emilyofpratt, where I mostly just talk about wrestling some more.
As you probably noticed from the headline and/or my previous MYC reviews, I'm departing from our usual Best/Worst format for this column for something I'm calling a Ranked Review. Each MYC episode consists of four straight-up wrestling matches and almost nothing else for about an hour, and I'm going to talk about each match in worst-to-best order. As always, I welcome your thoughts on the format and rankings, as well as the rest of the review and the episode it talks about, in the comments section.
And now, my review of season 2, episode 4 of the Mae Young Classic, from September 26, 2018.

4. Nicole Matthews def. Isla Dawn
I feel kind of bad, looking back on this show, for enjoying one of its more competitive matches the least, but Matthews vs. Dawn didn't grab me. Dawn, one of the women who lures men to Summerisle to be burned in the Wicker Man, is signed to NXT UK, and I'm wondering if they're going to SUBTITLE HER SCOTTISH ACCENT on that show too????
Matthews has been wrestling for twelve years, is probably best known for her work in Shimmer, and was reported earlier today to be banned from entering the United States for the next five years. Her character is matter-of-factly in the Mae Young Classic to beat people up and win, but I feel like she as a performer could have stood to invite the crowd into the match a bit more. But the match gets more exciting when it becomes less of a one-sided beatdown after Dawn revs up and hits that running knee and some suplexes. Its most engaging moment is when Matthew busts out the Lion Tamer for the win, but that's more because it's a move the audience already associates with Chris Jericho and more exciting matches.
3. Taynara Conti def. Jessie Elaban
In the episode's second match we see another returning MYC competitor who's Back And Badder Than Last Year (see also: Rhea Ripley and Mia Yim), Brazil's Taynara Conti. She enters with swagger and seems equally proud of her beauty and her Real Black Belt in judo.
Her opponent, fellow Performance Center original Jessie Elaban, is way less fun for me, despite the fact that she's clearly trying to be super fun. Looking very green in the ring plus the "I'm from earth" and "Every day when I wake up I tell myself, 'You're amazeballs!'" and dressing like a teen character in a community theater musical (I did a lot of these as a teenager and now there's a certain type of peppiness that's hard for me to deal with) and the chin against her face pose are all nos from me. But Elaban is super new at this and clearly working hard and is a good foil to Conti in this match and I'm sure she'll grow on me in the future.
This match is mostly about Conti showing off her judo-influenced pro wrestling skills, her submission game, and her sort of unhinged, mean girl ruthlessness. Her getting SO MAD when Elaban doesn't tap and punishing her by working her fingers against the ropes was vicious and messed up! Conti's ability to pull off stuff like that and her cool Taya Goshi finisher (an utsuri-goshi judo throw into a side slam) make me want to see more of her, which I feel like we will (beyond the second round of this tournament) in the near future.

2. Io Shirai def. Xia Brookside
In the episode's main event, Io Shirai finally arrives in a WWE ring. She is immediately great, not just in terms of her performance in this match, which is basically a squash and just gives a preview of what she can do, but in the way she carries herself. Despite being a new NXT signee, wrestling character Io Shirai is not wide-eyed and Grateful To Be Here. She came here because she won everything in Japan, and now she plans to win all the things in WWE.
I'll try not to type SHADES OF TANAHASHI one million times whenever I write about Shirai, but, along with the similar pose, you can see that same Ace confidence with which she welcomes the crowd's cheers after she lands on her feet out of that rana. She doesn't play like she's going to be John Cena once she works her way up in this new company; she has arrived fully formed as the new women's John Cena and she's going to the top and everyone should and will get on board and cheer for her wrestling because she's great.
That rana and the fired-up clotheslines before it comprise the majority of adorable "human unicorn" Xia Brookside's offense. I'm excited to see her in more even matches NXT UK in which she does more than win everyone over instantly, put someone else over well, and mostly distress her dad.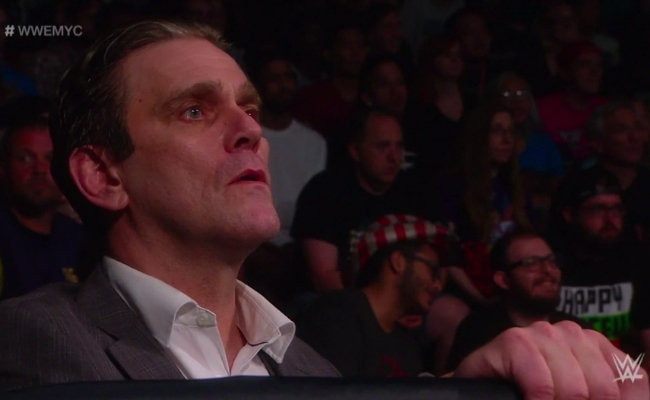 Shirai shows off her skills, locking Brookside into a submission with a smile, maintaining control of her arm as she tries to escape, landing picture perfect meteroas, and quickly finishing the match with a really, really nice moonsault – with some distance! – for the pin.
Backstage, she says through Funaki that she has a chip on her shoulder from Japan and she's just here to win. Great! Go for it, Io!
1. Hiroyo Matsumoto def. Rachel Evers
The show opened with what ended up being my favorite match of the night, the Lady Destroyer Hiroyo Matsumoto vs. the Queen of Strong Smile Rachel Evers. Clean-cut Midwestern babyface and former Full Sail University attendee Evers starts out as, understandably, the clear crowd favorite, but I think Matsumoto won their appreciation by the end.
Matsumoto, who has been wrestling since 2006 in a variety of promotions including Ice Ribbon, OZ Academy (where she's worked a lot with mentor/rival/stablemate Aja Kong), Stardom, Sendai Girls, and the all-women's indies in the US, doesn't make any changes to cater to a new audience, and I think it throws them off at first. She has a unique positive/aggressive energy, like it's really just in her nature to be so hardcore, and it makes you want to watch what she'll do next. After the match, she says, "It was just start. I want destroy everything. Just start now," without malice. She just loves to destroy, man!
I suspected they matched up Evers, who works in Stardom often, with Matsumoto for the same reason they had Shinsuke Nakamura debut in NXT against Sami Zayn: to let her shine in her first match against an opponent already comfortably familiar with her wrestling style. Still, I didn't expect this match to be as straight-up strong style as it was!
After the extended collar-and-elbow that hints at both women's strength and toughness, Evers and Matsumoto do the shoulder-tackle-off and clothesline no-selling spot that's a staple in Japanese wrestling, especially between two extra tough cookies (Goto vs. Ishii in the G1 Climax this year was perfectly and awesomely this type of match.) Evers does a great job putting Matsumoto over with how she sells her offense, like after that missile dropkick when Matsumoto looks like she's just getting started and is having so much fun, and Rachel looks like she, well, just had someone jump from a significant height to kick her in the chest with both feet. She DIES after those double knees from the second rope too, and it's great.
There are a few awkward moments in the middle, but the crowd and match heat back up for the forearm exchange. After a dominant start to the match, Matsumoto loses ground to Evers. The two look pretty evenly matched as they counter each other in the bout's home stretch until the Lady Destroyer hits her Rock Drop backdrop driver for the win. It was exciting and fun, and cool as always to see more of a variety of wrestling styles in WWE.
After a not always great quality, but overall entertaining first round, we finally move on to the second next week. Over the next two episodes we'll see:
Toni Storm vs. Hiroyo Matsumoto
Rhea Ripley vs. Kacy Catanzaro
Lacey Lane vs. Taynara Conti
Meiko Satomura vs. Mercedes Martinez
Io Shirai vs. Zeuxis
Deonna Purrazzo vs. Xia Li
Teagan Nox vs. Nicole Matthews
Mia Yim vs. Kaitlyn
I'm hyped for at least five out of eight of these, and I'll see you back here to talk about how they turn out!