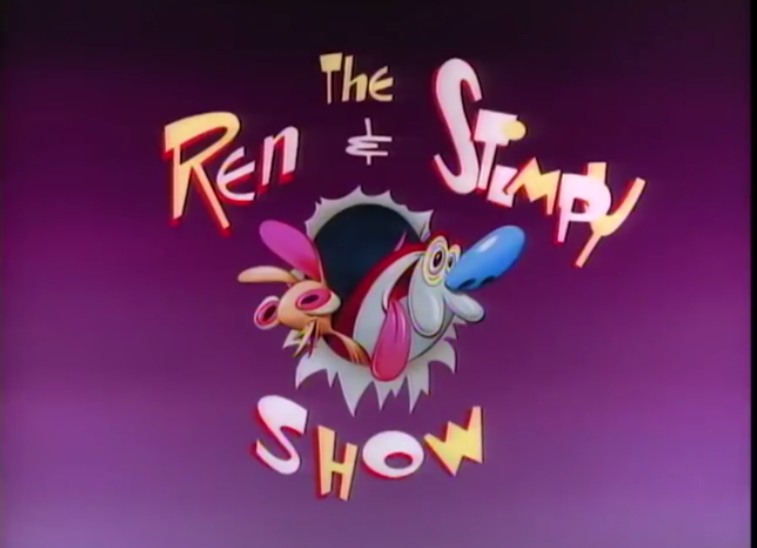 The Wrestling Episode is our cleverly-named feature wherein we watch non-wrestling shows with wrestling episodes and try to figure out what the hell's going on in them. You'd be surprised how many there are. You can watch the episode on DailyMotion here. If you have any suggestions on shows that need to be featured in The Wrestling Episode, let us know in our comments section below.
I've Never Heard Of Ren & Stimpy. What Is It?
In 1989, kids network Nickelodeon approached subversive Canadian animator John Kricfalusi about creating a show. He pitched them three ideas, including a variety show with a live action host with animated shorts that parodied different genres of cartoons. Nickelodeon cherry-picked one aspect of the show they liked — a dog and cat duo Kricfalusi had created as a joke in the '70s and had re-purposed here to make fun of "dog and cat" cartoons — and were like, "make us a dog and cat cartoon."
In response, John K. created The Ren & Stimpy Show, a "Nicktoon" about a dog (Ren) and a cat (Stimpy) who entertained a Nick audience raised on corny game shows and failed TV shows from other countries by being as gross, dark, adult, sexual and violent as possible. The result was anarchic and extremely popular, setting the stage for other off-color '90s animated hits like Beavis & Butthead and South Park.
What's A 'Nicktoon?'
An original cartoon created for Nickelodeon. The Ren & Stimpy Show was one of the original three Nicktoons, alongside Rugrats, a show the secret life of babies that unofficially provided the plot of every Pixar movie ever made, and Doug, a cartoon about how even more insufferable Caillou is going to be when he's 11.
Not to be confused with Brocktoon.
And There's A Wrestling Episode?
Yep, and it's one of the best ever.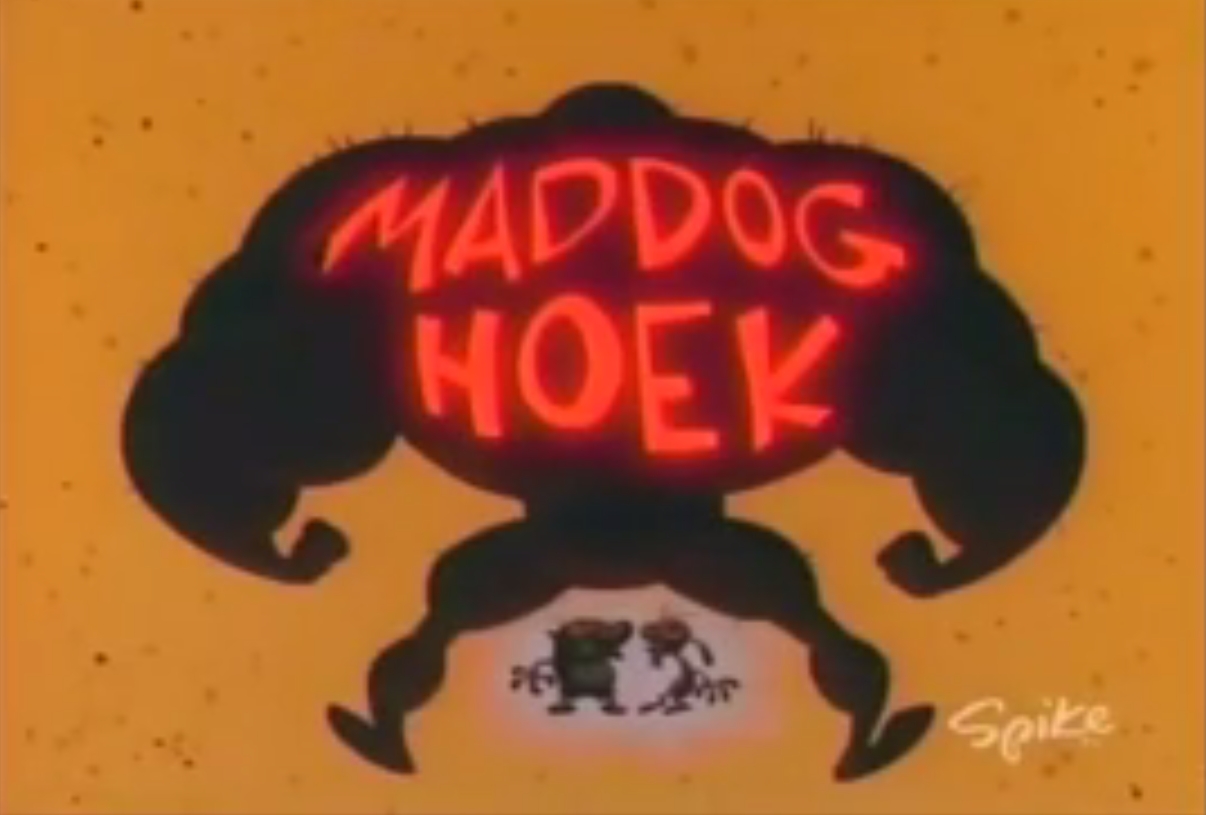 One of the reasons I love season 2's 'Mad Dog Hoek' so much is because unlike nearly every other Wrestling Episode we'll write about, there's no plot. No build to the main characters wrestling, or backstory to set up the match. We just jump right in to Ren ("Mad Dog Hoek") and Stimpy ("Killer Kadoogan") as wrestlers, wrestling, despite (1) not seeming to understand how wrestling works, and (2) not wanting to do it.
They're up against the "undisputed tag team cham-peens of the world," the "Duo of Destruction," the Lout Brothers, Lump and Loaf. They look like what would happen if Ryback formed a tag team with Additional Ryback.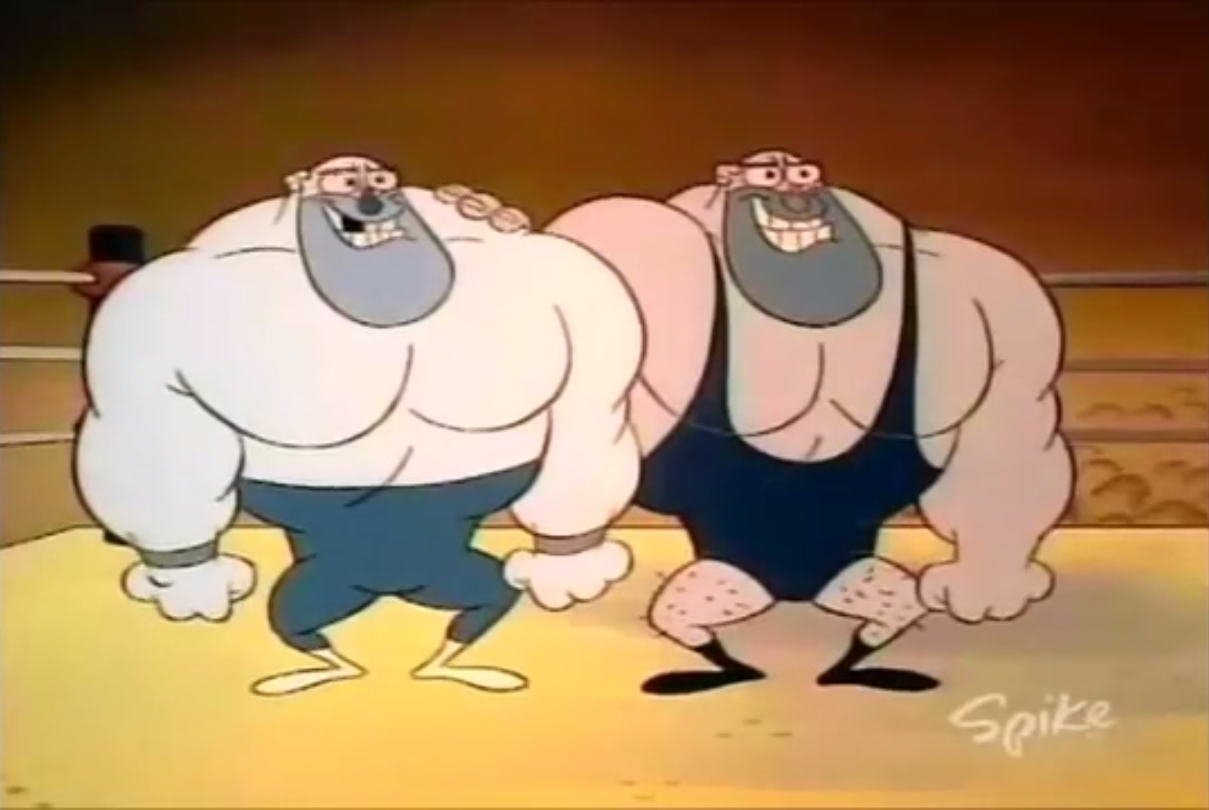 This match is billed as the "Battle of the Century," despite Stimpy not understanding that he's about to participate in a wrestling match. He mentions to Ren that the Louts are big and mean and look like they want to hurt him, and Ren chihuahuasplains pro wrestling: "Don't worry, Stimpy … this is all pretend. Nobody really gets hurt. The match is rigged. We can't lose. We're the good guys!"
This proves to be true at first, with Ren getting the first offensive move of the match: his "famous" sleeper hold, which involves him grabbing one of the folds on the Lout Brother's neck like a sandwich and biting it. This works, and now all I want to see on Monday Night Raw is someone putting their opponent to sleep with elaborate neck-biting.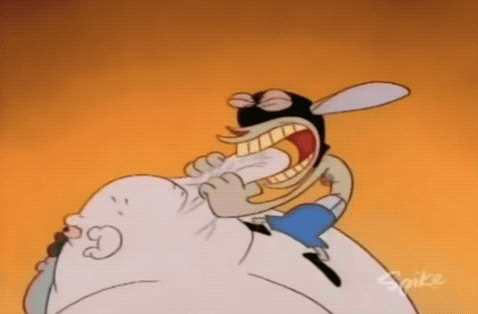 The Lout breaks out of the hold by drinking coffee ( … sure, that checks out) and proceeds to try to murder a small dog by crushing it between his massive pecs. If Lump didn't look enough like Ryback to you before, here you go.
No longer sure about the worked nature of the match, Ren tags out to Stimpy. Stimpy shows he's the worker of the team by tying up.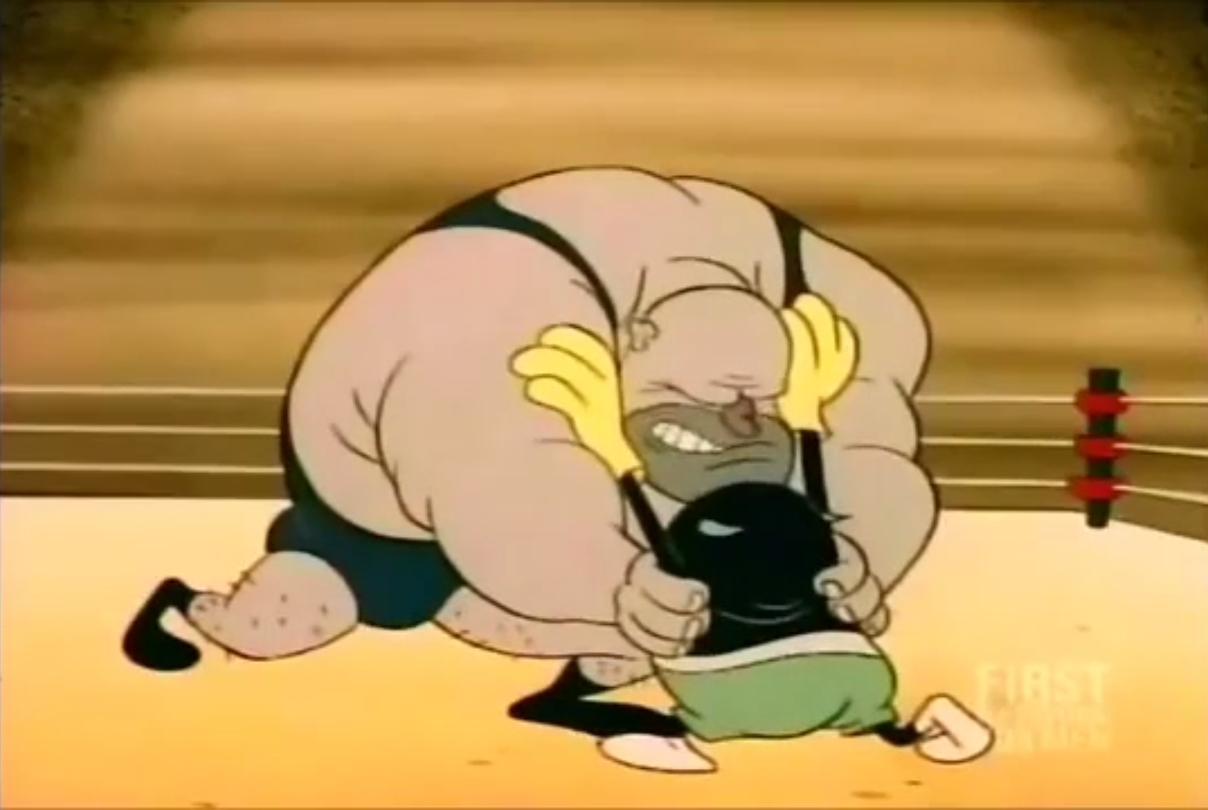 At this point I was hoping they'd like, go into some limb work. Instead, I'll let the Ren & Stimpy wiki recap tell the tale, because it's so much funnier than anything I could write.
Stimpy ends up in the ring with Loaf. Loaf is surprised with Stimpy's friendly attitude, but too sadistic to miss this chance, the powerful, hairy muscle man lifts Stimpy, squeezes him into a ball, and consumes him, chewing him like gum. He does several tricks with the gum, stretching it like string, and then blowing a bubble. Ren watches beyond the rope, and feels mercy for his dear friend, but not enough to get back in the ring himself. Stimpy's masochistic enjoyment out of being dominated comes into play here when he jumps in pure enjoyment out of all the pain and humiliation he feels.
I love how Lovecraftian that paragraph sounds. Like, Matthew McConaughey could read that as a monologue on True Detective.
Lump and Loaf continue the beatdown with two of their signature holds:
The "Backhanded Tongue Lock," in which a guy grabs your tongue and pulls it up over his shoulder while he sits on your chest, and
The "Flying Butt-Pliers," which, well …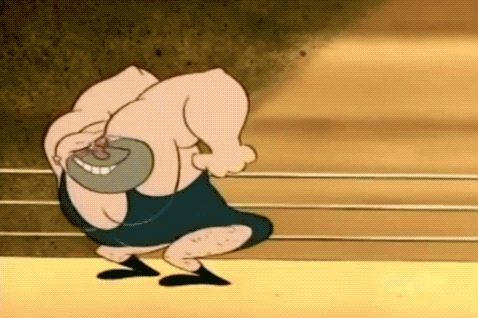 Is this cartoon why Mojo Rawley tried to attack people with his asshole for the first four years he was around?
My very favorite part of the episode is how writer/director Bob Camp illustrates "tagging." It's never a tag like in an actual wrestling match … your partner gets close to you, then sloooowly reaches out with one finger and gently taps you. Sometimes it ends up like the one in the picture, where Stimpy just gradually jams his finger in Ren's eye to tag him in. It's hilarious. This is a much better use of fingerpoking than in actual pro wrestling.
So, Ren tags back in and it looks like he's going to get destroyed, but he accidentally discovers Lump Lout's weakness: a giant, throbbing, pus-filled boil on his big toe. Because this is Ren & Stimpy, Ren's plan is to bite the boil.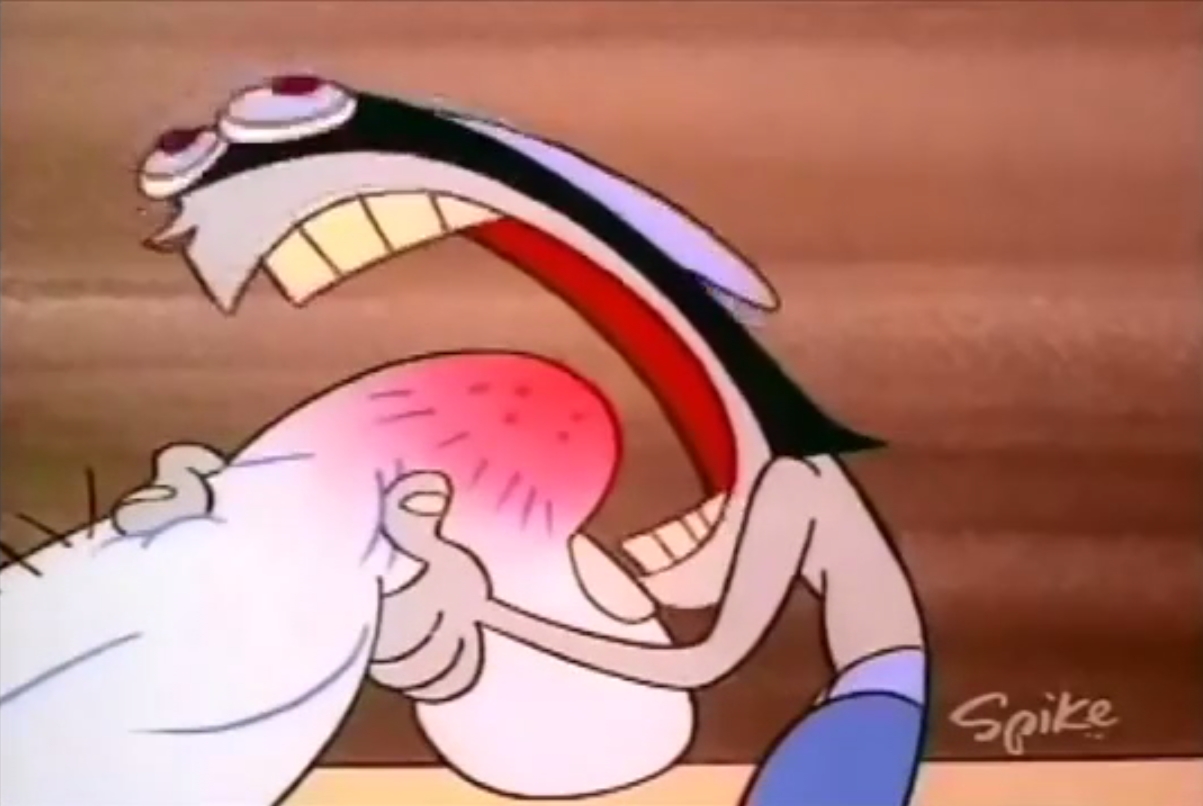 That pisses the Louts off, of course, so they start double-teaming Ren. This sets up quite possibly the funniest moment (at least to me) in Ren & Stimpy ever: the referee checking to see if a man choking the shit out of a tiny dog is or isn't a chokehold, deciding it's okay, then looking away as the Louts BACK A CAR OVER REN AND PARK ON HIS FACE.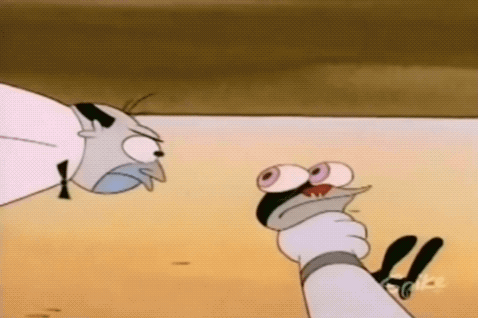 The match breaks down here, like tag team matches usually do, with the Louts decimating Hoek and Kadoogan … that is, until Loaf looks at the watch he's suddenly wearing and realizes it's "time to throw the fight." Lump and Loaf both collapse for no reason, giving Ren and Stimpy the win. Because what Ren said at the top of the episode was true, they just … you know, work stiff. With their teeth and butt cheeks.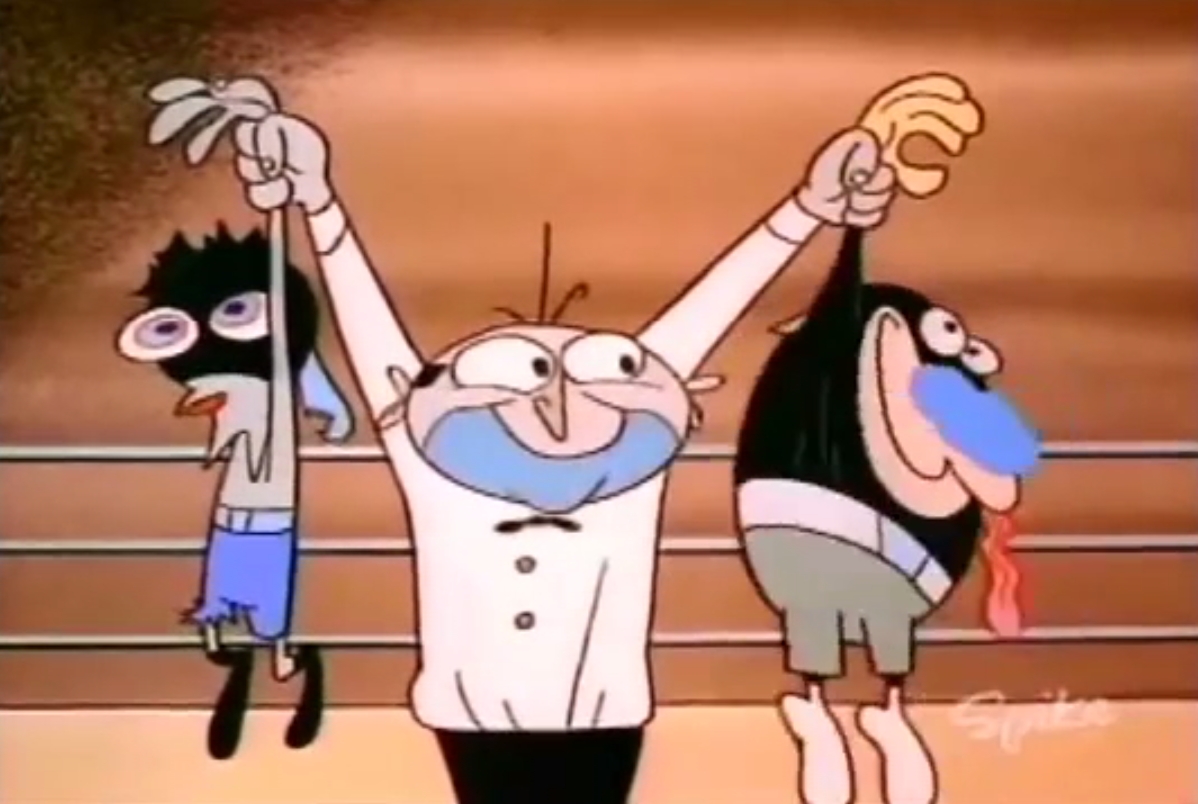 Is That The End?
Oh, heavens no.
After the match, the ring announcer (who also called the match, sometimes in ladies undergarments) interviews the Louts about their loss.
"WE LOUTS ARE ANGRY! WE, ARE, SORE! MAD DOG AND KILLER, CHEATED! NEXT TIME WE SEE YOU GUYS, IT'LL BE IN THE STREET! WE'LL BREAK YOUR BONES! WE'LL GRIND YOU INTO PUTTY! WE'LL TEAR YOUR FACES OFF! YOU HAVEN'T HEARD THE LAST OF US! THIS IS WAR! WE ARE GENERALS, YOU ARE THE ENEMY! BEWARE MAD DOG, BEWARE KILLER, WE KNOW WHERE YOU LIVE! WE KNOW WHERE YOUR PARENTS LIVE! WE WILL HAVE OUR REVENGE!"
Ren tries to respond, but Stimpy pushes him out of the way, announcing that he "wants to holler the loud funny way."
Pipe bomb! I still quote this promo all the time.
I LIKE DARREN! HE IS MY FRIEND! I LIKE YOU, AND HIM! HE LIKES ME! AND I LIKE HIM! HE LIKES YOU, I HOOOOOPEE. I'D LIKE HIS AUTOGRAPH! IT IS A NICE PICTURE! HE IS NIIIIIIIICEEEEE!
So What Have We Learned?
wrestling is super fake
a small dog and a small cat with no wrestling experience were undisputed Tag Team Champions for a while at the end of 1992
if a large man is attacking you, tear off half of his shoe and see if there's anything gross on his foot you can bite
whoever writes the Ren & Stimpy wiki is extremely horny and also deserves a Pulitzer
Stimpy cuts a better promo than most actual wrestlers
Fun note: There's an episode of Spongebob Squarepants that's exactly like this, almost beat for beat. We'll tackle that one soon.