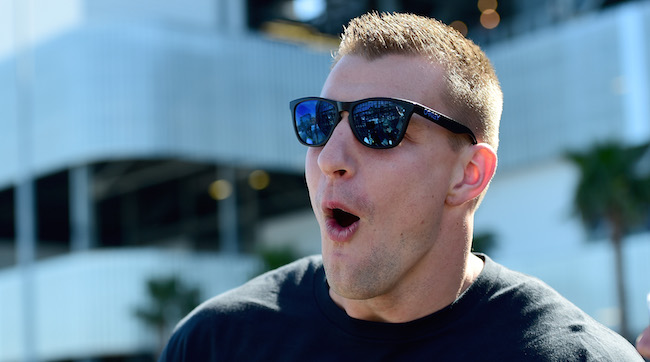 WWE's Mojo Rawley will forever be tied to NFL megastar Rob Gronkowski. Rawley says he owes his career to his best friend and the rest of the Gronkowski clan, and WWE definitely doesn't hate having an extremely popular and well-known giant hanging around their events. Rawley is probably already used to being asked about Gronk in every interview he's ever given — a trend that continues to this very day!
By this point, we all know how big a wrestling fan Gronk is and how much he's itching to get in the ring for real. Gronk's involvement at WrestleMania 33 and again on Smackdown two weeks later is a pretty, pretty, pret-tay good indicator that there's smoke to this fire, and it looks like we're barreling headlong into an inevitable scenario where Rob Gronkowski enters WWE full-time when his NFL days are done.
In a new interview with FOX Sports, Rawley was asked about the "possibility" of Gronk becoming a wrestler. Rawley — and this may come as a shock to you — was pretty hype about it.
"Well let's call him a blue chipper, baby. The guy's done his homework. That's my best friend and he's been supporting me, coming to the shows since we were down in FCW in Tampa and there were seven people in the arena and my buddies were like five of them.

He's done his homework, he's been to these matches. He's progressed through the ranks, he's very familiar with the process works. He's very familiar with the lifestyle because he's been there every step of the way with me as a fan.

And to have him be able to get in the ring and deliver a big shoulder tackle and be front row at a lot of these shows… the guys all cued up. Not to mention all the fun that we have outside of both of our jobs. Practicing moves on each other and watching it together and having a blast. The guy's cued up for a career, man. You look at everything he's done with his life outside of the gridiron, he's got WWE superstar written all over him."
The only question that really remains here, is "what will Gronk's WWE name be?" Maybe they can just be efficient and recycle "Bam Neely." El Hijo de Bam Neely.