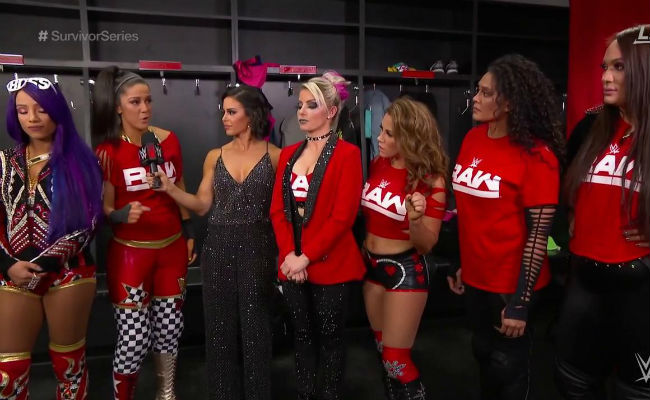 Unlike the SmackDown Live women's team, by the WWE Survivor Series 2018 kickoff show, it looks like Monday Night Raw's squad for the traditional 5-on-5 elimination tag match was set. However, the team of Natalya, Nia Jax, Tamina, Mickie James, and Ruby Riott, captained by Alexa Bliss, was too volatile to last. Pre-show viewers saw Bliss giving a motivational speech to her team backstage, and it seemed to be going well. Then Riott brought up how she had broken Natalya's dead father's sunglasses on a recent Raw, and the Total Divas star attacked her.

After the Tag Team Elimination match, we again said the women of Raw backstage. Bliss announced that she had kicked bothRiott and Natalya off the team due to the fight. Their replacements? Two women with experience as enemies, friends, stablemates as half of the NXT Fourse Horsewomen, a tag team, and Survivor Series match teammates, Sasha Banks and Bayley.
Bayley quickly responded on Twitter to the addition of the Boss N' Hug Connection to the PPV card.
Team Raw is no longer as heel-heavy, and just gained two accomplished and popular wrestlers. What does that mean for their chances at victory? We'll find out very soon in the first match on the main Survivor Series card.