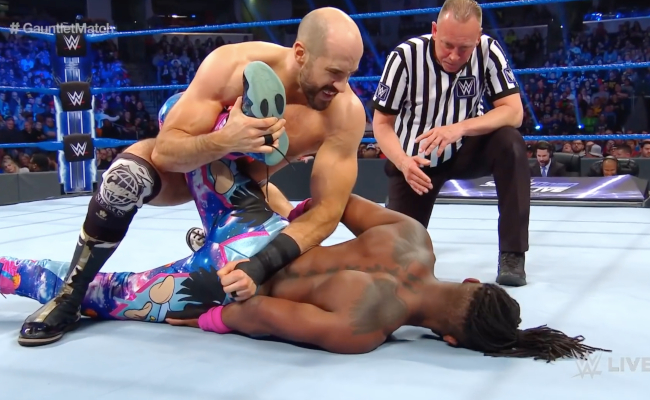 This week's episode of Smackdown Live was dominated by the gauntlet match that took up the entire second hour, during which Kofi Kingston defeated five opponents in pursuit of a shot at the WWE Championship at WrestleMania, only to be beaten by a surprise sixth opponent, the WWE Champion Daniel Bryan. The show also featured an advertised appearance by the WWE Women's Tag Team Champions Sasha Banks and Bayley, who lost a non-title match against the IIconics.

As reported by Wrestling Inc, this episode earned Smackdown its second biggest TV audience of 2019, coming in second only to the February 19 episode, which followed Elimination Chamber. Tuesday night's episode drew 2.208 million viewers, which is up from 2.198 million viewers for last week's post-Fastlane show.
SmackDown came in fifth for cable viewership on Tuesday night, a position it's held now for three weeks. Curse of Oak Island came in first, followed by Tucker Carlson Tonight, Hannity, and The Rachel Maddow Show. SmackDown topped the 18-49 demographic. Who knows what TV viewership really even means anymore, in a world where a treasure hunting show takes the stop spot over news and wrestling, but it's good to see that compelling storylines promoted well can help WWE with its numbers, since those are things we like to see anyway.