Hey, guys. It's Total Divas time again! Are you all caught up? No? Well, you can do that here. Last week's episode featured Cesaro holding a comical amount of get-well balloons, so it's worth it just for that. When you're done, be sure to share that and this and all of our With Spandex doings using these social media buttons that totally won't unfollow you behind your back:
This week on Total Divas: We meet the new Diva in town, we learn a very important r-truth about R-Truth, and we finally find a way to tell Nikki and Brie Bella apart.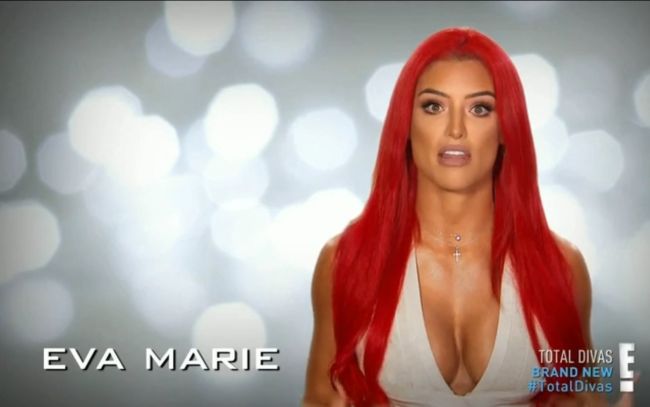 Eva Marie is back from learning her All Bread Everything finisher, and ready to join the main roster ladies for a new and exciting season of totally unscripted shenanigans. She can't do this without first apologizing to everyone because her being the antagonist of season five isn't in the cards, but more on that later. She says she's sorry to Nikki and Brie for being super passive aggressive on the internet, and the twins in turn appreciate Eva's sincerity.
While I'm still not entirely convinced she's a real person and not just a robot saying words she thinks humans would say, I have to admit I've been looking forward to her coming back. Also, with more Eva Marie comes more Jonathan, the Poochie of Total Divas. When he's not on screen, everyone (me) should be (is) asking 'Where's Jonathan?' ('What is Jonathan eating?')
Producers must have had the same feeling about Eva Marie, because they've now enlisted one of the 37 people who aren't Gabi Castrovinci they kept around from the last season of Tough Enough. Meet Mandy, the 24-year-old fitness model who wasn't good enough to maybe get a shot at training to learn how to wrestle on TV, but does enough squats to look good enough to be on E! She's from New York, has a lot of Instagram followers, and is dead enough in the eyes that it makes Eva Marie look like a pre-Shake and Bake Katherine Hepburn.
Mark Carrano — WWE Senior Director of Talent Relations — introduces Mandy to the cast and…well, the ladies are skeptical to say the least. She even gets one of these from Eva Marie:
Paige is the one who has the strongest reaction, as she was particularly hard on Mandy during her Tough Enough run. As she will continually point out during the course of the show, she's gone from Mandy's judge to Mandy's coworker, and that, oh boy, that is awkward enough to be a dramatic story arc on a reality show. Like most of the things you can't mask about Paige on Total Divas, her incredulity at Mandy going on tour with them is pretty justified. While everyone is obsessed with each other's social media follows and unfollows in front of the E! camera, wrestling is still their job at the end of the day, and they're still trying to drag 9-year WWE veteran Brie into the plus column of good and safe wrestlers.
Now, while I may be asking about Jonathan, you're probably wondering hey, what's Nattie up to? Haha jk nobody is. She still ends up taking a decent portion of this episode, and after an emotional episode last week she's back to her old self. Here she is greeting the totally pregnant Rosa Mendes:
Smooth as sandpaper, girl.
Nattie's going ahead and engineering herself some drama in the form of a party for her depressed husband TJ (Tyson Kidd if you're nasty). TJ's still out with a neck injury, and all he does is sit at home and watch his matches with Cesaro and call Cesaro on the phone and go to the gym and play with their cats. Um, pretty sure that's what some would refer to as a dream life. Nattie remembers feeling sad when she was out injured, and she doesn't want TJ to feel sad, so she's going to throw him a party. This should go well. Right, Rosa?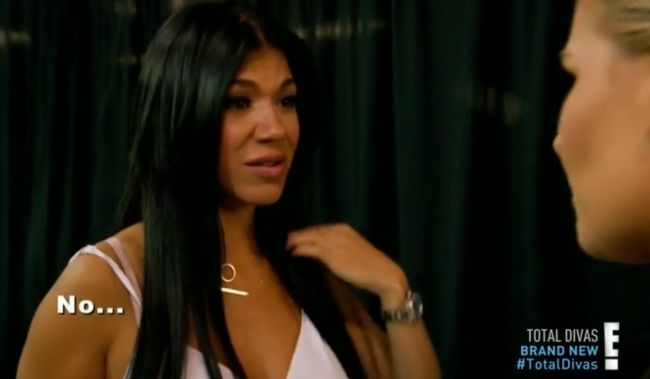 Uh oh, first problem: she wants R-Truth there (who doesn't?!), but he's afraid of cats.
Truth reveals that when he was a child, he tried to feed a group of stray cats chicken bones and they attacked him, mangling poor lower-case R's hands. Now he has a phobia of cats. This should go well!
Nattie also invites Cesaro, telling him she wants to 'lift his spirits.' Cesaro's response?
Ruthless.
The party goes ahead as planned…sort of. It's the day of the party, and Nattie is frantically rushing around trying to get everything ready. The wings are on fire, she's f*cked up her sister's make-up, her dad is making this face:
Everything's going according to plan! But uh oh, TJ is home early! Nattie responds in the kindest (shittiest) way possible, telling him that she was trying to throw him a surprise party, but now he's ruined the surprise. Nattie's got such a cool way of making everyone around her feel loved, don't you think? Party guests filter in nonetheless, and everything that happens after that is kind of incredible. The party proves that we need an E! spin-off for Cesaro, TJ, and R-Truth called Total Dudes. They don't even have to script it, it can just be them looking at each other and reacting to whatever the ladies are doing: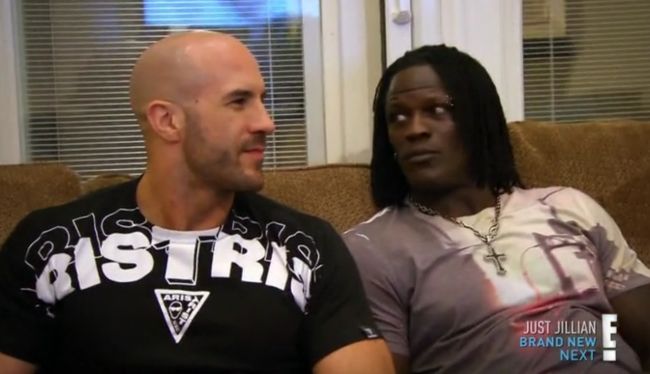 Big E will also be there, of course, adding comic relief and breaking the fourth wall, Jim Halpert-style:
They could even call him 'Big E!' for added synergy. But yes, that's Nattie's sister still being sweet on Big E, something Nattie takes her to task for. She doesn't want her putting her hand on Big E's big legs in front of their dad lest he get uncomfortable, but, in true Nattie style, she has the entire conversation in front of her father. How can one person be just so smooth?
R-Truth shows up with balloons, because now we (blessedly) have a 'dudes carrying balloons' quotient to fill:
As Nattie instructed, that bitch gets cranked, but not in the way R-Truth wants. Kofi Kingston's adorable tiny son lets the cats loose in the house, and Truth proceeds to have a totally calm and cool reaction. Haha, joking again, he freaks the f*ck out:
Come on, Truth. Don't be like that. These cats are totally loving and affectionate: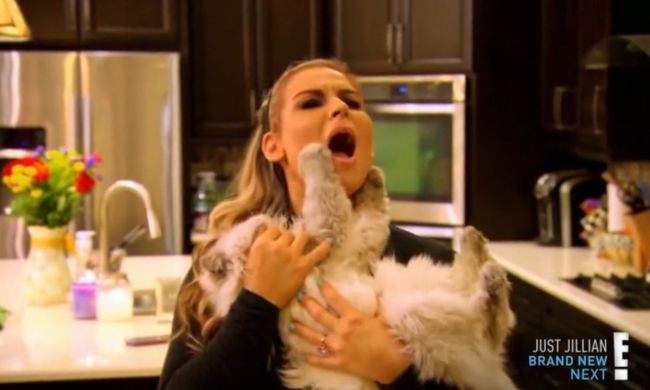 They deal with the cat situation by building a Les Mis-style barricade, and all seems to be going well. Hahahaha, got you again, not it's not. TJ is mad that Nattie told the guys he's depressed, a fact which she promptly denies. *DRAMATIC RECORD SCRATCH* Let's go to the replay on this one: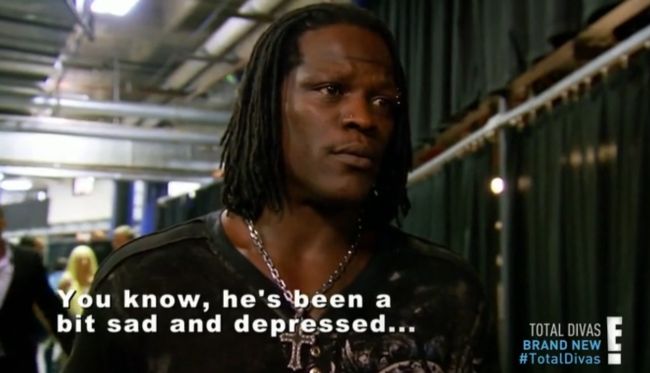 Here we have Nattie directly saying TJ is depressed, and also accidentally describing R-Truth during most of his WWE career. Oops. Truth again comes to the rescue, not by barricading Nattie in with the cats, but by having a sweet heart-to-heart with her away from the party. He explains that she loves TJ so much that she's trying to protect him from feeling like she felt during her injury, but in reality it's making her project those feelings onto him instead of seeing what's really going on. For real. Total Dudes. Let's do this. No, wait…let's DUDE this. Yes.
Eva Marie is mending fences all over the place, while new girl Mandy is busy trying to tether her iPhone to the wifi receiver in her brain so she can download the last season of Total Divas and know what's going on between everyone. Paige announces that they don't want any drama, so things proceed to get very dramatic:
This won't do, you see, because they all need to go to the factory where Eva Marie and Mandy originated. Hahaha, oh man, I'm just full of jokes and joshes today. We all know Eva Marie isn't some robot they got from a factory. She's a Diclonius, and they're actually going to check out how the new line of Total Divas make up is made. Mandy thinks something's amiss, and is starting to wonder whether or not she should have been so buddy-buddy with Eva Marie earlier:
Girl, Eva's fine. The only thing you need to be re-assessing here is this outfit:
As this is 'reality television,' and we're fed just enough to judge people at the face value they've been edited to have, I'm not super thrilled with Mandy. I mean, she's everything we're supposed to hate about Eva and Dana Brooke without Brooke's comedic lack of self-awareness and Eva's endearing lack of self-awareness combined. I'm just super bored with WWE feeding into their latest idea of the one likable, right kind of woman. It's not dramatic, and turning her into kind of woman isn't a story of redemption, it's just further feeding into that kind of toxic narrative. BUT we're only supposed to be judging people at face-value here. For instance, Diva Deus ex Machina Mark Carrano totally looks like a dude who cries when he masturbates: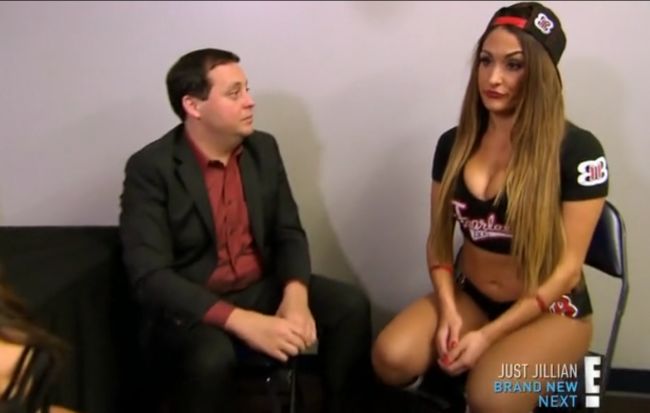 Aw, you're right, WWE. Judging people at face value is fun!
Speaking of Mark, he's come (ew) to the Bella Twins (double ew) with a business proposition. A major food company brand wants the Bella Twins to be the face of their company, but local business hipster Brie isn't comfortable with the idea. Nikki wants to do the endorsement, but acknowledges that though they're identical twins, they both have very 'different ideals.'
Yes, Nikki. That's the biggest difference between you two.
Nikki tries to sell Brie on the idea by staging a mock advertisement for eggs, and then a wheelbarrow, because Nikki might be the most entertaining non-Total Dude on the show:
Nikki turns to the wise sensei she also gets to have sex with, John Cena. He encourages her to step out on her own because he knows she can, does this to her head:
…and then realizes that when he was 18, she was 12 years old: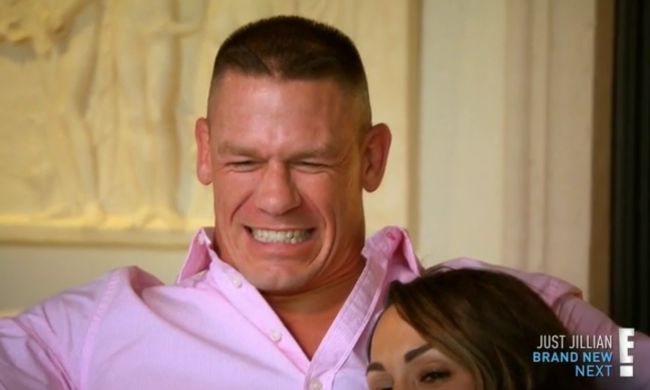 Yeah, I make that face when have I do mental math, too. And also when I think about John Cena having sex. Weird.
The episode wraps with Nikki deciding that she's not going to let being a twin hold her back from her ambition to be the female The Rock, and even joins Brie to support her in her own local business venture. The normal people who work with Brie are just thrilled and acting as natural as possible: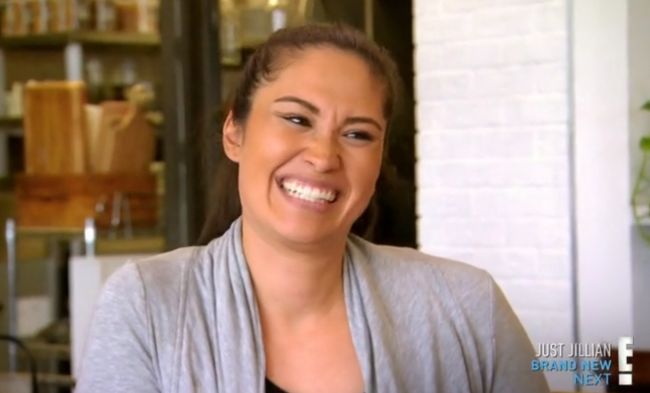 Now, here are my Top Five Out Of Context Screenshots, featuring the many emotive expressions of Mandy and Eva Marie:
See you next week!