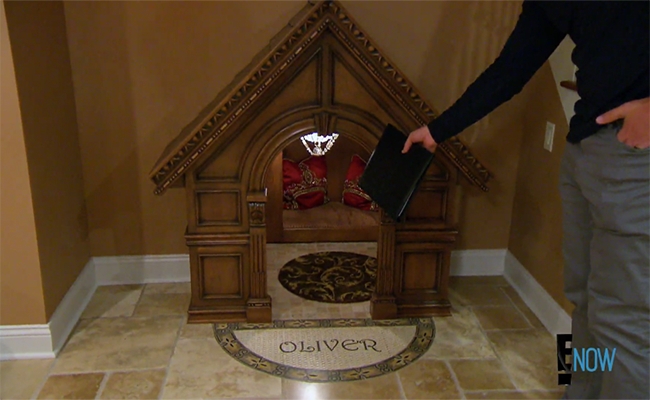 Previously, on Total Divas: Maryse found out she was pregnant, Rusev finally grilled in the nude, and Naomi had the toots.
This week is the season seven finale of the world's greatest show, but at least we have Total Bellas to look forward to. Without further ado, let's get down to business.
Dancing With The Stars Is Difficult
Nikki is finally beginning her Dancing With the Stars training and competition, and I don't know if you've ever heard this about that show, but it's a lot of hard work. She's training six hours a day, even on Sundays! And she doesn't even have time to go shopping with Brie and Birdie! She also doesn't have time for some more important stuff, but more on that later.
We get our first look at Nikki's DWTS performances, and if you hadn't heard, she did really well on that show. And yes, because she's a wrestler, part of the choreography of one of her numbers was her body slamming her partner. "Maybe you could do, like, a wrestling move?" is a standard mating cry of all Hollywood producers who have had to work with a pro wrestler and can't be bothered to actually watch pro wrestling themselves.
Mr. Hero Finds Out
Miz and Maryse decide to break the news of their pregnancy to Miz's parents before telling WWE. They take the world famous Mr. Hero and Miz's mom out to breakfast, and Mr. Hero even combed his hair for the occasion! He looks sharp!
They sit the parents Mizanin down to tell them the news, and first swear them to absolute secrecy. Miz's dad very rightfully asks what the entire camera crew is doing there if this is a secret. Mr. Hero rules. Go patronize the Mr. Hero eating establishments if you happen to be in the Cleveland area at any point.
Later, Miz and Maryse go house shopping in Cleveland, and find a Cleveland mansion that even includes a luxurious dog mansion inside it. Layers upon layers. They're trying to decide whether to get a new place in Cleveland, Los Angeles, or Las Vegas after selling their old house, and the stress of both being pregnant and going house shopping is very hard on Maryse. I can imagine!
(By the way, when they tell ICE COLD Mark Carrano about the pregnancy, it's fantastic. You'll just have to watch the episode for his trademark sarcastic-alien delivery.)

TJ, We Missed You So
In easily the week's most welcome news, our beloved and long lost Tyson Kidd finally gets featured in an episode. He's popped up here and there to offer his trademark concerned glances, but now we get our first living, breathing TJ story and scenes since he got injured entire seasons ago. This week, Lana worked something out with TJ backstage (where TJ is now working as an agent) to work with him on some training. You know, because Lana is constantly trying to get better and better at being a wrestler and performer. THE CAD.
Lana stops by Nattie and TJ's house prior to a training session, and the curtain peels back a bit, as Jim Neidhart is wearing his ring jacket from a few episodes ago, when Nattie won the women's title and took pictures with him. Unless he just wears it around the house sometimes! Who am I to judge?
Oh But Wait, Still Nattie
Buuuuuuuut because Nattie is still Nattie, and will always continue to be nothing but the most Nattie she can be, she's furious that TJ is training Lana. She claims to be doing it because she's concerned about TJ injuring himself by getting back in the ring and not being able to know his limits because of how much he cares about wrestling, but it reeeeaaaaally comes across as her not wanting it to happen because she doesn't like Lana.
And it very much could be a case of her being so bad at communication that she doesn't feel comfortable taking her concerns directly to TJ, but her method of trying to circumvent their training session is to try and convince Lana that it's dangerous to train with TJ because he has a very rare strain of adult chicken pox. When Lana tells TJ about this, this is his reaction:
Oh how we missed you my darling TJ.
Do I Hear Wedding Bells?
As alluded to earlier, one of the things that Nikki is being kept from as a result of her busy dancing schedule is her actual wedding planning. After setting a date for her and John's wedding, she hasn't actually had any time to do anything apart from that. So at the end of this season finale, Brie surprises Nikki with an impromptu, private nighttime wedding dress shopping sesh.
Basically, things are RAMPING UP as we head into season three of Total Bellas and the Cena-Bella wedding that lies beyond … at some point beyond, anyway. GET FRICKIN' PUMPED.
And that's the end of season seven! One of the best seasons in a while (or at least miles and miles better than season six), and that influx of new blood certainly helped. We'll miss these wonderful ladies (and Rusev), but we'll see you again when it's time to talk about the Bellas, in addition to their fellas.