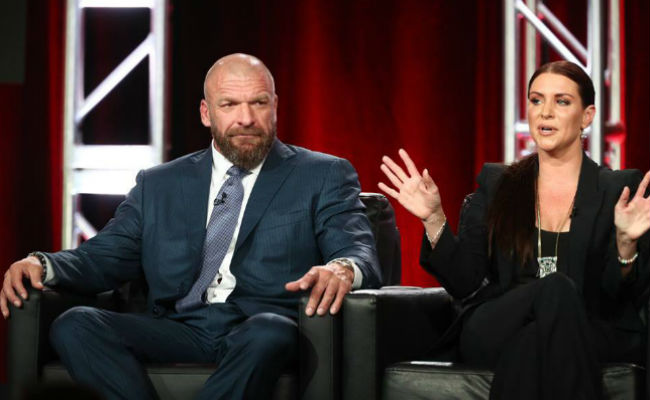 Triple H and Stephanie McMahon, along with several other WWE Superstars, appeared on the Television Critics Association Winter 2018 Press Tour to talk about 25 years of Monday Night Raw. Our evil corporate overlords/parents did just that, but also had to answer questions about way more controversial topics than whether Miz and Maryse should get their own reality show (which they should, and are.)
The first touchy subject they were asked about was WWE Hall of Famer the President of the United States. A sizzle reel including moments of celebrities appearing on WWE programming was shown before the panel, and it did not feature Donald Trump. The fact that Linda McMahon is the current Administrator of the Small Business Administration, and therefore a member of 45's cabinet, and that Trump has taken it upon himself to remind us of his sports entertainment cred via official presidential statement prompted a reporter to ask why Trump wasn't in the reel.
According to Deadline, Stephanie responded, "WWE is non-partisan … We made a strategic decision to not put forth any type of partisan politics at all," and that this is a "decision we made in our programming, not just in our sizzle." Triple H pointed out that other politicians/celebrities like Arnold Schwarzenegger also didn't make the reel.

The Authority were also asked about cruiserweight Rich Swann's WWE status following his December domestic violence arrest. WrestlingInc reports that Triple H said, "We are just waiting on legal. We have a zero-tolerance policy on [domestic violence], as you've seen, so he's suspended until it is determined legally one way or the other." Both the Game and Stephanie confirmed that Swann will be released from the WWE immediately if convicted.
As for the ever-present topic of whether Daniel Bryan will ever be cleared to compete in WWE again … Given Bryan's recent comments about his WWE and pro-wrestling future, it's not surprising that his status was also on the minds of those attending the TCA panel. Triple H responded with pretty much what official WWE sources have been saying about Bryan since the return rumors started:
"There can be no exception, medically. If the belief is that he's not healthy enough and it is a risk for him to perform, then I don't know why we would ever allow him to step in the ring unless it can be proven otherwise. We have some of the best medical people in the world working for us. Our wellness policy, our concussion programs, our protocols — I'll put them up against any on the planet.

"The medical experts will make the determination of whether Bryan can set foot in that ring or not. Personally, for him, I know it's something he loved doing and I hope he has that opportunity. But at the same point in time, he's married and has a child. We serve the human being first."
Is this vague answer part of the work that will lead us to Daniel Bryan vs. Shane McMahon at WrestleMania 34? Or is it a sign that WWE is being extra careful about their stars' necks and brains these days, and we'll be seeing Bryan Danielson in Ring of Honor or New Japan soon? I don't know, but I do know Triple H and Stephanie's entrance video for that TCA panel makes me feel sexually uncomfortable, as Mr. and Mrs. McMahon-Helmsly compilation videos tend to do: