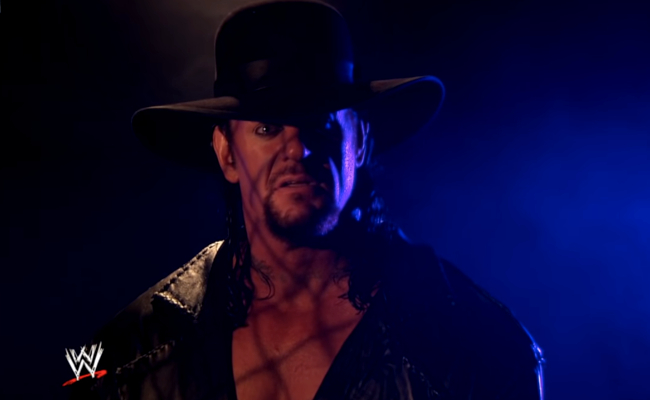 In 2004, Mark Calaway, the man behind the Undertaker, hadn't played the Dead Man, or any supernatural version of the character, for nearly five years. Since 2000, he'd been playing the Undertaker as a larger-than-life biker, riding a motorcycle to the ring in sunglasses and a bandana. He'd even evolved that character from the heroic "American Badass" to the villain who called himself "Big Evil." But people still fondly remembered the original zombie-like version of the Undertaker, and on the Road to WrestleMania 20 in 2004 that's what WWE wanted back. According to Something To Wrestle With Bruce Prichard, the Undertaker was not into that idea at all (thanks to 411Mania for the transcript):

Mark Calaway hated the idea. Absolutely hated the idea of coming back as the Dead Man because he thought with the American Badass character, it was multi-dimensional and he wasn't, uh, doing the head snaps and everything. He could work and go out and have a different style of match. And he felt that if he came back as the Dead Man, that he would have to go back into the Dead Man persona in the ring.
Prichard goes on to say that WWE promised Calaway that if he played the classic Dead Man at WrestleMania 20, after that he could incorporate his more recent style of ringwork into he Dead Man character. Nevertheless, the Undertaker always felt like he had taken a big step back.
These days, the Undertaker is clearly more comfortable with the shape his career ultimately took, and with the "Dead Man" branding in particular. PWInsider has reported that Starrcast, Conrad Thompson's company that's behind Bruce Prichard's podcast and others, filed a trademark for the phrase "Dead Man Talking." Since the Undertaker has been literally going into business for himself and is already advertised to appear at the next Starrcast event, it does sound like an Undertaker-hosted podcast with Thompson involved may be on its way.